After a year-plus of Covid-19 constraints, Bay Area residents are emerging from their homes and kitchens, ready for spring's sunshine-y brightness. Local authors, chefs and other creatives have been busy considering what we want to eat now, using Covid-19's time-stretched year to cook, write, paint and otherwise engage with our brave new world. Opportunities to reimagine food and cooking, to envision a different future, and to look more deeply into our shared experiences have yielded a bounty of books that help us understand how we live — and eat — today. Yes, there are plenty of recipes in these pages but also a few questions: Where have you been, and where are you going?
We hope these books inspire a new journey, a trip that tantalizes your taste buds and your intellect and takes you through spring's uncertainties with grace, deliciousness and more than a little curiosity.
Always Home: A Daughter's Recipes and Stories
By Fanny Singer
Less well-known than her internationally famous mother, Alice Waters, Singer grew up with her mother's manifesto at the center of her world. Though this book was released as Covid shuttered our lives in the spring of 2020, it is a love letter to her mom. Chapters like "In the Mornings" take the reader inside life at the Waters-Singer house, capturing the small moments that make a life. Singer expands a meditation on the beauty of a three-minute egg into a recipe, a strategy that works for each chapter but gives the book a feel more like her mom's manifesto than a book of recipes. It is a way of life.
The Flour Craft Bakery & Café Cookbook
By Heather Hardcastle
Marin's own Heather Hardcastle opened her first gluten-free bakery in San Anselmo in 2013 and immediately found a following for her decadent treats. With her first cookbook, Hardcastle reveals the secrets behind her successful bakeries (a second opened in Mill Valley in 2018). Seventy-five recipes cover everything from sweets like Vegan Chocolate Olive Oil Cake with Vegan Buttercream and Ginger Molasses Whoopie Pies to savory fare appropriate for breakfast and lunch. A section on toasts covers the techniques for making the breads found at Hardcastle's bakeries — the buttery brioche recipe will convert even the most die-hard gluten lover to the delights of gluten-free baking.
Gather: Casual Cooking from Wine Country Gardens
By Janet Fletcher
Known for her passion for cheese, Fletcher is also an avid gardener at her Napa home and designed a cookbook around 13 Northern California wineries and the amazing onsite gardens at each. It's a coffee table cookbook of the first order with gorgeous multipage spreads introducing each family and their garden. Wine pairing and garden tips dot each story and ample space is given to the veggie-driven recipes. Strawberry salmon tartare from B Cellars updates a classic with the fruit's bright acidity, and Cakebread's winter vegetable and bean soup is enlivened with kale pesto and the last of the season's zucchini. I'm keenest to try the carrot-parsnip slaw with lemongrass-ginger oil from Hall Wines and the edible flower cookies from Wheeler Farms. They're gorgeous!
Half the Sugar, All the Love: A Family Cookbook
By Jennifer Tyler Lee and Anisha Patel, MD, MSPH
Kicking out the sugar while keeping the flavor in is the admirable goal of a cookbook from a Stanford Associate Professor in the Division of General Pediatrics and a healthy food advocate. The authors invite readers to make small changes — swapping fruit juice for brown sugar in barbecue sauce, for example — while developing an awareness of the many foods where sugar lurks. Recipes are not sugar-free but are designed with whole fruits (dates, pineapple) or significantly reduced added sugars to retrain our brains to think differently about sugar and flavor. It's a whole foods approach that works for recipes like banana-chocolate muffins, "newtella," and even tomato sauce.
How to Cook Healthier
By Anja Lee Wittels
The owner of both catering and cooking class companies in San Francisco, Wittels knows a thing or two about teaching and cooking for a crowd. She applies those skills in a book designed to streamline the process of getting healthier foods on the table faster. "Essential Techniques and Recipes" receives equal billing to recipes for meals and snacks. Wittels keeps an eye on active time and stays within a 35-minute window, making these recipes great for weeknight cooking. While I was intrigued by a recipe for frozen almond butter yogurt bites, I can see making the grilled salmon bites or the turkey meatballs with spinach a regular part of my weekday repertoire.
Knights of the Kitchen Table
By Castle in the Air
Chef-artist-owner Karima Cammell offers classes and exhibitions at her Berkeley creative studio, Castle In the Air. When Covid closed its doors last year, Cammell rebuilt her classes online. Released on Valentine's Day, her studio's pandemic cookbook is the culmination of a year teaching free classes on Instagram, a remote feast and a celebration of a most challenging year. The recipes are all submitted by students and reflect their journey as artists. "Of all of the books that I've published over the years, this is certainly a miracle of a project under very unique circumstances," Cammell says. Indeed.
Mister Jiu's in Chinatown
By Brandon Jew and Tienlon Ho
Chef Brandon Jew grew up in San Francisco's Chinatown and embraces the cross-over techniques that have defined Chinese-American food since the middle of the 19th century. Chef Jew gives you all the details to make the dishes he serves at his restaurant, Mister Jiu's, including the Chinese names for many of the ingredients. The chef also discusses provenance, which feels refreshing in an age when cultural appropriation can dampen any multi-cultural conversation. Recipes contain notes for planning ahead, active time, total time and any special equipment needed, a boon for those who lack the patience to read a recipe in its entirety; the recipe for liberty roast duck spans nine pages with 18 images to guide any cook through the process.  I'll be making the more straightforward dishes I've eaten at Mister Jiu's — alt and pepper squid and sea urchin cheung fan. Who knows where I'll find the agrumato orange oil, but taking chef's advice to heart, I'll substitute with the lemon oil I already have in the cabinet.
Table with a View: The History and Recipes of Nick's Cove
By Dena Grunt
Penned by the proprietor of Nick's Cove and Cottages in Marshall, this cookbook begins by casting an eye to the origin story of the property, a reminder of the region's foundations not only as an agricultural community but one bent on harvesting the riches of the local waterways. Recipes from Executive Chef Kua Speer and other chefs dating back to 2007 are captured in each chapter, interspersed with the stories behind Nick's magic. Shout-outs to local spirit-makers, fisherman, the Coast Miwok and others who influenced what is on the table are an important part of each chapter, as is an iconic Nick's dish – little gem lettuces with herb buttermilk dressing in "Salads & Soups," Nick's Cove Burger under "Main Courses," Nick's Bloody Mary under "Cocktails." The only thing missing if you cook from this book will be the stiff breeze blowing in from Tomales Bay.
Technically Food: Inside Silicon Valley's Mission to Change What We Eat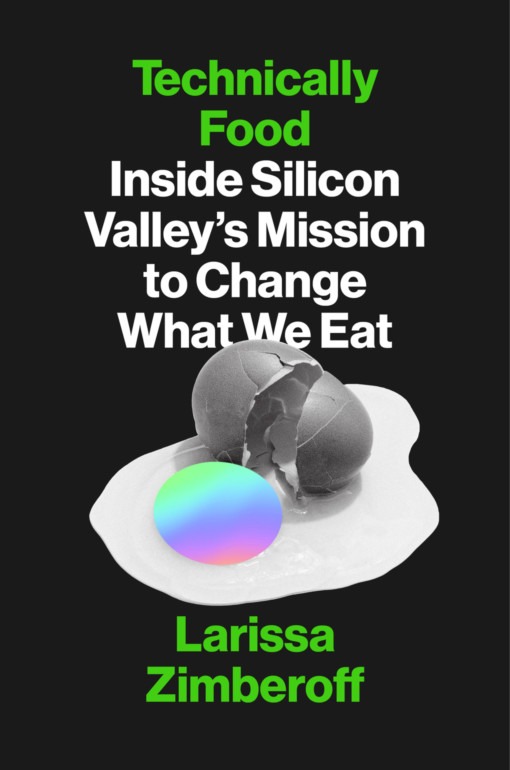 By Larissa Zimberoff
You can often find Marin resident Zimberoff at Marin's farmers' markets, but her book brings together her interest in excellent food, and her skill as an investigative reporter covering the intersection of food and tech for the likes of Bloomberg Businessweek and The New York Times. She digs in on the businesses that are changing food, uncovering their origin stories while questioning whether these processed foods really are what we want, and what we should be eating. Available June 1.
We Are What We Eat
By Alice Waters
Waters is no stranger to writing cookbooks (at last count, there were 88) but 2021 finds the chef best known for her work revolutionizing our approach to sourcing local foods at Berkeley's Chez Panisse in a more contemplative state. Her latest book, written with Bob Carrau and Cristina Mueller (who is also a Bay Area food writer) defines her manifesto, positioning fast-food culture against slow food culture while pointing out that how we eat is how we live. It is the philosophy that has defined Waters' life in every way.
Why We Cook
By Lindsay Gardner
Oakland-based artist Lindsay Gardner designed a book that takes an expansive look at food and cooking as experienced by women's culinary contributions, achievements and stories. The book weaves together profiles of chefs, farm educators, writers and many others, with essays, conversations and recipes sprinkled in, as well as Gardner's hand-drawn illustrations throughout. Chapters on memorable meals from Amanda Saab (founder of Dinner with Your Muslim Neighbor), Ruth Reichel (former editor in chief of Gourmet) and others touch on the breadth of the American experience of food and sharing a meal together. If Gardner's goal is to inspire conversations and build bridges to each other, the 112 culinary interpreters captured here are a bold and beautiful step to lasting change.
---
For more on Marin:
---
Christina Mueller is a long-time Bay Area food writer. She hails from the East Coast and has spent way too much time in South America and Europe. She discovered her talent as a wordsmith in college and her love of all things epicurean in grad school. She has written for Condé Nast Contract Publishing, Sunset, and the Marin Independent Journal, among others. She volunteers with California State Parks and at her child's school, and supports the Marin Audubon Society, PEN America, and Planned Parenthood. When she is not drinking wine by a fire, she is known to spend time with her extended family.