Many artists take creative inspiration from their surroundings. For the late abstract expressionist Sam Francis, even subtle variations in the light in different parts of the world affected his work. The Bay Area native, who was born in San Mateo in 1923, lived and worked around the globe, from Paris and Tokyo to New York City and Santa Monica, before finally returning home to the Bay Area to settle in Marin County several years before he died in 1994. His colorful acrylic canvases and watercolor works on paper garnered him international acclaim, and now fetch anywhere from $60,000 to well into the seven figures — and his larger-than-life personality made him a legendary figure in the art world. "He was the first artist in California who was internationally regarded, and his collections have been shown at museums all over Europe and Japan," says Debra Burchett-Lere, director of the Sam Francis Foundation.
Before Francis embarked on his journey to become an artist, he was studying to become a doctor at UC Berkeley, but left to join the Army Air Corps as a pilot. During Air Force training he fell ill with spinal tuberculosis, and spent several years recovering in the hospital. It was then that he first began painting. "He was in the plaster cast for so long, and that ability to get out of your head through art was really important to him," says Burchett-Lere. After he recovered, Francis returned to UC Berkeley to major in art, and then moved to Paris to pursue a career as an artist. While Francis was initially inspired by a number of contemporary French and New York artists, he ultimately blazed his own trail. "He took the angst of abstract expressionism and added the fluidity of impressionists and developed his own voice," says Burchett-Lere.
Friends and colleagues remember Francis as a charismatic and gregarious person who made friends wherever he went and was eager to help other artists, yet he has also been described as a fabulist who struggled with commitment — he was married five times. One of his lifelong friends with whom he shared much in common was Peter Selz, a curator at the Museum of Modern Art in New York City and later, the director of the UC Berkeley Art Museum and Pacific Film Archive (BAMPFA). His daughter Gabrielle Selz is currently writing a biography on Francis that will be published this fall. "They were both quintessential 20th-century men — card-carrying members of the art world boys' club with appetites for success, women (both were married five times) and conversation," says Gabrielle. "They were both magnanimous. They were complicated men full of contradictions."
Not only was Francis a prolific artist, he was also passionate about environmental causes, medical research, philosophy and literature. He enjoyed writing and founded his own book publishing company, and he also helped develop the Museum of Contemporary Art (MOCA) in Los Angeles. In addition to documenting Francis' abundant catalog of artwork, the foundation keeps the artist's legacy alive in the many projects they support, including Gabrielle's forthcoming biography and a new book written by Richard Speer.
In The Space of Effusion: Sam Francis in Japan (Scheidegger & Spiess, Zurich, 2020), Speer explores Francis' relationship to traditional and contemporaneous Japanese artists. Francis first traveled to Japan in 1957 and lived in Tokyo in the early '70s, during which time he made many friends — from fellow artists to architects and filmmakers — and loyal patrons. "Sam always felt a mystical, symbolic connection between California and Japan," says Speer. "His work from that time period made amazing use of these poetical expanses of white space that reminded Japanese art lovers of their own tradition called "ma," which was big expanses of empty space." Speer is the co-curator of an upcoming exhibit at the Los Angeles County Museum of Art on this subject, "Sam Francis and Japan: Emptiness and Overflowing." The exhibit was originally scheduled earlier this year, but it's been rescheduled due to the pandemic for 2023, which, perhaps fortuitously, is the centenary of Sam's birth.
Recently, the foundation discovered a series of limited-edition signed and numbered prints from the late 1960s in their archives. At that time, Francis had become fascinated with printmaking and established his own lithography and etching studio in Santa Monica. The collection is currently on view at Robert Green Fine Arts in Mill Valley. "There hasn't been a primary exhibition of Sam's work in a number of years because virtually everything is gone, but this body of work was hidden away in the archives — some of the last remaining pieces," says founder Robert Green. Green has worked with the artist and the foundation for decades — initially while he was dealing privately abroad before he opened the gallery. "Sam maintained studios all over the planet," he says. "He always had an around-the-world airline ticket with him, and he felt that wherever he was, new work would come forth."
In the last few years of his life, before he succumbed to prostate cancer in 1994, Francis began acquiring property in Marin County, where he hoped to start an artist community. He had spent time at Tomales Bay as child, fishing and clamming with his family, and had long been attracted to West Marin's wild, natural beauty. "Every time Sam saw a space where he could imagine painting, he felt rejuvenated, and what he called 'the dream machine' turned on," says Gabrielle. He purchased a two-story former bank building in Point Reyes Station that he converted into a studio where he would paint canvases on the floor, property in Inverness that he hoped to develop into a utopian "dream farm" and a ranch in Marshall. He also had a house in Point Reyes Station. "The architect Jon Fernandez built the house on spec," says Gabrielle. "Sam loved the vaulting tower staircase surrounded by windows." During this time Francis became a fixture in the West Marin area, where he could often be seen riding his bike or wandering among the redwoods in Samuel P. Taylor State Park. "There is a lot more green in his late paintings due to those magnificent trees," says Gabrielle.
For those looking to connect with Sam's past in Marin County, his former house in Point Reyes Station is now the Mesa Refuge, a residency for writers that is sometimes open to the public for events. "Francis' last wife, Margaret Smith, who was English, planted an English country garden in the wetlands, and the remnants are still there, though drought conditions have deteriorated it," says Gabrielle. "You can also still see the old wooden boardwalk that leads from the back of the house to what was once Sam's studio (now the home of owner Peter Barnes). That boardwalk was installed after Sam had to start using a wheelchair."
You can also visit Francis' gravesite, located in a tiny graveyard just outside Olema. He is buried very near to his friend Selz. "His grave is a beautiful Japanese-style stone inscribed with an aphorism from one of his books, 'color is light on fire,' says Speer, who notes that the stone was found on the coast by one of Francis' friends living in the area, sculptor JB Blunk.
Although Francis never realized his dream of founding an artist community in West Marin, his memory lives on with many residents. "The Bay Area was always dear to Sam's heart because that's where he was raised and grew up," says Burchett-Lere. "Ultimately, he started as a California boy and he ended as a California boy."
---
More from Marin:
---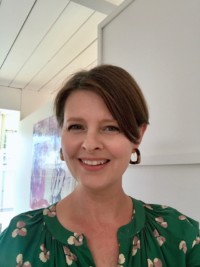 Lotus Abrams has covered everything from beauty to business to tech in her editorial career, but it might be writing about her native Bay Area that inspires her most. She lives with her husband and two daughters in the San Francisco Peninsula, where they enjoy spending time outdoors at the area's many open spaces protected and preserved by her favorite local nonprofit, the Peninsula Open Space Trust.