Drive from the ocean to the redwoods and catch some great music along the way! This line up of venues features three saloons — we're talkin' down-home cookin' at Smiley's and dancing at all three, where cowboy attire is always welcome.
Old Western Saloon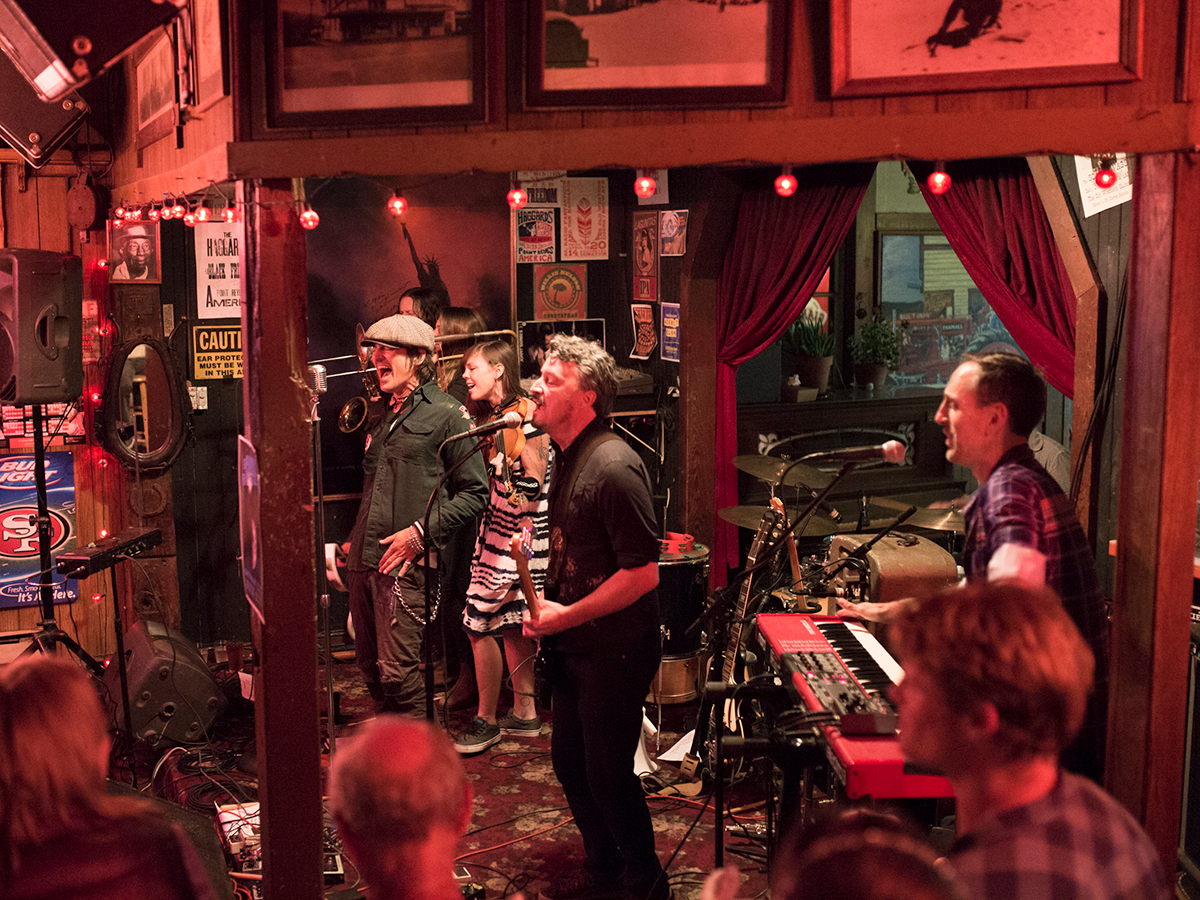 Old Western Saloon is so down-home it doesn't have a website, and the bar is cash only. You can find them on their new IG account @oldwesternsaloon, but traditionalists rely on the local newspaper Pt. Reyes Light, the local radio station, KWMR, or just give Jane a call at the bar if they want to know who's playing on any given night. Don't miss open mic nights every Monday from 7 p.m. to 11 p.m.! Bar hours are Monday through Thursday 12 p.m. to 12 a.m. and Friday and Saturday 12 p.m. to 2 a.m. *Call for show times
11201 Highway 1, Point Reyes Station, 415.663.1661
Papermill Creek Saloon
In the thick of the forest near Samuel P Taylor State Park, Papermill, a roadside saloon since 1907, offers an intimate setting, eclectic vibe and cozy feel. The live music scene is up close and personal, with musical styles ranging from country and soul to funk and bluegrass. Weekly events like Grateful Dead Wednesdays hosted by Danny Leuhring and frequent appearances by local artists like Darren Nelson and Jeremy D'Antonio create a unique camaraderie between musicians and audience. Bar hours are Wednesday and Thursday 3 p.m. to 11 p.m., Friday and Saturday 3 p.m. to 2 a.m., and Sunday 1 p.m. to 11 p.m. Closed Monday and Tuesday. Check website for show times.
1 Castro St, Lagunitas-Forest Knolls, 415.488.9235
Smiley's Saloon, Hotel and Kitchen
Smiley's is the oldest bar on the West Coast, but it's also an outpost for outstanding fresh Mexican food and the best local and touring musicians. Artists such as the California Honeydrops, Lukas Nelson, Bob Weir, Tommy Guerrero, the Rainbow Girls, and many more have recently graced their stage or participated in Smiley's unique Musicians' Residencies. Restaurant is open 12pm to 8pm daily. The Bar serves drinks and snacks Sunday through Thursday 12 p.m. to 10 p.m. and Friday and Saturday 12 p.m. to 12 a.m. Check website for show times.
41 Wharf Rd, Bolinas, 415.868.1311
---
Emilie Rohrbach has taught music and theatre to grades pre-school through 8th in San Francisco and Marin counties for the last twenty years. She has been a freelance writer for Divine Caroline for five years, and her writing has appeared in Narratively, Hippocampus, Common Ground, Travelers' Tales, and Marin Magazine, among others. She is passionate about Room to Read, Shanti Bhavan, and Destiny Arts and serves on the board of Knighthorse Theatre Company.