Plus, the San Francisco Marathon, a caviar event and the Fillmore Jazz Fest.
Celebrate July 4th
There are countless ways to honor Independence Day with parades, fireworks and merriment around the Bay Area.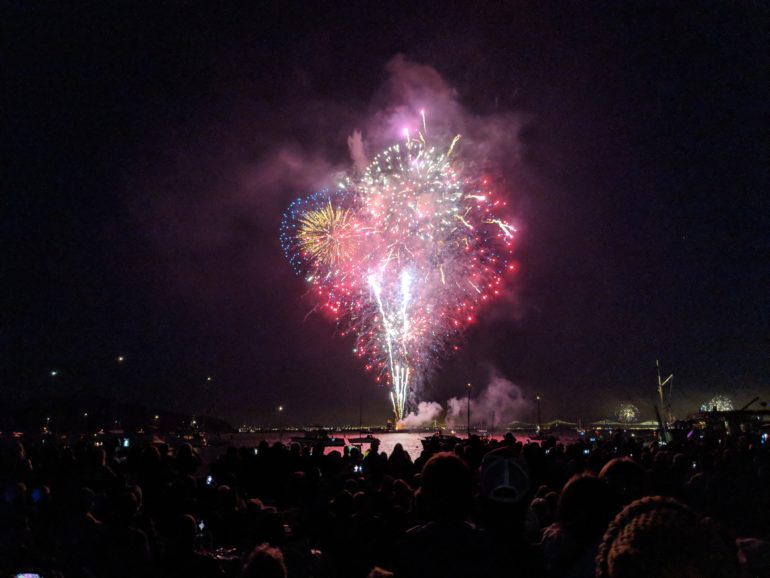 After a two-year hiatus, the Ferris wheel rises once again over the San Rafael Civic Center, and all the cotton candy, corn dogs and funnel cake you can eat will be back, too. Though competitive exhibits are back and will be judged, they are completely online this year, as the main exhibit hall remains closed. "It's a transition year," says Gabriella Calicchio, director of the county's Cultural Services Department, which produces the fair. "We're calling it the Home County Fair because we really want to celebrate our community," she says. There will be screens placed outside, projecting submitted artworks, and Daniel Castor of San Rafael's Castor Architecture is developing a 30-foot sunflower sculpture as a fair showpiece. Castor notes that the sunflower, native to North America, is the national flower of Ukraine but that Russia and Ukraine — together — produce close to 40% of the world's sunflower oil and seeds. "I am intrigued by the idea that the sunflower could serve as a symbol of the hope, sent from us here, that these peoples can someday go back to the business of making sunflowers for the rest of the world," Castor says.
Furry friends will be well-represented at the "fur and feathers tent," sheep dog trials and the pony vaulting event. In addition to the carnival food and wine slushies, local vendors, such as Fairfax's The Juicery, San Rafael's Big Jim's Barbecue and San Rafael's Johnny Doughnuts, are in attendance. Of course, there will be fireworks every night (for precisely 12 minutes, 48 seconds), and the evening's bands range from Marin's Pablo Cruise and Sons of Champlin to Sheila E. and Digable Planets. The fair averages 20,000 people a day, with 30,000 expected on July 4, according to Calicchio. "People want their Marin County Fair," she says.
Kick off the day with a parade down Bridgeway and Caledonia, followed by a picnic at Dunphy Park, where Marin's The Humdinger Band will perform. Gabrielson Park hosts the evening events with live music and a 30-minute fireworks show set to begin at 9:15 p.m.
Pier 39 hosts a day of activities, culminating in a 6 p.m. concert at Aquatic Park and the pyrotechnic show at 9:30 p.m.
The town of Half Moon Bay returns to the past with a parade along Main Street celebrating the town's history.
The parade starts at 10 a.m. with float judging in front of Sonoma City Hall on Sonoma's Town Plaza, where festival games, food, live entertainment and the annual "splash zone" will take place, followed by a fireworks show at 9:30 p.m. at General Vallejo's Field.
The Santa Rosa Symphony and Transcendence Theater Company put on an evening of show tunes and patriotic classics, followed by what is said to be the largest post-concert fireworks show in Sonoma at 9:30 p.m.
Also Coming Up This Month:
From sunup to sundown, groove to the sound of music emanating from multiple stages, browse arts and crafts stands, and revel in the reunion of San Francisco's citizens at a 12-block street party, through July 2.
Dedicated to the sounds of America, this year's celebration of the music, wine and food of Napa features symphonic concerts, opera, jazz and dance as well as Taste of Napa on July 16 and 20, plus admission-free, small ensemble concerts at CIA at Copia, through July 23.
Paris is San Francisco's sister city, so a day to celebrate all things French is in order, with a Citroen vintage car show, petanque tournament, Course de Garçon de Café (waiter's race), tours of San Francisco's French Quarter and more.
Tiburon's Main Street will turn into a one-day midway, where carnival games, live music and champagne, oysters and caviar from The Caviar Co. are just a few of the enticements to celebrate the ocean's bounty.
Bumps of California Caviar Company's signature white sturgeon, plus champagne and canapés, are part of a no-reservations-needed special event at Sausalito's The Bump Bar to celebrate the briny delicacy.
Live events and screenings in San Francisco and Albany are complemented by online selections in a day festival that features local and international voices, including a special preview of the new documentary series "The U.S. and the Holocaust," featuring an onstage conversation with filmmakers Ken Burns, Lynn Novick, and Sarah Botstein in San Francisco, through August 6.
There are plenty of distances to choose from, but only the Full Marathon and UltraMarathon Second Loop has runners pacing themselves over the Golden Gate Bridge before looping through Sausalito and the Marin Headlands (miles 8–12) before the finish on the Embarcadero, through July 24.
Comedian Dave Chappelle is scheduled to host a two-day lineup at Charles Krug Winery with festival artist in residence Robert Glasper and special guests including Erykah Badu, Maxwell and BJ the Chicago Kid, through July 31.
---