Marin Theatre Company artistic director Jasson Minadakis grew up in Virginia and graduated from James Madison University, in Harrisonburg, Va., with a degree in English and Theater. He went on to co-found the Cincinnati Shakespeare Festival before being named artistic director of Atlanta's Actor's Express theater company and came to the Marin Theatre Company in November 2006. Outside of work, he loves spending time with his wife and two sons.
1. Congratulations on your 10th season as artistic director of MTC and the 50th anniversary of the company — could you share some highlights with us?
November we're going to be producing the world premiere of Lauren Gunderson's new play Miss Bennet — we found out recently that Lauren is the most produced living playwright in the country this year. But it's also not just the work we do onstage; it's the playwrights we support and the work that we do with the schools in Marin City and in the Canal district.
2. What's your plan for the future?
Our focus has become new American plays. That's the word we're trying to get out — that we are the fifth largest theater company in the Bay Area, right here in Marin County. When I got here, we were a $2 million theater; now we're a $3.6 million theater. It's been a real evolution. And that's something we're very proud of and hopefully will focus on for the next 50 years.
3. Tell us a bit about your new play program.
We want to give new playwrights the opportunity to work on their plays before the reviews start to affect whether they get second or third productions. It would be really hard if our sports teams were given two games and they had to make the most of them and that decided whether they made it into the playoffs.
4. How do you get the word out to the playwrights about awards and opportunities?
Now we're lucky because we have the reputation and people know about the play prizes. It's a massive network all over the country of theaters that are working in new plays.
5. How many play submissions do you get?
Over 950 per year.
6. So would you say the current state of American theater is healthy based off of those numbers?
Without question there are a lot of playwrights working out there. The problem that we have right now is that it is very difficult to make a living in play-writing. Most playwrights these days, to really make ends meet, they're not only playwrights but they're also writing for TV, writing for film, and most of them teach. So it's sort of a juggling game. That's why having a theater in Marin County that is focused on new American writers is so important.
7. Is the theater's new focus what drew you here?
In 2006 MTC did a production of Tracy Letts' play Killer Joe. That production really changed the culture of this organization. The board very much realized that there was an audience in Marin for new, edgier contemporary work. And they decided that in order to have a stronger regional and national presence they wanted to take the company in the direction of new American work. And that's the kind of artistic director they went to look for, and that's how they found me.
8. What are some common misconceptions you hear about the company?
A lot of people who visited back in the early '90s think we're a non-professional company. The work has really changed. One of the most interesting conversations we have with people right now when they come into the theater is they're surprised they're seeing the same actors here as at Berkeley Rep and A.C.T. We are one of the only theater companies in the United States that has a growing subscriber base. We are growing each year.
9. What is the best seat in the house?
Well, that's the neat thing about having a 230-seat theater. There is no best seat. It depends on what you like. Every seat in the house gets a very personal experience.
10. Tell us about your shoes.
Yeah, they're Johnston & Murphy. They're one of their signature lines. They're the loudest shoes I own by a mile.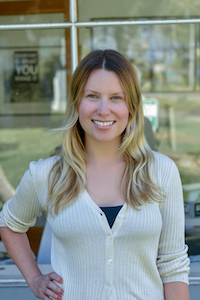 Kasia Pawlowska loves words. A native of Poland, Kasia moved to the States when she was seven. The San Francisco State University creative writing graduate went on to write for publications like the San Francisco Bay Guardian and KQED Arts among others prior to joining the Marin Magazine staff. Topics Kasia has covered include travel, trends, mushroom hunting, an award-winning series on social media addiction and loads of other random things. When she's not busy blogging or researching and writing articles, she's either at home writing postcards and reading or going to shows. Recently, Kasia has been trying to branch out and diversify, ie: use different emojis. Her quest for the perfect chip is never-ending.