During these difficult times, giving back is more important than ever. Here are three charities and groups in the community working hard to keep everyone taken care of during the coronavirus pandemic.
Parent Group offers $100,000 Pandemic Relief Grants to Marin Public Schools
Impacting over 4,000 children in special education and approximately 40,000 public school students.
Dedication to Special Education, an all-volunteer parent group, announced that it is giving over $100,000 in grants impacting all students in Marin. Typically Dedication to Special Education focuses on helping students with special needs, but the Covid-19 pandemic has created new challenges and Dedication to Special Education wanted to help. Their grants will allow public schools the ability to contract with companies to provide social-emotional learning services as well as the technology to facilitate digital learning and reading comprehension. Visit their website to learn how you can contribute to their ongoing efforts and initiatives.
The Saint Francis Foundation's Virtual Hob Nob Gala "Unmasking the Future" Raises Over $300,000
Providing philanthropic support to Saint Francis Memorial Hospital and its community.
For more than 116 years, Saint Francis Memorial Hospital has been an anchor for everyone in the San Francisco community, offering unmatched healthcare to vulnerable populations, never turning away anyone in need of help. Their 26th annual Hob Nob Gala was a uniquely designed opportunity to support healthcare workers in San Francisco while connecting with hundreds of key health leaders and loyal guests. Attended by 268 households, this event featured a live broadcast emceed by local auctioneer Greg Quiroga, a special message from California Governor Gavin Newsom, inspiring messages from several patients, a performance by Grammy-nominated singer/songwriter Carla Helmbrecht, a testimonial by author Toni Newman, and dinner for sponsors catered by Betty Zlatchin. The event also raised funds through various auction items, including a private jet to Amangiri Resort in Utah. Sponsors included Genentech, Hathaway Dinwiddie, City Building, Inc., Academy of Art University, Allen Matkins, Wells Fargo, The Denbo Family: A Tribute To Dr. Howard E. Denbo, Union Square Advisors, First Republic Bank, Hanson Bridgett, Vericel, Shorenstein, and Williams Sonoma.
Mill Valley Masketeers Distribute 11,000 Donated Masks
Distributing handmade fabric masks to those in need around Marin County.
To date, the Mill Valley Masketeers, a group of bilingual volunteers led by Lee Budish, have made approximately 11,000 masks for frontline workers and at-risk populations in Marin County. These volunteers have delivered masks to senior centers, food bank lines at Marin Community Clinics and SF-Marin Food Bank as well as pop-up food banks at school cafeterias and senior living facilities. The Mill Valley Masketeers group is looking for volunteers to join the efforts. Contact Lee Budish to volunteer and/or to donate fabric or elastic.
---
How to Help
For more ways to support local businesses, go here.
---
For more on Marin:
---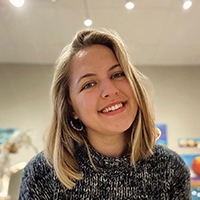 Sabrina Tuton-Filson is the Assistant Editor at Marin Magazine and a graduate of Elon University where she studied Professional Writing and Fine Art. Born and raised in San Francisco/Marin, she loves traveling just as much as coming home to the Bay Area. She has curated a sophisticated palate for food, travel and culture and uses her travels as an outlet to develop her photography portfolio and hone her writing craft.