During these difficult times, giving back is more important than ever. Here are four charities working hard to keep everyone taken care during the coronavirus pandemic.
Play Marin Delivers 600 Meals Every Weekend to Marin City Families
Paul Austin, founder of Play Marin, reallocated his non-profit's resources, and $100,000 in donations thus far, to provide 600 meals to Marin City families every weekend— while supporting local restaurants. They are working to increase their deliveries to 900 meals every weekend and extend their service to families in the Canal. Help them reach their goal by donating at: charity.gofundme.com/o/en/campaign/meals-for-playmarin
Last Bottle Wines Auction Benefits Napa Community
The annual fine wine auction has donated over $60,000 to food bank and community relief fund. Cory Wagner and Stefan Blicker, co-owners of Last Bottle Wines, a Napa-based daily purveyor of fine wines, took their annual "Spring Marathon" auction digital in light of the shelter-in-place regulations. For every order placed over this two-day auction, they donated $1 to Napa Food Bank and Napa Community Foundation—contributing a total of $61,000.
JDRF Hope Gala Raises $1.4 Million for Type 1 Diabetes Research
Greater Bay Area JDRF Virtual Gala contributes to life-changing research. The local chapter of JDRF (formerly known as the Juvenile Diabetes Research Foundation), a global organization that funds Type 1 diabetes (T1D) research, held their annual Hope Gala online this year. There is currently no cure for T1D, which makes funding even more essential. Despite these being unprecedented times — due to COVID-19 shelter-in-place mandates — JDRF and their supporters were able to raise over $1.4 million for this research.
Kate Courtney Challenges Athletes to #CLIMBFORCOVIDRELIEF
Climbing 100,000ft in 10 days to raise money for the COVID-19 Solidarity Relief Fund. Marin County native and professional mountain biker Kate Courtney created the #climbforcovidrelief Strava challenge to benefit the World Health Organization's COVID-19 Solidarity Relief Fund. She pledged to climb 10,000 feet every day for 10 days and challenged fellow Strava athletes to join her. On day one, donations surpassed almost half of their $25,000 goal. By the end, the challenge raised $54,550.
---
How to Help
For more ways to support local businesses, go here.
---
For more on Marin:
---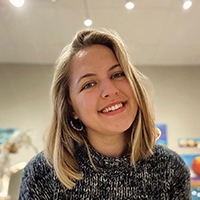 Sabrina Tuton-Filson is the Assistant Editor at Marin Magazine and a graduate of Elon University where she studied Professional Writing and Fine Art. Born and raised in San Francisco/Marin, she loves traveling just as much as coming home to the Bay Area. She has curated a sophisticated palate for food, travel and culture and uses her travels as an outlet to develop her photography portfolio and hone her writing craft.