During these difficult times, giving back is more important than ever. Here are five charities and groups in the community working hard to keep everyone taken care of during the coronavirus pandemic.
SchoolsRule Distributes $650,000 to Public Schools in Marin
Funding vital literacy, arts, technology and health programs — online and in the classroom.
Since its inception in 2011, SchoolsRule has distributed nearly $5.5 million directly benefiting every child in every district in Marin. Their 9th annual distribution event was held via Zoom this year, hosted by Mary Jane Burke, Marin County Superintendent of Schools, and Trisha Garlock, SchoolsRule Board President SchoolsRule Marin. The event also featured a special message from Dr. Tom Peters, President and CEO of Marin Community Foundation. Funds were generously donated by individuals, businesses and community agencies including Marin Community Foundation, Redwood Credit Union, Gruber Family Foundation, Bank of Marin, Marin Sanitary Service, Kaiser Permanente, Lakeview Foundation, RH, Wells Fargo and Marin Association of Realtors.
Disability Rights Advocates' Virtual Gala Provides Support for Their Pro-Bono Services
Using litigation, structured negotiations, advocacy, community education and media to reform systems and practices that discriminate against people with disabilities.
DRA has taken on more than 500 cases in their 27-year history, achieving dramatic improvements for people with disabilities seeking health care, employment, transportation, education, disaster preparedness planning, voting and housing. Their virtual gala saw around 200 households live streaming. Emcees Shane Burcaw and Hannah Aylward guided the audience through a program featuring stories from DRA clients about their urgent, high-impact legal work as well as special guest appearances from Rebecca Alexander, Zach Anner, Keah Brown, Victor Cordon, Evan Davis, Dave Flink, Dorene Giacopini, Lucy Lee Helm, Judge Thelton Henderson, Judy Heumann, Cynthia Nixon, Rebekah Taussig, Carson Tueller and Hoby Wedler. The entire program included captioning and ASL interpretation. Nearly $300k was raised between the night of donations, sponsorship and the efforts of their peer-to-peer individual fundraisers. Special thanks to their Rabble Rouser Sponsors: Bob & Colleen Haas and The California Endowment. All proceeds from the gala support DRA's continued fight for justice for people with disabilities across the nation. 
Halleck Creek Ranch Raises Over $200,000 to Support Equine Therapy Programs
Providing low-cost equine therapy to youth with disabilities in the Bay Area.
Halleck Creek's annual Buckles & Bling Fundraiser raises critical funds to support their group therapeutic horseback riding programs and those who benefit from them. This year the live-streamed festivities reflected their successes and highlighted the dedicated individuals who bring their ranch to life. During the event, they awarded the Silver Buckle — an honor given to individuals who live life without barriers and encourage others to do the same — to Pamela King, a Halleck Creek rider since 2018. At time of publication, 235 people helped raise $206,700, surpassing their $200,000 goal.
Stepping Out Virtual Gala Helps Ensure No One Faces Breast Cancer Alone
Supporting nonprofits providing emergency and direct services to underserved breast cancer patients in the Bay Area.
Over 500 guests joined live on September 26 for the first virtual Stepping Out Gala, celebrating 25 years of memories. The generous sponsors and donors helped raise over $270,000, which will benefit the 2021 Bay Area Breast Cancer Grants Program. Guests bid on silent and live-auction items, with $30,000 in matching donations from three Foundation friends. The gala featured a special song, "To Celebrate Life," written and performed for the event by longtime supporter, Susan Zelinsky, as well as inspiring messages of how funds are providing critical services to breast cancer patients in the community by Kaushik Roy, Shanti Project; Lili Gunter, Ceres Community Project; and Dr. Francine Halberg, Marin Cancer Care.
Marin Open Studios Connects Artists to Art Lovers Around the Bay Area
Providing exposure and marketing to local artists.
Marin Open Studios is a non-profit organization dedicated to supporting artists and connecting them with Bay area audiences and patrons. Their first virtual exhibit, "The Human Spirit," features works from 86 artists, including watercolors, drawings, sculptures, paintings and more. Sponsored by Marin Open Studios, Marin Magazine, Bank of Marin and Kris and Eric Brewer, their exhibit invites the art-appreciating public into the artists' studios, increasing art appreciation and helping build future generations of artists and patrons. 
---
How to Help
For more ways to support local businesses, go here.
---
For more on Marin:
---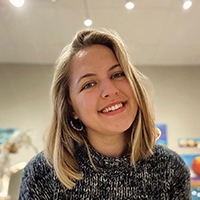 Sabrina Tuton-Filson is the Assistant Editor at Marin Magazine and a graduate of Elon University where she studied Professional Writing and Fine Art. Born and raised in San Francisco/Marin, she loves traveling just as much as coming home to the Bay Area. She has curated a sophisticated palate for food, travel and culture and uses her travels as an outlet to develop her photography portfolio and hone her writing craft.