During these difficult times, giving back is more important than ever. Here are five charities and groups in the community working hard to keep everyone taken care of during the coronavirus pandemic.
Headlands Center for the Arts Pledges 10% of Auction Proceeds to Social Justice Work
Supporting Headlands' artists and programs as well as Bay Area social justice organizations.

Headlands held their annual art auction benefit from July 9 to July 21 this year. They raised over $625,000 in support of their artists, mission, and programs, with up to 50% of auction sales going directly to their artists in recognition of their labor, thinking, and vision. They also pledged 10% of their proceeds, over $80,000 this year, toward Bay Area organizations Transgender Gender-Variant & Intersex Justice Project and Anti Police-Terror Project — two groups doing work on the ground to prevent racism and racist policing.
Bay Area Organization, 10,000 Degrees, Steps Up to Support Low-Income Students During Pandemic
10,000 Degrees Fellowship program providing $4 million in annual scholarships as well as access to other vital resources.
Leading Bay Area college success nonprofit 10,000 Degrees has redoubled their efforts in the face of the Covid-19 outbreak to provide necessary support to students from low-income backgrounds. In addition to collaborating with school partners and community organizations to increase student support — connecting students with critical resources for education, food, housing, internet, mental health support, disaster relief funds, unemployment insurance, and more — 10,000 Degrees has extended scholarship application deadlines and expedited over $2 million in scholarship funds to provide students with immediate financial relief.
AIDS Walk SF: Live at Home 2020 Raises Nearly $1 million for PRC and Bay Area Service Organizations
Benefitting those affected by HIV/AIDS and the COVID-19 outbreak.
AIDS Walk SF partnered with PRC (formerly Positive Resource Center), a nonprofit providing integrated legal, social and health services for those affected by HIV/AIDS, substance abuse or mental health issues, to put on their 35th annual fundraising event — virtually this year. Their event attracted thousands of walkers nationwide and included virtual guest appearances by Senator Nancy Pelosi, Bette Midler, Gloria Estefan, Vanessa Williams, Jordin Sparks, Laura Linney, Alan Cumming, Matt Bomer and many more. At time of print, donations reached almost $975,000. PRC aims to raise $1 million by the end of their fundraiser on August 7.
Ultra Cyclists Paul Webb and Yann Bertrand "Everest" Camino Alto in Fundraiser Challenge
Raising over $18,000 for at-risk youth and young adults experiencing mental health issues and addiction.
"Everesting" — climbing 29,029 feet, the equivalent elevation of Mt. Everest — has become a popular challenge in the cycling community during shelter-in-place. Webb and Bertrand successfully completed their fundraising event by continuously riding to the top of Mill Valley's Camino Alto Drive. After 21.3 hours, 239.1 miles, and 15 shots of espresso, they successfully "Everested" and raised over $18,000 for Sky's the Limit Fund, a nonprofit that makes wilderness therapy programs accessible to youth in crisis.
Venetia Valley and Congregation Rodef Sholom Partner with Community to Assist Covid-Impacted Families
Providing over 1500 meals and essential supplies weekly to the Santa Venetia neighborhood.
When 80% of parents at Venetia Valley School lost their jobs due to Covid-19, Brenda Rivas Camarena of the Venetia Valley Family Center stepped up and mobilized her community. With support from ExtraFood, SeedReleaf, Dine11 Marin, Conscious Kitchen,  Mission Food Hub, Multicultural Center of Marin, Sonoma Marin Produce, Office Depot and Ace Hardware, staff and volunteers from Venetia Valley and Congregation Rodef Sholom operated a successful food pantry that saw 200 cars each week. This drive-through will continue to operate every Friday at Venetia Valley School through September, providing meals and other essential supplies to the families whose livelihoods have been impacted by Covid. Private donations have helped fund much needed grocery store gift cards for these families as well. To support their efforts going forward, please donate to the Venetia Valley PTA via Paypal.
---
How to Help
For more ways to support local businesses, go here.
---
For more on Marin:
---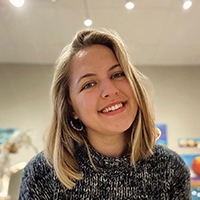 Sabrina Tuton-Filson is the Assistant Editor at Marin Magazine and a graduate of Elon University where she studied Professional Writing and Fine Art. Born and raised in San Francisco/Marin, she loves traveling just as much as coming home to the Bay Area. She has curated a sophisticated palate for food, travel and culture and uses her travels as an outlet to develop her photography portfolio and hone her writing craft.