When the Ukraine invasion began in February 2022, Sara Kurtzig and her husband Andy didn't skip a beat stepping up to help. The Kurtzigs, who took a break from their life in San Anselmo to reside in Ukraine in 2019, have very strong connections to the embattled country. Their tech business, Just Answer, has offices in the Ukraine and employs more than 250 of its citizens.
When news of the offensive broke, the Kurtzigs quickly sprang into action and repurposed their nonprofit, the Arizae Foundation, for a singular mission: to help the people of Ukraine and meet their immediate needs.
In addition to accepting donations through Arizae's site, the Kurtzigs have organized several fundraising events in Marin, including a March 30 benefit concert at Peri's Tavern on March 30 starring local singer-songwriter Victoria George. They also organized a family fundraising event on April 1 at the Sleepy Hollow Community Center with a Ukrainian food truck and station for kids to write letters of hope to Ukrainian children. A Soul and Solidarity benefit show is planned for May 6 at Sweetwater Music Hall in Mill Valley. These combined efforts have generated more than $340,000 in donations.
Arizae partners with organizations within Ukraine, sending them raised funds needed to establish emergency shelters for displaced individuals and families, to provide food and medical supplies, to buy equipment such as bulletproof vests for those defending their communities and to provide IT infrastructure to help hospitals, regional administrations and state service offices keep their communications intact.
Over Spring Break, the entire Kurtzig family—Andy, Sara and their three children— traveled to Eastern Europe with eight suitcases stuffed with medical aid and other supplies, including the handwritten notes from Marin kids for the Ukrainian refugees.
"We are highly committed to supporting our 252 (Just Answer) employees, their families and children as well as the rest of the country in any way we can," said Sara Kurtzig. "Donations are wired regularly to our partners on the ground in Ukraine … I am super proud of how effective all of our donations are. What an incredible community!"
---
For more on Marin:
---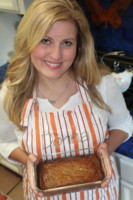 A freelance writer in Marin who writes about family, kids and parenting, Glass is the mother to one son, one dog and a hamster named Miss Geri. When she's not writing, trekking up steep hills in Marin or driving her kid to sports practice, she and her family spend time in their tiny cabin in Lake Tahoe. She avidly supports the California Academy of Sciences, a world class science museum and research institution, and the Institute on Aging which provides much needed services to Bay Area seniors and disabled adults. Glass is obsessed with baking the perfect loaf of banana bread, something she makes so often she no longer needs to look at a recipe card.