IT'S SAID THAT musical talent runs in families — for proof, look no further than the Jacksons and the Judds. As it turns out though, the Bridges are also a family of multifaceted performers. Jessie Bridges, daughter of actor and singer Jeff Bridges, has proven a musical presence in her own right. The Oakland-based artist has put out two albums — her eponymous 2010 release and 2013's Let It Breathe — and counts everyone from CSNY to Jenny Lewis among her influences. With a sound that resists categorization, Bridges has played at many venues throughout the Bay Area like the Throckmorton as well as the Great American Music Hall. She'll be making her way to Marin again on May 21 to take part in a free acoustic concert series, Novato Live at City Hall. jessiebridgesmusic.com
You've been playing guitar since you were 13; how has your style evolved over the years? When I was writing songs in my 20s I was simply expressing something that I was going through. Now that I'm in my 30s I find that I'm much more intentional about what I say and how I say it. Somewhere along the way, what used to be a flattering interpretation of something I grew up loving somehow shifted into my own unique style. And I'm looking forward to seeing how it continues to change.
Any standout touring moments? The very first time I took the stage opening for my dad in Oregon. We were at a beautiful outdoor venue just outside of Ashland (Britt Pavilion in Jacksonville, Oregon). There were over 2,500 people in the audience. As I walked onstage I was filled with so many different emotions: excitement, anxiety, terror, joy, shock. Moving through my set, one song after another, I felt more and more comfortable onstage. The audience was so wonderful and supportive and encouraging. It was such a gift to have had my music and my performance received so positively. There's honestly nothing like your first big show — and that's a moment I will never, ever forget.
What kind of message are you trying to convey through your music? The intention behind most of my songs is supported by a notion that being comfortable in your own skin is the most important thing. I'm a strong believer in feeling things deeply and completely, and I think that this message definitely comes through in my writing.
Are you currently working on a new album? I'm not currently working on a new album. The music industry has changed so much over the years and I've realized that releasing my work in the form of complete albums no longer feels relevant or necessary. Instead I'm approaching my music recordings in more of a one-song-at-a-time way.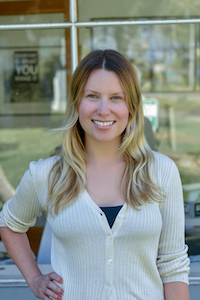 Kasia Pawlowska loves words. A native of Poland, Kasia moved to the States when she was seven. The San Francisco State University creative writing graduate went on to write for publications like the San Francisco Bay Guardian and KQED Arts among others prior to joining the Marin Magazine staff. Topics Kasia has covered include travel, trends, mushroom hunting, an award-winning series on social media addiction and loads of other random things. When she's not busy blogging or researching and writing articles, she's either at home writing postcards and reading or going to shows. Recently, Kasia has been trying to branch out and diversify, ie: use different emojis. Her quest for the perfect chip is never-ending.