THE COUNTY BOASTS a 72-mile-long (often walkable) unblemished coastline, charming towns and countless acres of open space. Those fortunate enough to live here can surely agree that there is no shortage of ways to enjoy this exceptional county. First time visiting? No worries — we've compiled a list in geographical order of both familiar favorites and lesser-known picks to help you get acquainted. Welcome to Marin.
1. VISTA POINT Photo op for fantastic views of San Francisco — just remember to bring a jacket, as it does get windy.
2. MARIN HEADLANDS Beaches, a marine mammal sanctuary, an art center and more, as well as miles of scenic trails for hiking and biking.
3. POINT BONITA LIGHTHOUSE Open Saturdays, Sundays and Mondays from 12:30 to 3:30 p.m. If you make the trek you'll be rewarded with sweeping views of the Pacific.
4. BAY MODEL Both fascinating and free to visit, this colossal hydraulic model of the San Francisco Bay is a Sausalito landmark.
5. BLACKIE'S PASTURE Get away for a stroll — and also find dramatic water views and a statue of the beloved horse the park was named after.
6. OLD ST. HILARY'S CHURCH Founded in 1888, this historic building is nestled on a hillside in the middle of a rare wildflower preserve.
7. MILL VALLEY DEPOT/LYTTON SQUARE Centrally located and named in honor of the first soldier from Mill Valley to die in World War I.
8. MUIR WOODS Renowned for its old-growth forest of coast redwoods, the land was declared a National Monument (the first ever to be located near a major city) in 1908.
9. SAN QUENTIN Undoubtedly one of the best-known and the oldest correctional facilities in California and one of the biggest in the country.
10. SAN RAFAEL MISSION Originally known as Mission San Rafael Arcángel, it was the 20th mission founded of the 21 Alta California locations.
11. MARIN COUNTY CIVIC CENTER Designed by Frank Lloyd Wright and recently nominated to be a World Heritage site, the center also serves as a performance venue.
12. MARIN COUNTRY MART In addition to the fun shopping and food options, outdoor communityevents like live music shows and a farmers' market are held here weekly.
13. CHINA CAMP Named after an 1880s-era Chinese shrimping village, the park offers hiking, biking and horseback riding. Dogs are welcome.
14. SAMUEL P. TAYLOR PARK This enormous redwood- filled park (it covers about 2,700 acres) is home to quaint campsites and myriad hiking trails.
15. RANCHO NICASIO You'll want to check the schedule of this nearly 75-year-old saloon — a popular Sunday drive destination — for live music show times.
16. HOG ISLAND OYSTER CO. If you're craving oysters, this is your place. Five dollars arms you with all the tools you'll need: shucking knife, glove, lemons and hot sauce. Cash only.
17. POINT REYES STATION This unincorporated town of fewer than 500 has a place where you can shop, eat, do yoga and get livestock feed all in one spot — pretty impressive.
18. POINT REYES LIGHTHOUSE Bring all the yummy provisions you scooped up at Point Reyes Station and make a day of it by visiting the lighthouse.
19. POINT REYES NATIONAL SEASHORE If you get here and feel like you've walked to the edge of the earth, you're kind of right — the peninsula lies on a different tectonic plate than the rest of Marin County.
20. STINSON BEACH The ultimate Marin beach: it's sandy, not rocky, has real bathrooms with showers and lots of really good food nearby.
21. BOLINAS RIDGE Offering unobstructed views of the infamous San Andreas Fault, this attractive bike trail also often appears in car commercials. Get ready for feelings of déjà vu.
22. MOUNT TAMALPAIS SUMMIT About 2,500 feet above Marin, at the top of the East Peak, you'll find a visitor center (open weekends). The parking lot is open every day.
Editors' note: Visit us online for additional resources about hiking, biking, paddleboarding, shopping and more. marinmagazine.com/marinsummer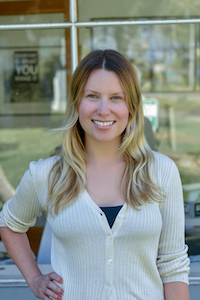 Kasia Pawlowska loves words. A native of Poland, Kasia moved to the States when she was seven. The San Francisco State University creative writing graduate went on to write for publications like the San Francisco Bay Guardian and KQED Arts among others prior to joining the Marin Magazine staff. Topics Kasia has covered include travel, trends, mushroom hunting, an award-winning series on social media addiction and loads of other random things. When she's not busy blogging or researching and writing articles, she's either at home writing postcards and reading or going to shows. Recently, Kasia has been trying to branch out and diversify, ie: use different emojis. Her quest for the perfect chip is never-ending.