The first trains appeared in Marin County in 1869 and the last disappeared in 1967—just two years shy of a century of local railroading. The halfway point in that history came on  January 8, 1907, when the Northwestern Pacific Railroad was incorporated.
"It was a consolidation of several existing railroads, including two that originated in Marin County, and it operated in an area known as the Redwood Empire," says rail historian Fred Codoni of Fairfax.
As Codoni and Paul C. Trimble of Novato write in their 143-page pictorial book Northwestern Pacific Railroad (Arcadia Press, 2006), Marin's first railroad tracks were laid in 1869 by the San Rafael & San Quentin Railroad. "Yes, the prison was already there," says Codoni in an interview, "but it was also the landing for a ferry coming over from San Francisco. The idea, adds Trimble, in our interview, "was to replace the dusty stagecoach ride between the two early Marin destinations."  Inside of a few years, the North Pacific Coast Railroad leased the short SR & SQ line, and railroading in Marin began to gather steam (so to speak).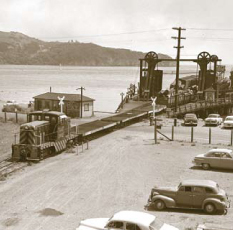 By 1873, the North Pacific Coast Railroad was building north from Sausalito, the aim being to reach the timber logged along the Russian River. That line eventually made it to Monte Rio, Duncan Mills and Cazadero in Sonoma County, with Marin stops in San Rafael, San Anselmo, San Geronimo, Point Reyes Station and Tomales. By 1875, according to Barry Spitz's Marin, A History (Potrero Meadows Publishing, 2006), in addition to timber and tourists, shipments of potatoes, oats and butter regularly left Tomales headed for San Francisco. "The North Pacific Coast Railroad contributed mightily to the growth of Marin's population, commerce and tourism," writes Spitz. By 1881, however, that railroad's costs were outstripping its revenues, and an English syndicate bought the line. In 1902 it was reincorporated as the North Shore Railroad and five years later played a role in the large scale merger that formed the Northwestern Pacific.
Another Marin railway operating during the same period was eventually involved in the same 1907 merger. The San Francisco and Northern Pacific Railway, which opened in the mid-1880s, originated at the ferry landing in Tiburon (five miles closer to San Francisco than Point San Quentin) and ran north to Ukiah, with stops in San Rafael, Novato, Santa Rosa and Healdsburg.
"Around the turn of the century," says Trimble, "the SF & NP was carrying close to a million passengers a year and had net revenues exceeding $400,000." But within a decade business dwindled, and after filing for bankruptcy, being acquired and being renamed the California Northwestern Railway, it too joined Northwestern Pacific.
The 1907 merger also involved the famed Atchison, Topeka, and Santa Fe Railway and some Southern Pacific lines. "The Santa Fe had trains operating in the Eureka area," says Codoni, but "a gap existed because trains originating in Marin went no farther north than Willits." The  merger was intended to link those lines into a network of railroads throughout Northern California, the area known to railroaders as, the Redwood Empire. The line was completed by 1914, Codoni says, and trains leaving Marin then ran all the way to Eureka.
In the following years, Tiburon became the hub for freight trains and Sausalito the starting point for passenger trains. "By 1924, summer Sundays saw 14 scheduled steam trains leaving Sausalito for San Rafael, Santa Rosa, Cloverdale, Ukiah and Eureka," writes Codoni in Northwestern Pacific Railroad. Passenger and freight carriage increased until the late 1920s, says Codoni, when the rising popularity of cars, better roads and use of trucks to carry freight cut into the railroad business.
"Then came the Depression," says Codoni, "and it just ate up the railroads." In 1929, the Atchison, Topeka and Santa Fe sold its share of Northwestern Pacific to Southern Pacific. In 1930, the line from Point Reyes Station to Monte Rio closed. By 1942, only two steam-powered passenger trains a day were leaving Sausalito. "Rail traffic revived temporarily with World War II, when the NWP began hauling carloads of materials into Sausalito's Marinship for the construction of Liberty Ships," Trimble recalls. And the postwar building boom provided another boost: "Sand and gravel were coming into Marin from Healdsburg, lumber and plasterboard came from the Pacific Northwest, and carloads of autos would arrive in San Rafael from the Middle West."
But by the early 1950s, with diesel-electric engines replacing steam power, railroading in Marin County was slowly grinding to a halt. "Passenger service made a bit of a comeback, then phased out altogether," recalls Codoni,  "and in June of 1967, the last freight train pulled out of Tiburon."
Photos from Codoni Collection
Image 2:  In 1953, in Tiburon, a diesel engine uses three flatcars, or "reachers" to shove loaded railcars onto a barge.
Image 3:  Also in 1953, diesel electric Train No. 81, blasts out of a San Rafael tunnel pulling 60 cars of freight.
This article originally appeared in Marin Magazine's print edition under the headline: "A Century of Railroading."