They almost always begin like that — they, being the daily Instagram posts Staysea Colteaux, owner of Dogville in San Anselmo, has been sharing since the start of shelter-in-place. So if you're ever unclear on how long we've been in this, check out her @dogvillesananselmo account. As of print time we're on day 200-something. Following the greeting, which is screamed a la Kimberly Guilfoyle, Colteaux launches into a fervent and often profanity-laced call to action — to come out and support San Anselmo businesses. "I didn't think I'd be doing this 200 days later," says Colteaux over the phone. A third generation native of San Anselmo and 13-year business owner, she talks about how even prior to Covid-19 local businesses had been struggling due to the likes of Amazon and other online stores. "They want to put small business out of business," and she's fighting like hell to make sure that doesn't happen.
Colteaux's business was deemed essential and was able to stay open from the beginning of the pandemic, but many of her neighbors weren't as fortunate. Frustrated and at a loss of what to do, she took to social media. On any given morning she'll be in her home filming a promo for Fox + Stone, a new hair salon in town, or Curate Studio, a new furniture store, or Marinitas — her favorite restaurant — but really anything that's local. Does she have an end date? "Any time I think about stopping someone will come up to me on the street and thank me for what I'm doing, so I do it now to lift people's spirits," she says. "I have a vision now for doing it for a year, but we'll see." 
Read about Staysea's beloved pooch Zeus, the shop dog who was our Dog of the Month in August, here.
---
How to help:
Consider supporting one of these local nonprofits that urgently need support during the pandemic.
---
More from Marin: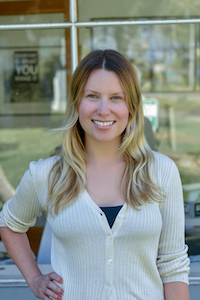 Kasia Pawlowska loves words. A native of Poland, Kasia moved to the States when she was seven. The San Francisco State University creative writing graduate went on to write for publications like the San Francisco Bay Guardian and KQED Arts among others prior to joining the Marin Magazine staff. Topics Kasia has covered include travel, trends, mushroom hunting, an award-winning series on social media addiction and loads of other random things. When she's not busy blogging or researching and writing articles, she's either at home writing postcards and reading or going to shows. Recently, Kasia has been trying to branch out and diversify, ie: use different emojis. Her quest for the perfect chip is never-ending.