I LOVE MY DOG. Her name is Samantha Segundo Towle, she is a mini goldendoodle and she is 12 years old. She has the kindest brown eyes that see only the best version of me (or whomever she looks at). This dog is always happy — actually more like ecstatic — to see me or any human really, and despite the many boxes of Greenies we get at Costco, she has the worst breath, which she generously shares with whoever is gullible enough to bend down for a kiss.
Her name is in honor of the first golden in our family, and finding her was a journey in itself. In search of a hypoallergenic dog, we learned about doodles. We tried and failed to find a rescue option and eventually tracked down a breeder in Modesto. Once we learned of the upcoming litter, I diligently paid $500, not realizing it was only the deposit.
Six weeks later, on a frosty December morning, we packed the EuroVan and went on a mission to pick our pup — definitely one of the best family memories. I realized the total cost of this ball of fluff was $2,000, but it was too late to back out. We had all fallen in love with a dog designated F2. Driving home with a 7- and a 4-year-old cooing and calming their nervous new family member eased the pain of handing over that check. And for the first couple years, due to her penchant to escape and run wild in the neighborhood, we called her 2K Pâté, imagining the aftermath of her running straight into a car.
Of course, our time with Sam isn't all wagging tails. There were enthusiastic muddy runs through the house, plates of appetizers devoured before a party, burritos snatched from children's hands at the park, and countless drives home from work to retrieve the yellow doodle that popped up in Nextdoor Strawberry notifications. There were also a few dead chickens (not a malicious murder: she just played too rough) and pounds and pounds of poop picked up through the years. Despite all this, we love her deeply, might I say, fiercely.
We are not alone. Dogs and humans have shared a bond for centuries. There are remains of dogs buried with their humans dating back 14,000 years. What other animal inspires as many anthropomorphic descriptions? Buster is grumpy when you sit on his chair, Buster hates the Kardashians, Buster loves going to this particular park, and here in Marin, Buster prefers wild salmon. It's no surprise that canine companionship is a topic that resonates with our readers — our online article on Marin's pampered pooches is constantly in our top 10 searches, as are our stories on dog-friendly restaurants and traveling with a dog. Why? Two words. Unconditional love.
So when our art director suggested a photo essay on dogs last fall, it was an easy and unanimous yes. Even our managing editor, the cat lover in the group, saw the value in a story showcasing the bond between our readers and their furry friends. The only problem was selecting which dog-and-human pairs to photograph; we only had room for five. Once we solicitated applicants on Facebook, it didn't take long for a flurry of queries to flood associate editor Kasia Pawlowska's in-box. She has an obsession with Bernese mountain dogs (you'll notice there are a pair in the feature) and was so entertained by people's stories about them we were afraid she would leave us for Dog Fancy magazine. Does your dog rock your world? In 2019 we'll be featuring a dog-of-the-month on our website; email [email protected] for details.
Oh yeah, I almost forgot, happy New Year. We are grateful for our readers and look forward to bringing you another year of exciting content focused on this beautiful county we call home.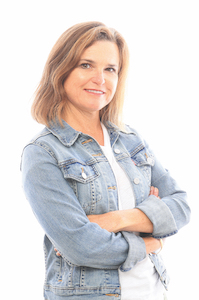 Mimi Towle has been the editor of Marin Magazine for over a decade. She lived with her family in Sycamore Park and Strawberry and thoroughly enjoyed raising two daughters in the mayhem of Marin's youth sports; soccer, swim, volleyball, ballet, hip hop, gymnastics and many many hours spent at Miwok Stables. Her community involvements include volunteering at her daughter's schools, coaching soccer and volleyball (glorified snack mom), being on the board of both Richardson Bay Audubon Center. Currently residing on a floating home in Sausalito, she enjoys all water activity, including learning how to steer a 6-person canoe for the Tamalpais Outrigger Canoe Club. Born and raised in Hawaii, her fondness for the islands has on occasion made its way into the pages of the magazine.