FIRST OF ALL, hello. I'm honored to have this opportunity to share my thoughts. After 10 years of writing and editing stories about our glorious county, I'm more convinced than ever that we live in one of the truly unique places on the planet. My intention with this page is to shine a light on a topic that relates to stories in our magazine and to the county.
This time, I want to discuss the power of meditation and yoga that you'll read more about in Nan Foster's feature. Just over a year ago I selfishly pitched an article on the increased mental clarity that comes with meditation, because it was something I desperately needed. My colleagues snickered and suggested a plan B in case it didn't happen. How hard can it be? It's the lazy man's yoga: Sit. Breathe in. Breathe out. Stay seated. Turns out writing about it was harder than I thought and I put the story in Foster's capable hands — but not before getting to know about the resources available here in the county.
My early research took me to Spirit Rock. When I travel and people find out I'm from Marin, it's not uncommon to have someone say, "Oh, I love Spirit Rock; Jack Kornfield changed my life." Kornfield, a Buddhist monk/author and founding teacher at the 411-acre oasis in Woodacre, wasn't there the night I went, but 400 devotees were. When Kornfield is on the teaching or speaking roster, the community meditation center with hardwood floors, walls of windows and a 41-foot vaulted ceiling is packed. That evening the experience was pleasant, the speaker engaging, but I found myself more focused on where to get dinner on the way home through Fairfax. I have, however, become addicted to watching Kornfield's webcasts on YouTube (less driving).
Lured by the promise of unwavering focus and reduced inflammation, as well as Jerry Seinfeld's endorsement, I visited the Marin Transcendental Meditation group at the Mill Valley Community Center. I joined the introductory class and after a two-hour presentation, I was distracted, and to me the talk felt too much like a sales pitch. However, the guy sitting next to me loved it, paid the $1,500 for the course and is probably happily levitating as I write this. It just wasn't for me.
Beyond the plethora of online apps and videos, the good news is here in Marin we have an abundance of ways for all personality types to glean the positive benefits of this ancient practice. There is the new Soulstice Meditation studio in Sausalito with a variety of classes all day, everyday; Tuesday nights at Buddhist Temple of Marin on Miller Avenue; Thursdays at the Anubhuti Meditation and Retreat Center in Novato; Sunday Morning Community Meditation at Tamalpais Shambhala in San Rafael and the Sunday program at Green Gulch Farm in Muir Beach.
Did I miss one? Let me know. I'm not giving up on my attempt to research all the various flavors of meditation offered here in Marin; it just might take a little longer than I expected — isn't it all about the journey anyway?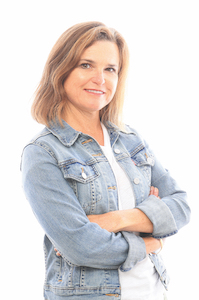 Mimi Towle has been the editor of Marin Magazine for over a decade. She lived with her family in Sycamore Park and Strawberry and thoroughly enjoyed raising two daughters in the mayhem of Marin's youth sports; soccer, swim, volleyball, ballet, hip hop, gymnastics and many many hours spent at Miwok Stables. Her community involvements include volunteering at her daughter's schools, coaching soccer and volleyball (glorified snack mom), being on the board of both Richardson Bay Audubon Center. Currently residing on a floating home in Sausalito, she enjoys all water activity, including learning how to steer a 6-person canoe for the Tamalpais Outrigger Canoe Club. Born and raised in Hawaii, her fondness for the islands has on occasion made its way into the pages of the magazine.