One: The Boat
In planning their wedding, Tiburon natives Peter Scott and Christina Hansen allowed each other two words or phrases to frame the spirit of the day. Peter picked "light" and "not stuffy." Christina chose "elegant" and "not indoors." "Water" was a given. The couple races together on 505 dinghies and were both junior sailors at the San Francisco Yacht Club; there's even a 20-year-old framed photo of the pair (as friends) on the Golden Bear, Cal Sailing's racing sloop when Peter was on the team. However, it was on dry land­, at Tiburon's Friday Nights on Main, after Christina returned from living in New York, that sparks officially flew.
Fast-forward two years to a morning last October on the classic yacht Eros, floating off Angel Island. An intimate group, including Peter, took in the dynamic views, sun peeking through the fog, and ethereal strums of the harpist. "There was a very long wait for the bride," he recalls. "But when the rowboat (ferried by her father) poked around the corner of the harbor, and I could see that Christina was dry and smiling…all was well." For the lightness he'd envisioned, the ceremony included a poem, Jack Prelutsky's "The Turkey Shot Out of the Oven," read by Peter's daughter Grace. Once the union was sealed with a kiss, Eros set sail. "There was a fair bit of fog as we sailed into the Pacific," the groom recounts. "The wind was blowing nicely and the boat had the most wonderful feeling of freedom as we charged through the swell. A real sense of freedom and adventure surged through me as I thought of sailing into the future with my wife…a nice way to start a life together."
Two: The Island
Ever since taking their first vacation on Maui, Chantelle Knapp and Tim Roche dreamed of getting married there. So after deciding to tie the knot, "we flew there for an extended weekend to check out all the different wedding options and venues Maui had to offer," Chantelle says. "We both fell in love with the White Orchid Beach House as soon as we saw it. We knew we wanted something intimate and private; the beach house was exactly that, with a beautiful island garden and beach."
Mill Valley's Barbara Gerraty has been planning romantic nuptials large and small for Bay Area couples via White Orchid Weddings (her sister's Maui-based company) for over five years. She was especially impressed with the Roches' Friday morning (10:00 a.m.) ceremony last May. "The daytime ceremonies are a great option for couples because it gives them more flexibility with the dates and it's much less expensive," she says. The Roches agree. "We had 30 family and friends fly out and join us," Chantelle says. "We wanted to keep everything fun and relaxed — everyone was on vacation, after all!" To keep with the laid-back theme, they traded in the traditional rehearsal dinner for a beach barbecue with island-style takeout. After the ceremony, guests enjoyed a beach luau, resulting in a few souvenir photos of some of the more "manly" men in their group getting hula lessons onstage. "We wanted our wedding day to be about celebrating, with the least amount of stress possible," Chantelle recounts. "As expected, we got a beautiful wedding that was less expensive than anything we had looked at planning at home and a week to vacation with all our closest family and friends. It was the easiest wedding I've ever heard of anyone planning."
Three: The Ranch
As Erica Campbell stood at the altar with her soon-to-be-husband, Ian erickson, overlooking Alisal Lake in Central California, she thought about their courtship, including the moment they met, at her sister's college dorm in San Luis Obispo. An immediate friendship bloomed into romance while Ian was deployed in Iraq. Her mind then went to her father, who passed away when she was 12, and how he used to call her Butterfly. The nickname was acknowledged in the ceremony. "Right before my brother-in law (the pastor) declared us husband and wife," recalls Erica, "he explained the personal significance of butterflies and opened a hatbox to release three dozen butterflies, which fluttered out over our guests. One decided to perch on my dress. That was amazing."
Choice of venue had never been a question. While Erica grew up in Novato (attending Dixie Elementary, Miller Creek Middle School and Marin Catholic High), Ian lived just down the road from Alisal Ranch in the Santa Ynez Valley, in the town of Buellton. He spent much of his youth on the property with his father, a wrangler and trail guide, or on the golf greens with his maternal grandfather, a PGA pro. "While we were dating, we would visit his family and the ranch," Erica recalls. We knew we would get married there. It had everything we wanted: a country setting, beautiful scenery, family history, the best food and perfect weather." Setting the date was pretty simple too: they wed on the same date as Ian's paternal grandparents, who were present and celebrating their 61st anniversary. Ian's other, golfer granddad was honored during the vows. "My grandfather told me, if you get a woman that good, hold on to her," Ian told the crowd. "And"—he paused for effect—"that's what I did."
Four: The Coast
Taking a break from studies at Carnegie Mellon University in Pittsburgh, overlooking the convergence of the nearby three rivers, David Wright proposed to his longtime girlfriend, Erin Weideman. "While we weren't sure about when we'd get married," says Erin, "we knew where." The ceremony would be at David's grandparents' home in Inverness. "David's parents were married there," Erin notes. "It is a beautiful property and we love the natural setting and its remoteness." For David, gathering fruits and vegetables in his grandparents' garden while growing up instilled a love of nature and an appreciation for the artistry of the surroundings. The couple (who now live in London) exchanged vows in the same tiered garden he had cultivated as a child, under a wood chuppah he hand-carved. The wedding cake, adorned with a pattern design his father created, was topped with a small elephant statue David had brought back from India for Erin years before. The personalized ceremony was officiated by longtime family friends Sam Chase and Jane Wattenberg.
In a sign of the times, planning for this very low-tech wedding was facilitated via webcam meetings between Erin and Rosemary Hattenbach of Rosemary Special Events. "It was important for us to have as little impact on the environment as possible," Erin adds. "I wanted it simple and elegant, with minimal use of cut flowers. It was important that the decor match the environment and the property. Rosemary was wonderful to work with. She was able to read us so well and make our wedding exactly as we imagined—if not better!"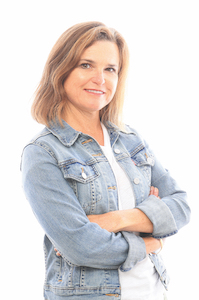 Mimi Towle has been the editor of Marin Magazine for over a decade. She lived with her family in Sycamore Park and Strawberry and thoroughly enjoyed raising two daughters in the mayhem of Marin's youth sports; soccer, swim, volleyball, ballet, hip hop, gymnastics and many many hours spent at Miwok Stables. Her community involvements include volunteering at her daughter's schools, coaching soccer and volleyball (glorified snack mom), being on the board of both Richardson Bay Audubon Center. Currently residing on a floating home in Sausalito, she enjoys all water activity, including learning how to steer a 6-person canoe for the Tamalpais Outrigger Canoe Club. Born and raised in Hawaii, her fondness for the islands has on occasion made its way into the pages of the magazine.