Wildflowers are one of the best things about spring and are an especially welcome reward this season in the wake of all the rains. Get out and take in the dazzling array of color on one of the many hikes throughout the county. Detailed maps can be found online at AllTrails, or check with Marin County Parks and Point Reyes National Seashore to join a ranger-led jaunt.
If hiking isn't your thing, don't worry — there are plenty of easily accessible wildflower-oriented events and activities going on in the upcoming months. At the Bay Model Visitor Center in Sausalito, the Marin Chapter of the California Native Plant Society (Marin CNPS) is presenting Beauty and the Beast: California Wildflowers and Climate Change, which features over 70 wildflower portraits and native landscapes by Marin City photographers Nita Winter and Rob Badger. The award-winning photographers have been capturing the allure of California for over two decades while highlighting the dangers and damages brought on by climate change, including the waning wildflower population. The show emphasizes Marin's landscapes but also those elsewhere in the state, from Sierra alpine rock gardens to Death Valley's desert scenery. Additional CNPS events and activities include a native plant pollinator garden in front of the Bay Model, two major speakers on climate change issues, naturalist-led hikes to local wildflower habitats and more. The exhibition runs April 2 through June 1 and is free and open to the public.
WILDFLOWER WALKS
Ring Mountain
Difficulty: Easy
Length: 2.7 miles
Point Reyes Lighthouse Visitor Center
Difficulty: Moderate
Length: 1.3 miles
Marin Headlands, Hill 88
Difficulty: Moderate
Length: 3.9 miles
Mount Burdell
Difficulty: Moderate
Length: 5.2 miles
Mount Tamalpais
Difficulty: Hard
Length: 6.6 miles
This article originally appeared in Marin Magazine's print edition with the headline: "Beautiful Blooms".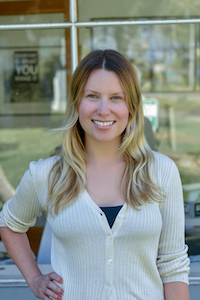 Kasia Pawlowska loves words. A native of Poland, Kasia moved to the States when she was seven. The San Francisco State University creative writing graduate went on to write for publications like the San Francisco Bay Guardian and KQED Arts among others prior to joining the Marin Magazine staff. Topics Kasia has covered include travel, trends, mushroom hunting, an award-winning series on social media addiction and loads of other random things. When she's not busy blogging or researching and writing articles, she's either at home writing postcards and reading or going to shows. Recently, Kasia has been trying to branch out and diversify, ie: use different emojis. Her quest for the perfect chip is never-ending.