On September 16, a woman died in Iran. She was a twenty-two-year-old Kurdish woman who'd come to Tehran on a holiday with her family. She hadn't been in the city long when she was arrested by the morality police for wearing her veil improperly. While in custody she was beaten, fell into a coma, and died.
To me, an Iranian who'd left the country as a child, it was both shocking and not. So many others had died or gone missing. I grew up with the stories; every Iranian did. Always, we have carried the grief alone.
This time was different.
Within days of her death the young woman's name — Mahsa Amini — would become a battle cry in the first feminist uprising of the century. Thousands of daughters, sisters, mothers, and grandmothers would gather in the streets to shout, "Death to the Dictator!" They pulled off their headscarves, cut their hair, raised hell. Six weeks later they are still at it.
While the force of their fury seems to have caught the world off guard, it doesn't surprise Iranians, who've long known the rage and strength of our women. Nor does it seem surprising that it's been activated by loss. Grief, after all, is not only an expression of sadness. For a people whose voices have so long been suppressed, it's also a vessel for rage, passion, and courage.
The regime's crackdown against the largely peaceful protests has been swift, brutal, and unrelenting. More than two hundred people, many of them young women, teenagers, and children, have been killed. The journalist who broke the story of Mahsa Amini's death, herself a young woman, is now in prison, in solitary confinement, one of reportedly 12,000 people to have been jailed since the uprisings began.
The protests in Iran are not, fundamentally, a protest against Islam, but a repudiation of the regime and an insistence on both women's rights and human rights. As such, they've galvanized the Iranian American community.
In the first weeks of the uprisings, Western media outlets provided scant coverage. Meanwhile, the regime cut off access to social media and internet services. Iranians in the diaspora heard, with increasing urgency, that we must be the voice of the protestors back home.
And we have been. It has become a daily, even hourly, task for just about every Iranian I know to amplify the stories coming out of Iran. We post, we tweet, we share, we re-share. On weekends, in cities all around the world, we gather in parks and town squares, and civic buildings. When the first of these protests took place in San Francisco, five thousand people took part. In Los Angeles the next week it was 20,000. In Toronto, it was 50,000.
This past Saturday some 100,000 Iranians from all over Europe convened in Berlin to show their solidarity with the freedom fighters back in Iran. It was the largest gathering in the forty-three-year-long history of the diaspora.
For many, there are real stakes in participating in these demonstrations. A graduate student at the college where I teach confided that she cannot stop protesting against the regime, even though it means she may never return to her country.
Every Iranian I talk to these days feels it — the fierce pull toward activism and solidarity. Many of us had become resigned to a future in which the regime continued its brutal reign. No one knows how long the protests will go on, or how they will end, but after decades of despair, there's both a feeling of hope as well as a tentative but growing sense that for the first time in our history, we are not invisible, and we are not alone.
Looking to stay on top of current happenings? Here are some informative Instagram accounts to follow:
---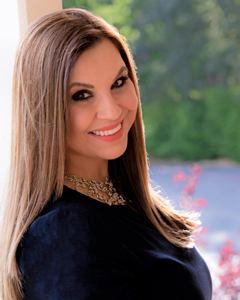 Jasmin Darznik is the New York Times bestselling author of The Good Daughter, Song of a Captive Bird, and The Bohemians. She was born in Iran and came to the United States as a child. She is now a professor and chair of the MFA Writing Program at California College of the Arts in San Francisco.