While Covid-19 has delayed 75th anniversary plans for the Marin Art and Garden Center, it's worth taking note of the multitude of ways this beautiful, historic site has enriched the lives of those in our community. Before lockdown, the 11 acre garden space was the site for concerts, seminars, art shows, plays, weddings, school outings, summer camps, memorials, business retreats and more. It has and always will be a place to hang out and enjoy nature — no matter what age.
Did you know?
The Marin County Fair was held on the property from 1947 to 1970.
It is one of the few places on the planet with three species of redwoods: a Dawn Redwood (planted from seed in 1947), a Giant Sequoia (brought from Yosemite Valley in the 1880s), and a Coastal Redwood.
The beautiful Dawn Redwood was thought to have become extinct millions of years ago until discovered in China in 1941 and planted at the Marin Art and Garden Center six years later.
Their rose garden has over 150 varieties of roses.
Much of the irrigation water comes from a well on the property that is replenished by rain each year.
Barn owl and bat boxes are installed on the property to provide natural, safe and effective pest control.
Forty-five varieties of birds live on the property, from the Warbling Vireo and Northern Flicker to the Yellow-rumped Swallow and Ruby-crowned Kinglet.
The property has several examples of mid-century Bay Area architects and landscape designers, notably Don Emmons, Thomas Church, Gardner Dailey and Robert Royston.
The Pixie Park playground was founded in 1952 by environmental educator and legendary naturalist Elizabeth Terwilliger (fondly known as "Mrs. T").
---
How to Help
For more ways to support local businesses, go here.
---
For more on Marin:
---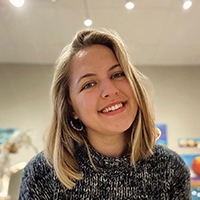 Sabrina Tuton-Filson is the Assistant Editor at Marin Magazine and a graduate of Elon University where she studied Professional Writing and Fine Art. Born and raised in San Francisco/Marin, she loves traveling just as much as coming home to the Bay Area. She has curated a sophisticated palate for food, travel and culture and uses her travels as an outlet to develop her photography portfolio and hone her writing craft.