April 4
Fox Theater, Doors 7:00/ Show 8:00, $35-$75
You've heard "Heartbeats." Hopefully you've also heard this superstar singer-songwriter in his collaboration, Junip. This show, his original music backed by a full orchestra, is sold out – let me know how I can convince you to sell me a ticket.
April 4
The Independent, Show 9:00, $16-$20
I'd never normally suggest a mashup of Bhangra, electronic, reggae, hip hop, and Celtic music… but that's because a) I'm not sure it ever existed before Delhi 2 Dublin and b) I doubt anyone could do it better. This Canadian group formed in 2006 and has created quite an international fan base.
April 5
Sweetwater Music Hall, Doors 8:00/ Show 9:00 – $22
Hm… just after telling you I won't lead you astray with a blend of Indian and Irish beats, I invite you to join me to see a cover band that fuses Pink Floyd with Talking Heads and Phish… trust me?
April 6
Freight and Salvage, Doors 7:00/ Show 8:00, $24-$28
This legendary British singer-songwriter is best known as the lead singer of Graham Parker and the Rumour. He's played with everyone from Nick Lowe to Danny Federici and his body of work includes the smash albums, Howlin' Wind and Squeezing Out Sparks.
April 12
Fox Theater, Doors 7:00/ Show 8:00, $35
Well, I guess this is the month for fusion music. This band, my beloved Beats Antique, blends Middle Eastern belly dance music with hip hop, jazz, and afro beat. They don't have a bad album, so you can't go wrong, but perhaps check out "Beelzebub," on A Thousand Faces, Act 1 featuring Les Claypool, if you need an intro.
Phil Lesh & the Terrapin Family Band 
April 12
Terrapin Crossroads, Doors 7:00/ Show 8:00, SOLD OUT on 4.12, $35 for 4.13
Please tell me I don't have to explain who Phil Lesh is – if you didn't already know he was one of the founding members of the Grateful Dead, I'm pretty sure that's in the "Welcome to Marin," brochure we give you when you move here. (Wink!) He and the Terrapin Family Band will be performing Shakedown Street and Terrapin Station on April 12th. The next night, the Grate Room will be hosting "Life is a Carnival: Phil Lesh & the Terrapin Family Band & Special Guests Celebrate Jazz Fest." Saturday's show isn't sold out yet, but I'm betting it will.
Petty Theft
April 12–13
Sweetwater Music Hall, Doors 8:00/ Show 9:00,  $27
This San Francisco based Tom Petty and the Heartbreakers cover band has been rocking the West Coast since 2003. They were voted the Best Band in SF North Bay by the Bohemian in 2011, 2012, and 2013, and the Best Local Band in 2015 and the Best Cover Band in 2018 by the Pacific Sun.
Los Lobos 
April 14
Sweetwater Music Hall, Doors 7:00/ Show 8:00 SOLD OUT
Los Lobos celebrated their 40th anniversary releasing a live album called Disconnected in New York City in 2013. Now, they're celebrating the release of Gates of Gold, their first full-length studio album since 2010's Tin Can Trust. Their music is much richer and dynamic than their crossover hit, "La Bamba," offering deep insight into their Mexican American roots. I'll be standing outside hoping for a ticket to this sold out show.
Midnight North w/ Ben Morrison and Erika Tietjen
April 20
Mystic Theatre, Doors 7:30/ Show 8:30, $18
Petaluma's not going to know what hit them. Ben, half of the Morrison brothers of Brothers Comatose, and Erika, a third of The T Sisters, are opening for a band featuring Elliot Peck and Grahame Lesh, Phil's son and an accomplished guitarist in his own rite. I've seen these guys many times at Terrapin and can't wait to watch them rock the Mystic.
Christopher Cross
April 20
The Independent, Show 9:00, $45
I saw Christopher Cross on Train's Sail Across the Sun cruise last year, and his voice is just as syrupy and swoon-y as it was when I heard "Sailing" and "Think of Laura" when I was a kid. Other songs you might recognize from this five-time Grammy award winner include "Ride Like the Wind," "Never Be the Same," and, "Arthur's Theme (Best That You Can Do)."
Listen for a Change: Social Justice Storytelling
April 21
Freight and Salvage, Show 5:00 pm, $0-$30
The topics for this event are immigration, addiction, and sex work, and the event is advertised as such: "Three controversial issues that divide us. Three powerful stories to unite us. Told by the people who lived these incredible experiences, our brave storytellers have prepared for weeks to share their truth with you on stage." I'm not familiar with Listen for a Change, but I do love and support the Freight with all my heart: besides supporting fantastic singer songwriters, Freight and Salvage also regularly hosts The Moth storytelling series. Ticket sales go to support the Freight as well as three non-profits on each social issue.
A Love Supreme Acoustically Electric
April 21
Sweetwater Music Hall, Doors 4:00/ Show 5:00, $17-$20
I'm very curious and excited about this show. It's advertised as an acoustically electric seated show and features Henry Kaiser, John Hanrahan, Scott Looney, Murph Murphy, and Grammy winner Mads Tolling on violin. As a huge John Coltrane fan, I'm in. Can't think of a better way to ease into the week than an early evening show devoted to this album.
David Nelson Band 
April 25–26
Terrapin Crossroads, Doors/ Show, $45-$49
Once a member of The Wildwood Boys with Jerry Garcia, David Nelson is perhaps best known as the co-founder and longtime member of the New Riders of the Purple Sage. He also served as lead guitarist in Big Brother and the Holding Company. This is going to be a wild two-night spree of rock and roll fun.
Rupa and the April Fishes
April 26
The Chapel, Doors 8:00/ Show 9:00, $22
I'm just gonna say it: I love Rupa. I can't think of a time living in the Bay Area where I wasn't inspired by her words and didn't dance my booty off to her rhythms. This San Francisco based band is set to release their much-anticipated sixth album, Growing Upward.
Grace: The Jeff Buckley Story – A Book Release and Musical Tribute
April 30
Sweetwater Music Hall, Doors 6:30/ Show 7:30, $18-$20
If you choose to heed my advice only once this month, meet me at this show. We all know Jeff Buckley – he is the singer-songwriter who took Leonard Cohen's already beautiful "Hallelujah" to epic heights. My friend and renowned writer, Mill Valley's Tiffanie DeBartolo, is celebrating the release of her third book by having a party at Sweetwater, complete with musicians Wayne Kramer (MC5), Natalie and Erika (Featherwitch), Kyle Nicolaides (Beware of Darkness), Pat Spurgeon (Rogue Wave), and special guest Mary Guibert, who just happens to be Jeff Buckley's mom. Not to be missed.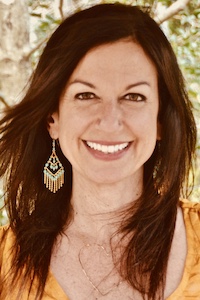 Emilie Rohrbach has taught music and theater to grades pre-school through 8th in San Francisco and Marin counties for the last twenty years. She has been a freelance writer for Divine Caroline for five years, and her writing has appeared in Narratively, Hippocampus, Common Ground, Travelers' Tales, and Marin Magazine, among others. She is passionate about Room to Read, Shanti Bhavan, and Destiny Arts and serves on the board of Knighthorse Theatre Company.