Singer/Songwriter Rick Hardin teams up with Grammy award-winner Bonnie Hayes for his first full length album since his breakout EP. With powerhouse vocals and inventive songwriting, this sophomore release showcases Hardin's richly cinematic songs. Now he's playing in Marin, with a show on Tuesday, March 5 at the Hopmonk Novato, where he's opening for Griffin House.
ER: Hi Rick! I first met you over 12 years ago at the 4th Street Tavern in San Rafael. You had just released an album and were featured on KFOG. Can you tell us more about that time? And then it seemed like you disappeared for a bit – can you tell us what happened?
RH: KFOG was a total blessing and sort of a fluke. I had been working on one of my first songs, "Yeah Yeah Yeah", and as soon as I wrote it I knew it would be on KFOG. 
A strong feeling in my gut led me to the station's local scene contest. There was a car accident and a traffic jam that made me late for the 10-minute interview I was promised by the station. I knew I had missed the appointment and I was really upset. I went to the meeting place anyway to see if I would get lucky and the kind receptionist, Special, told me that the staff had just left. I gave her the CD and asked if she would tell them how sorry I was to miss the meeting. Special gave the CD to Renee Richardson and Kelly Ransford, and they put it on their Local Scene CD, Volume 4. This was in 2006. It was very exciting.
Being on the KFOG Local Scene Volume 4 brought me gigs and attention, but I really felt like I needed to learn how to play the guitar better and work on my song structures. Bonnie Hayes was the first and only person who came to mind to help me with that endeavor. When I started writing my album The Weather, I wanted to take the songs to Bonnie Hayes and see what she thought, but years passed before I finally I took them to her. She said the songs were great and that she would love to produce my album. This was around 2011.
The recording process was a long one.  I was working to pay for it as we went along. Bonnie kept everything really affordable and worked tirelessly, and brought a team around me that was incredible. When it was finished, I was thrilled. It's an amazing album. 
I got my feet wet performing and really liked that too, but still felt like I might not be a good enough guitar player to hold a show on my own, even though at the time I was playing alone at Cafe Du Nord, The Poster Room at the Fillmore, Last Day Saloon, Rockit Room and many other venues. As an artist, I recognized I could be better. I've never stopped playing gigs, but instead of twice a week I played only once a month, and spent most of my time writing and practicing. I didn't know how to release the album either, and realized that I would have to wait until I could quit my day job to really push it, so I did.
ER: A few years ago, you seemed to jump back into the music scene. I had the joy of singing with you for a while – then you were also a founding member of the group Harmonic Law, featuring a few other local musicians who are talented in their own right. Can you tell us more about how that collaboration began and how it took off? 
RH: I knew that I had a gift, and I really wanted to see what I could do with it. My friend Fiver Brown (amazing!) was playing at the No Name Bar and one of the nights I went to see him I saw a sign advertising an open mic, so I decided to go see if it was any fun.  I tried out some new material and the crowd reaction was really inspiring, so I decided to hang around there as much as possible.  A few of the musicians who played at the No Name really stood out to me. Pacifico Samonte, Justin Coen, and Rob Dietrich joined me in our band Harmonic Law. We've had a ton of really fun packed gigs in the North Bay. Our first gig was in Hollywood at the legendary Whiskey a GoGo. We got to play on Alcatraz Island with one of the original inmates, Bill Baker. Now we are lucky enough to be one of the house bands for the No Name's Saturday night shows.
ER: Then came your collaboration with Ron Romero. How did that partnership begin?
RH: Working with Ron has been an experience to say the least. He puts more effort into music than anyone I've ever met. You would think that he didn't have a day job, but he does. When we met we started writing all new material with a specific goal in mind… world domination. (laughs) Ron had a few really wonderful connections with amazing players. That was the most exciting from thing for me, because I love meeting people who know how to keep the rhythm in the pocket and the dynamics off the charts.
We're currently finishing a project that we started at Capitol Studios in Hollywood with Al Schmidt. Our producer, Jerry Stucker, and Ron have really put some special music together, I'm proud to be included in the writing and performing.
ER: What's it like working on more than one musical project?
RH: It is tricky to have multiple projects, but they are all so different and require different kinds of gigs. The singer-songwriter gig is usually opening for people as a solo artist or house concerts. Harmonic Law has a nice built-in repertoire and we can jump on stage with hardly any practices and rock any house. Ron Romero and I are hoping to be very busy this year, I expect that project to take up the largest chuck of my time.  
ER: Last month you finally released, The Weather – I've listened to it and it's incredible. Are those all originals? Can you tell us more about the inspiration behind some of your favorite songs? 
RH: The Weather is about my life as an artist. The ups and downs, the expectations, the disappointed feelings when things don't work out the way you hope. It's also about the joy of living in such a place where there's so much opportunity. I was raised really believing I could be or do anything I wanted. I co-wrote a few songs on the album with Bonnie Hayes, and I wrote with Scott Lipsitz, but most of the songs I wrote myself. Basically, if you have a dream that you're procrastinating on, this album is for you. There's a track called "Silver Tongue" that speaks to the fact that I have the ability to talk myself into anything. Or out of anything. The song "The Weather" really encapsulates the whole album.
ER: The album was produced by local legendary singer and producer Bonnie Hayes, and features some amazing musicians – can you tell us about some of the other artists?
RH: Vicki Randle blew my mind with her voice and spirit, her talents on the drums, and her ability to take instruction and sing so flexibly. Kevin Hayes is a legendary dude. He gave his time and beats for a very affordable price and was really encouraging about the project. I was watching Austin City Limits one morning and I saw him playing with Robert Cray and I remember thinking, "Oh my gosh, that's the drummer we're using next week!" Gwaine Matthews who played banjo, baritone guitar, electric guitar and I'm not sure what else, was an amazing dude and he has such a great studio to work in. Kyle Caprista's energy and talent was priceless. We had him drum on three tracks; I remember thinking he could probably do this whole album himself.
Annie Stocking tore up the background singing – I still can't believe what she did with her voice. She has a note on the title track that made me wonder if she was singing thru a guitar amp! Ash Reyes Picache gave her voice to a few songs as well – she's a friend of mine from years ago. She is one of my musical soul mates for sure! And my good friend Matthew Charles Huelitt played electric guitar on some tracks. I'm so lucky I know him.  His take on things always reaches me.
ER: I know you well enough to know that when we were collaborating together, I'd go to the other room in my apartment to take a phone call and come back and you'd have three new ideas for three songs that you recorded while I was gone, even if it was only for five minutes! And they were all really good ideas. How does music flow for you?
RH: Good question, I'd have to say that it's hard to live with a mind like mine. Part of my brain is always mining for lyrics. Part of my mind is always looking for melody. It's hard to stay on task because I get distracted by an idea for a great song or two. 
My life has literally changed upon the discovery of voice memos on my smart phone. I have hundreds and hundreds of voice memos that are song ideas. I spend a lot of time going over these ideas and refining them, and seeing if there's anything good in there. Most of its garbage, but every once in a while I find something that blows my mind.
ER: You've had some funny and odd jobs while also making a living as a musician – can you share a few of them?
RH: I've been a DJ, baker, scraper, grocery store employee, deli worker, a drywall person, a painter, a coffee barista, a junk hauler, set designer, Santa Claus, singing telegram, merch guy for bands, boat cleaner, carnival worker, relief worker, landscaper, art framer, house sitter, and a dog walker, among others!
ER: What's next for Rick Hardin?
RH: I'm just waiting for the next best thing to start happening. I feel like I've got my head on straight and I'm ready to take my artistry to the next level. I want to be onstage a lot more this year. I've gotten a lot of support from friends, and my manager Penelope. I look forward to what's to come. I'm very excited to be included in Griffin House's show at the HopMonk on March 5th. I can't thank KC Turner and Griffin House enough for having me. It will be a great show – I intend to bring my best!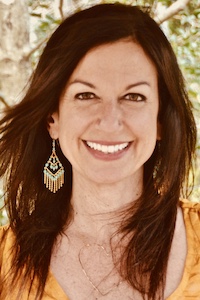 Emilie Rohrbach has taught music and theater to grades pre-school through 8th in San Francisco and Marin counties for the last 20 years. She has been a freelance writer for Divine Caroline for five years, and her writing has appeared in Narratively, Hippocampus, Common Ground, Travelers' Tales, and Marin Magazine, among others. She is passionate about Room to Read, Shanti Bhavan, and Destiny Arts and serves on the board of Knighthorse Theatre Company.