Since releasing their debut album, "Into the Wind" in 2017, Los Angeles' Magic Giant has been garnering acclaim for their lively mix of alternative, pop and folk. Named as one of Rolling Stone's "10 Artists You Need to Know", it seems likely they're only going to keep getting bigger.
Our music blogger Emilie Rohrbach first came across the band at BottleRock in 2018 ("I Got Schooled at BottleRock"). Among her new musical discoveries, Magic Giant was at the top of her list, so she jumped at the chance to catch up with lead singer Austin Bisnow before their upcoming San Francisco show.
ER: The chemistry between the three of you on stage is undeniable, your songwriting and singing extraordinary, your performance magnetic. (I think I have a three-minute video of you coming out and dancing in the crowd at BottleRock). Who are you guys? How did you get your start, and your sound?
AB: That's so sweet of you! BottleRock was so much fun and one of our fave festivals to play!
We started almost five years ago in Los Angeles. We all had very different backgrounds. Zang was indie and groovy salsa; Zambricki's was in folk and Americana; and mine was in pop, and believe it or not, classical composition!
ER: Not only did you put the "rock" in BottleRock, you were a huge hit at Coachella, you're getting attention from publications like Billboard, and you've played with The Lumineers and Mumford and Sons. Your debut album "Into the Wind," is getting critical acclaim. You guys are skyrocketing quickly! How's it all feeling?
AB: It's been a fun journey – we're constantly learning. We keep adding to the show: new songs, new production, more band and crew. It's all exciting.
ER: "Shake Me Up" is one of my favorite videos right now. How did you come up with the concept? Is the lead actor a friend of yours?
AB: Zang's dad passed away a couple years ago from mental illness and we wanted to make a video about seizing the moment, no matter how old or tired or stuck in your ways you are, because life is short. The lead actor is actually Zang's stepdad who made an appearance in "Window" as well. Our creative director Deena, thought it would be fun to have Zang's stepdad in every video, no matter how big or small. But in this case, he was the star!! We call him our DeNiro!
ER: Again, the level of energy and devotion you bring to your performance is unparalleled. How do you do it? And how do you take care of yourself offstage?
AB: We feed off the crowd. That's it! We might be tired or having a bad day before the show, but then we see all the smiling faces and it infects us! Offstage we try to stay healthy. Eating organic and limiting sugar and alcohol. None of our band or crew smokes cigarettes either. And sleeeep. That might be the biggest thing.
ER: Who are some of your biggest influences?
AB: Queen, Bruce Springsteen, Ray LaMontagne, and The Strokes are some of our biggest.
ER: What's next for Magic Giant?
AB: We just released a single called "Rocketman". We're on a six-week tour, culminating with the show at August Hall in SF March 1. We're working on our upcoming album. And then Camp Misfits 2019, which is a four day escape we throw in the redwoods with lots of music, activities, and all sorts of fun with us and a beautiful crew of MG fans who call themselves the Misfits.
Magic Giant will be performing Friday March 1 at August Hall.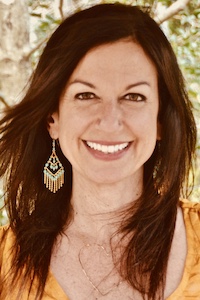 Emilie Rohrbach has taught music and theater to grades pre-school through 8th in San Francisco and Marin counties for the last 20 years. She has been a freelance writer for Divine Caroline for five years, and her writing has appeared in Narratively, Hippocampus, Common Ground, Travelers' Tales, and Marin Magazine, among others. She is passionate about Room to Read, Shanti Bhavan, and Destiny Arts and serves on the board of Knighthorse Theatre Company.