Marin Charitable held its annual Spring Fling on March 23 at Marin Country Club to raise funds for Marin's at-risk youth. The sold-out event exceeded its fundraising goals by raising $60,000. The organization recently surpassed a milestone of establishing an endowment fund of $250,000 to ensure long-term support for critical youth services.
The event was a tribute to the advent of Spring, including a vibrant fashion show curated with chic wardrobe picks from Bella Boutique, and flower-adorned cupcakes from Sarah Thongnopneua of Baked Blooms, a winner of Food Network's "Cupcake Championship" in 2019. San Francisco comedian Ray Connolly infused bursts of laughter into the room as event emcee.
Marin Charitable's board of directors showed up in force, including the Jenny Kelly, Jenica Bedford-Pugh, Miriam Burke, Kristine Erving, Cynthia Samson, Jane Hartman, Tuyen Bonneau, Susan Krenz, Carol Price, Gail McCallister, Jessica Berry, Cindy Weaver, Mara Conner, Sara Walker and Kris McCarten. Two local family foundations—the Gruber Family Foundation and Jackson Family Foundation—both made generous donations towards the endowment and the grant fund.
Event sponsors included Bon Air Shopping Center, United Markets, Buttercup Styling, Ashley Ashoff, Kate's Toffee and J McLaughlin.
---
For more on Marin:
---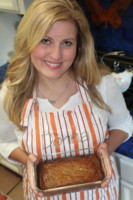 A freelance writer in Marin who writes about family, kids and parenting, Glass is the mother to one son, one dog and a hamster named Miss Geri. When she's not writing, trekking up steep hills in Marin or driving her kid to sports practice, she and her family spend time in their tiny cabin in Lake Tahoe. She avidly supports the California Academy of Sciences, a world class science museum and research institution, and the Institute on Aging which provides much needed services to Bay Area seniors and disabled adults. Glass is obsessed with baking the perfect loaf of banana bread, something she makes so often she no longer needs to look at a recipe card.