On May 14, Gilead House, a nonprofit that serves as a haven for single moms and their children, held its annual Mothers Matter fundraising event in-person for the first time in two years. John and Cynthia Klock, owners of West Wind Wines in Nicasio, opened the doors to their winery as event hosts.
Around 100 attendees enjoyed delicious bites by Dee's Organics and musical entertainment by Rob Sunberg of Black Cat Bone.
Two of Gilead House's board members spoke, sharing their own personal experiences with the audience. Alie Lopez relayed her story of triumphing as a single mom and the positivity she felt about motherhood as she raised her daughter. Reverend Dr. Courtney Vendetta McLaughlin spoke about the value of life and how God is important in the journey.
Gilead House's mission brings hope to homeless single moms and their children by providing a complete, positive and supportive program of help, transitional housing, life skills, education and emotional support designed to progress from homelessness to stability in life with permanent housing.
Mothers Matter sponsors included S.A.L.T., BioMarin, Bank of Marin, Christina Sherman Law Firm, Alders Financial, Pro-Co Insurance and Larkspur Family Dentistry.
Find out about the many ways you can support Gilead House here.
---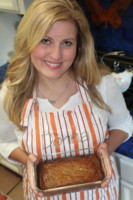 A freelance writer in Marin who writes about family, kids and parenting, Glass is the mother to one son, one dog and a hamster named Miss Geri. When she's not writing, trekking up steep hills in Marin or driving her kid to sports practice, she and her family spend time in their tiny cabin in Lake Tahoe. She avidly supports the California Academy of Sciences, a world class science museum and research institution, and the Institute on Aging which provides much needed services to Bay Area seniors and disabled adults. Glass is obsessed with baking the perfect loaf of banana bread, something she makes so often she no longer needs to look at a recipe card.