HAPPY NEW YEAR, new decade, new chapter and new beginning. A friend recently told me about the Japanese business concept of kaizen, based on a practice that can work for individuals too. It encourages us to take baby steps toward larger goals, aiming for a one percent improvement each day. The word comes from "good" (kai) combined with "change" (zen) — a change for the better.
If you are anything like me, the turning of a decade is like the Super Bowl of New Years. Add on a catchy, symmetrical number like 2020 and the possibilities for self-improvement are through the roof. It's time to roll up sleeves, reset goals, kick bad habits (usually the same ones as last year's) and get to work on a new and improved self. There is no easier place on the planet than Marin to begin this undertaking, which for me means embracing goals such as yoga five times a week, maybe not drink wine every single night, and stop using credit cards. These are internally driven actions that, in theory, I can control. But then there are the external factors one can't control, like gravity and sun damage.
Or can we? A visit to any dermatologist's office presents a dozen or so opportunities to "turn back the clock." If these methods don't work, why are they available? And if they do work, who's offering them? We tasked writer Carrie Kirby with researching the most popular noninvasive beauty-enhancing procedures. I even took one for the team and tried a few myself. Some worked, some didn't.
The easiest beauty hack I've learned is from my mother, Marin Magazine co-founder and publisher Nikki Wood. "Lipstick," she often whispered, not so subtly, when I walked into the office we shared for nearly two decades. I'd usually scowl, thinking, "Why can't she accept me the way that I am"? a response I now see might have been a little overdramatic. But message received, Mom. I will add lipstick to my resolutions list.
Our offices will feel a little different beginning in 2020. After starting this magazine in 2005 and maintaining our functional/dysfunctional work family, Nikki will be playing a lot more golf as she leaves office life behind. And Michele Geoffrion Johnson, our advertising director of 13 years, will be chasing around her granddaughter, not her sales team.
While change may be exciting for them, their guidance, elegance and encouragement will be missed. Speaking for our team, I can say we are grateful for the lessons we learned from both of them. Michele is known and respected throughout Marin for many reasons, but I'm guessing a big one is because she genuinely loves people. Many times I've watched her walk into a room, spot the person who felt out of place, and start a conversation. There is no way I can fit in all that I've learned about leadership from Nikki on one page. I think her biggest legacy is how she encouraged everyone to follow their passions, maintain a work-life balance, and have respect for people and process. Oh, and lipstick.
As you celebrate the new year, the new decade, lift a glass to celebrate the one thing we can count on, change. If only we could control it.
Mimi Towle, Editor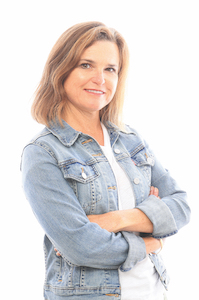 Mimi Towle has been the editor of Marin Magazine for over a decade. She lived with her family in Sycamore Park and Strawberry and thoroughly enjoyed raising two daughters in the mayhem of Marin's youth sports; soccer, swim, volleyball, ballet, hip hop, gymnastics and many many hours spent at Miwok Stables. Her community involvements include volunteering at her daughter's schools, coaching soccer and volleyball (glorified snack mom), being on the board of both Richardson Bay Audubon Center. Currently residing on a floating home in Sausalito, she enjoys all water activity, including learning how to steer a 6-person canoe for the Tamalpais Outrigger Canoe Club. Born and raised in Hawaii, her fondness for the islands has on occasion made its way into the pages of the magazine.