Ryan Scott is the trumpet player and a back up vocalist for the Monophonics. Monophonics are playing Sweetwater Music Hall, Friday, February 16 and Saturday, February 17, 2018 Doors 8:00 / Show 9:00
ER: I understand you guys are Bay Area locals. Can you tell me how Monophonics got their start?
RS: We are from all over the Bay – San Francisco, San Rafael, San Anselmo, Petaluma, and Oakland. We met as a band by combining members of two different college bands. We wanted to continue the tradition of funk and soul that slowly grew into the sound we are now as we added Kelly Finnigan on vocals and keys. That's when we started striving for a more "psychedelic soul" sound.
We got our start opening for Vinyl back in the summer of 2005 at one of our favorite Marin music venues -19 Broadway Nite Club. Since then we performed all over the Bay at wonderful venues such as Sweetwater Music Hall, The Boom Boom Room and more to gain fans and eventually take our music on the road.
ER: I've always loved your music. I noticed the difference between the albums In Your Brain (2012) and Sound of Sinning (2015): with the former, there's a definite groove steeped in funk, while the latter has more of a 60's feel to it (while still definitely qualifying as groovy). How do you guys collaborate on the overall sound and vision of the group? Do you all write songs together?
RS: We have a loose formula that seems to be working so far. Usually the rhythm section gets the core music together and we go on from there by arranging horns, strings, percussion, overdubs, vocals, etc.
ER: Some of my favorite Monophonics songs include "There's a Riot Going On," "Foolish Love," and "Lying Eyes," but I also gotta be honest: your cover of "Bang Bang" might be my favorite cover of all time. And I know you have a new EP of covers, Mirrors, which was released in Europe in December and is set to be released in the US in February. How do you choose covers?
RS: It's always fun to cover something you have listened to for years. It goes hand-in-hand to want to play music you are inspired by. Also, sometimes you just hear a song and can't help to think that it might be a great song to put our sound to, while paying homage and making people aware of some older music that they might have not listened to otherwise.
ER: What's the camaraderie like on tour? Who's the messy one, the quiet one, the practical jokester? Can you give us the inside scoop?
RS: We are all brothers on and off the road first and foremost. Ian is an amazing nest builder, Austin and Danny are pretty quiet until you get some tequila in them. I tend to be the joker but we all kinda do that. Kelly is usually doing business or hanging with everyone and Max likes to bite people. All joking aside, the camaraderie is strong in this brotherhood and we love what we do.
ER: What's next for you guys after this tour?
RS: Usually a lot of sleep. Haha. No – after we spread the word about our new album Mirrors, which is an EP of covers that we love and put a Monophonics stamp on, we will back in the studio to continue to work on our newest full length LP. Then we will be back on the road in the summer traveling all over the world.
Monophonics are scheduled to release their EP, Mirrors, in February, 2018 and plan to have a live album out this summer.
All new music, merchandise, and tour schedules are at monophonics.com.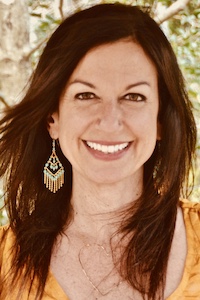 Emilie Rohrbach has taught music and theater to grades pre-school through 8th in San Francisco and Marin counties for the last 20 years. She has been a freelance writer for Divine Caroline for five years, and her writing has appeared in Narratively, Hippocampus, Common Ground, Travelers' Tales, and Marin Magazine, among others. She is passionate about Room to Read, Shanti Bhavan, and Destiny Arts and serves on the board of Knighthorse Theatre Company.