If you frequently drive the downtown streets of San Rafael, chances are you've seen them as you go whizzing by: trainers from Guide Dogs for the Blind, out with their trainee dogs showing them how to stop, walk and keep their future sight-impaired owners out of harm's way. 
This weekend, there's a chance to see these adorable (and amazing) pups up close and personal at the the Doclands documentary film festival, prior to the first screening of Pick of the Litter – a new acclaimed documentary that follows a litter of puppies from the moment they're born and begin their quest to become guides for Guide Dogs for Blind. The cuteness overload starts at 11 am, when a large group of puppies-in-training and working guide dogs will stroll the red carpet, likely posing for some photographs and perhaps offering a
pawshake or two.
The inspirational film, directed by Dana Nachman and Don Hardy (both former producers for NBC Bay Area), chronicles two years in the lives of the puppies, whose ultimate responsibility would be to help their blind or visually impaired handler lead a more safe, independent and fulfilling life. Along the way, these remarkable animals rely on a community of dedicated individuals who train them to cultivate amazing, life-changing skills in the service of their human partners. The stakes are high and not every dog can make the cut – only the pick of the litter will succeed.
Guide Dogs for the Blind's national headquarters is in San Rafael – and the organization is the largest guide dog school in the world, offering its services free of charge to the visually impaired.
If You Go:
Pick of the Litter 
Christopher B. Smith Rafael Film Center
Rafael 1 Theater 
Sunday, May 6 
Showings at 12 noon (puppies on the red carpet prior to showing) and 4:45 pm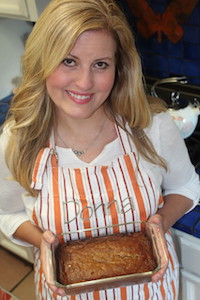 A freelance writer in Marin who writes about family, kids and parenting, Glass is the mother to one son, one dog and a hamster named Miss Geri. When she's not writing, trekking up steep hills in Marin or driving her kid to sports practice, she and her family spend time in their tiny cabin in Lake Tahoe. She avidly supports the California Academy of Sciences, a world class science museum and research institution, and the Institute on Aging which provides much needed services to Bay Area seniors and disabled adults. Glass is obsessed with baking the perfect loaf of banana bread, something she makes so often she no longer needs to look at a recipe card.