The Sonoma International Film Festival, held annually in March, is as much about celebrating outstanding food, wine and culture as it is about great films. Now in its 25th year, the festival's slogan is "the best in films, food, wine and fun."
This year, the festival honored Chef Jacques Pépin, presenting him with the first-ever SIFF Culinary Excellence Award. Pépin attended the festival and was the star of the Devour! Chefs & Shorts dinner on March 24. During the course of the evening, festival organizers pledged a $10,000 donation to the Jacques Pépin Foundation, which supports free culinary and life skills training to help individuals detached from the workforce gain confidence, skills and employment in food service.
A highlight was the live auction of Pépin's hand-drawn artwork of the evening's dinner menu—he is also an accomplished artist—which raised an additional $5,000 for his foundation. Saul Gropman, owner of the esteemed Sonoma restaurant, Cafe La Haye, was the winning bidder of the piece which was signed by Pépin and other participating chefs: Ken Frank of La Toque, Michael Howell of Devour!, Roland Passot of Left Bank and La Folie, Seadon Shouse of Timber Cove Resort, Ari Weiswasser of Glen Ellen Star and Ensan Wong of Cogir.
On March 25, local award-winning chef Joanne Weir headlined the Joanne Weir's Plates & Places Lunch, sponsored in part by Marin Magazine. The lunch featured selected segments from her award-winning television series, paired with a three-course meal she curated representing those places. On Thursday afternoon, Chef Weir signed cookbooks for attending guests at MacArthur Place Hotel.
Additionally, each screening during the festival included a plea to support the efforts in Ukraine by making a donation to Direct Relief, a nonprofit humanitarian organization providing emergency medical assistance and disaster relief in the United States and internationally. The campaign has generated more than $1,700 in donations to date.
---
For more on Marin:
---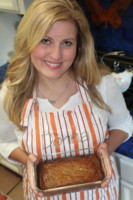 A freelance writer in Marin who writes about family, kids and parenting, Glass is the mother to one son, one dog and a hamster named Miss Geri. When she's not writing, trekking up steep hills in Marin or driving her kid to sports practice, she and her family spend time in their tiny cabin in Lake Tahoe. She avidly supports the California Academy of Sciences, a world class science museum and research institution, and the Institute on Aging which provides much needed services to Bay Area seniors and disabled adults. Glass is obsessed with baking the perfect loaf of banana bread, something she makes so often she no longer needs to look at a recipe card.