Chronos Academy, a private K-8 micro-school in Larkspur, is not your typical school, so it was befitting that the Golden Gate Learning Foundation, which provides Chronos Academy's gifted students with scholarships, held its recent fundraising event with a fun, medieval twist.
Game of Crowns: A Medieval Murder Mystery Dinner Party, held at Redwoods Presbyterian Church on April 2, involved attendees assigned to role-play characters from the Middle Ages. First, in true banquet style, guests enjoyed an authentic medieval feast catered by Tamara Wolfson, with a menu of hand pies, potato leek soup and leg of lamb. As they dined, Mike Foley serenaded them on classical guitar with Renaissance style music.
Following dinner, guests were informed that someone amongst them had been suddenly and mysteriously assassinated — leaving them to their own devices to figure out who, how and why. During a dessert course of baked apples and honey pudding, it was revealed who amongst them was the villainous culprit.
The proceeds from the event will support Chronos Academy students in need of financial and academic assistance. Event sponsors included Chronos Academy, Tamara Wolfson, Mike Foley and Redwoods Presbyterian Church.
Golden Gate Learning Foundation provides financial and operational assistance for science, technology, engineering, art, and mathematics (STEAM) education and cultural enrichment for the students of Chronos Academy, their families and their communities.
---
More from Marin:
---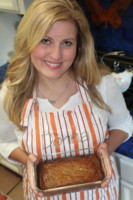 A freelance writer in Marin who writes about family, kids and parenting, Glass is the mother to one son, one dog and a hamster named Miss Geri. When she's not writing, trekking up steep hills in Marin or driving her kid to sports practice, she and her family spend time in their tiny cabin in Lake Tahoe. She avidly supports the California Academy of Sciences, a world class science museum and research institution, and the Institute on Aging which provides much needed services to Bay Area seniors and disabled adults. Glass is obsessed with baking the perfect loaf of banana bread, something she makes so often she no longer needs to look at a recipe card.