Many landmarks, amphitheaters, streets and parks bear names of people who supposedly did something noteworthy of such distinction. Some are obvious — JFK, MLK, FDR — others, not so much. So who exactly was Gary Giacomini? Giacomini was a long-time west Marin County board supervisor instrumental in orchestrating the deal that saved his now-eponymous land from development. A six-term District 4 supervisor, Giacomini boasted a lengthy list of accomplishments, including co-authoring the Marin Countywide Plan in 1973, helping establish the Marin Agricultural Land Trust in 1980, securing the Buck Trust to provide ongoing funds for Marin's needy and dogged support for West Marin in general. Supervisor Steve Kinsey, whom Mr. Giacomini encouraged to run as his replacement on the Board of Supervisors in 1996, called him the "most successful politician of the century—of any century."
At 1,500 acres, Gary Giacomini Preserve is a huge property. The windswept ridge has a high altitude feel, accentuated by the presence of a forest of dwarf Sargent Cypress trees. Interspersed along the way are patches of the rare Marin Manzanita, and in the rock gardens between the shrubs are lovely jewel flowers and other delicate blooms in abundance. Nearly five miles of the San Geronimo Fire Road run along the southern boundary of this preserve. This road, extending from Peter's Dam (at the Shafter bridge crossing on Sir Francis Drake Boulevard) to Azalea Hill on the Bolinas-Fairfax Road, is among the most scenic (and longest) fire roads in Marin. Hikers, bicyclists, and equestrians wishing to link together longer outings should consider exploring this road that connects with our White's Hill and Cascade Canyon preserves, as well as many popular trails and roads in the MMWD watershed. Wildflowers (including several serpentine endemics) and incredible views serve as a reward for the sustained climb that will bring hikers to the top. Remember to bring binoculars, if you have them.
If You Go:
When: Sunday, April 22 from 10 a.m. to 2 p.m.
Where: Gary Giacomini Preserve
Meet at the gate on Redwood Canyon Dr
San Geronimo, CA
Cost: Free
More event information can be found here on our Calendar of Events.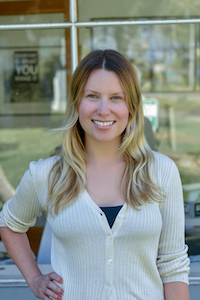 Kasia Pawlowska loves words. A native of Poland, Kasia moved to the States when she was seven. The San Francisco State University creative writing graduate went on to write for publications like the San Francisco Bay Guardian and KQED Arts among others prior to joining the Marin Magazine staff. Topics Kasia has covered include travel, trends, mushroom hunting, an award-winning series on social media addiction and loads of other random things. When she's not busy blogging or researching and writing articles, she's either at home writing postcards and reading or going to shows. Recently, Kasia has been trying to branch out and diversify, ie: use different emojis. Her quest for the perfect chip is never-ending.