Channeling ancestral pioneers is practically built into the DNA of the farmers and ranchers of West Marin. Dating back to the late 1800s, the great-grandparents of the current crop of farmers in the region often left Europe together, setting out for a life in the United States where they could build farms and community. Five and six generations on, that pioneering spirit is still going strong in West Marin. Longtime heritage farms are still producing dairy, beef and ducks, but are building entirely new businesses sourced from these agricultural products so central to earlier generations' livelihoods. This new wave of farmers includes men, women and families — but it is the women who are increasingly taking the reins.
Ducks in a Row
"When I was in high school, I never would've guessed I would be back here working full-time and loving it," says Jennifer Reichardt of Petaluma's Liberty Ducks. A fifth-generation duck farmer, Reichardt grew up under the aegis of her dad, Jim, who split off from Reichardt Duck Farm in 1992 to start Liberty Ducks. While both farms raise Pekin ducks, Liberty gets its breeding stock from France and gives the birds more time to grow, an average of about three more weeks. The result is a meatier, more European style of bird with exceptional flavor and a pronounced layer of fat under the skin, a bird Julia Child would approve of. In fact, Child, the renowned culinary teacher and cookbook author, visited the Reichardt farm in the early 1970s, a time when duck was usually only served either at Chinese or French restaurants.
The shift at Liberty to a meatier duck paralleled the rise of the California Cuisine movement. Chefs from restaurants like Baywolf in Oakland (since closed), one of Liberty's first customers, came calling. "Alice Waters and Jeremiah Tower at Chez Panisse were trying to find sources. It was a very exciting time," Reichardt says.
Reichardt left for college, coming back to the farm to help the family with whatever projects needed taking care of. She developed an interest in one of Sonoma's best-known value-added agricultural products — wine — and after graduating from UC Santa Barbara, worked seven grape harvests in three different countries. She also passed two levels of the Certified Sommelier Examination. "Every year [between 2011 and 2016], I got more involved and invested," she says.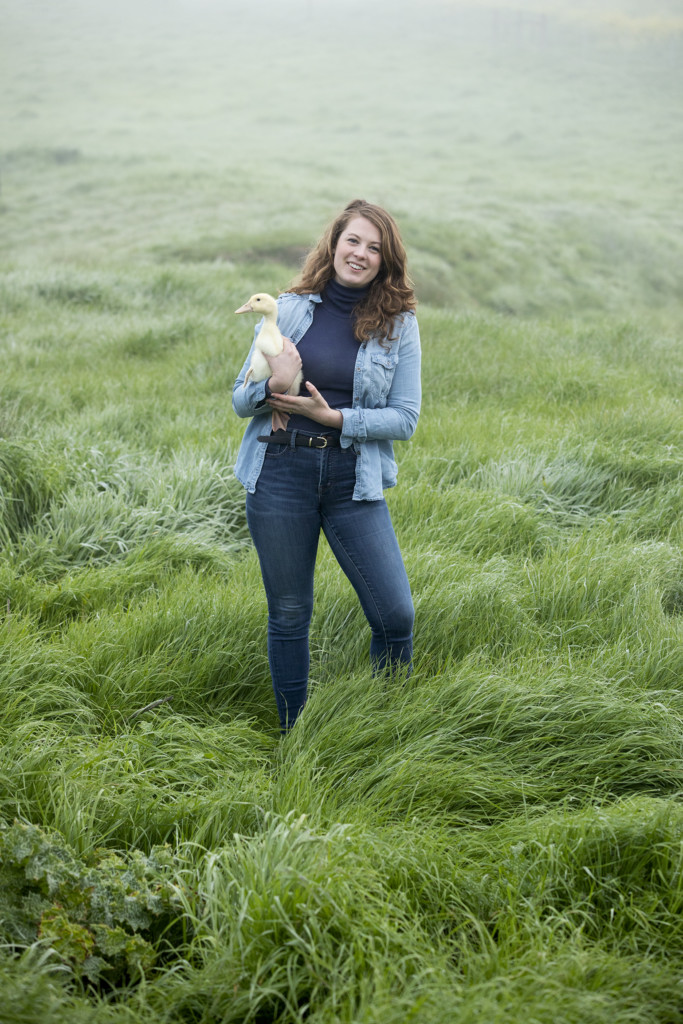 In 2016, the same month that she moved back to the farm full time, Reichardt launched Raft Wines, raft being a word for a group of waterfowl. "It all happened at once," she says. Working with a custom crush facility, Reichardt produced five wines that first year.
In the summer of 2019, Reichardt married Mike Dmytrenko, a man she met while they both were interns at Littorai Wines. But Reichardt keeps a steady eye on the future of the family business, now looking at how to make the operation as environmentally-friendly as possible. "Ranching is so hard," she says. "We take a life in order to eat, but we share a philosophy: you can still eat meat, but eat less of it and choose meat raised with care of the land and care of the animal."
Cattle Calling
A 17th generation Petaluman and fifth-generation cattlewoman, Julie Rossotti of Petaluma's Rossotti Ranch knew what she wanted to do at the age of 5. "I was drawn to the cows," Rossotti says. "I would hide from the school bus so I could stay home and help on the ranch. I have literally been by their side my whole life." Rossotti's great-grandfather and grandfather started the ranch with dairy cattle, but her parents wanted to switch it up and spent the past 45 years establishing a high-quality herd of beef cattle on the family ranches.
Preserving farmland is one of Rossotti's passions and her five years working at Marin Agricultural Land Trust (MALT) in the early aughts gave her the space to ask if working with cattle was her life's work. "I found myself using all my vacation time and days off back at the ranch," she joked. "I really missed being there."
As the family considered the best way to transition the ranch to the next generation, Rossotti's MALT and farmers market experiences proved invaluable. "I really wanted to be involved with the end product." The question was how to get there. The family's end product had traditionally been an eight-month old calf, the age it weans from its mother. To raise these calves to adult age would require more land, land the ranch did not have. "My family put so much time and effort into making these cattle who they are. I wanted to make a high-quality beef product that worked with our footprint."
Soon Rossotti discovered vitellone, or beef that is harvested when the animal is a little older (about 10 months). Though the U.S. Department of Agriculture insists that Rossotti call the product veal, it can be more precisely called beef veal or vitellone because of the animal's age and rearing — calves used for veal are typically younger than six months old. This more mature calf still lives beside its mother and does not require additional land or feed, and the end product is lean yet iron-dense. "My family did not need to change the operation we worked so hard to build," Rossotti says.
Rossotti credits her mom, Dolores, for providing the ideal role model for her work as a rancher. They have a strong mother-daughter connection and Rossotti's parents ran their business as equal partners. "Seeing another woman doing that, doing the same things my dad was doing — driving tractors or cattle — there was no distinction that 'oh, she's a woman,' " Rossotti says. "I saw that a woman can do anything she chooses to do, even if the ag industry is not always receptive to that. It was a daily reassurance that gender doesn't matter."
Look for Rossotti at the Sunday farmers market in San Rafael and her products at Bay Area restaurants (as and when they open) such as Acquerello, Cotogna, Chez Panisse and Juanita and Maude.
In the Spirit
The name Poncia is likely already a familiar one to Marin foodies. Loren Poncia runs Stemple Creek Ranch with his wife Lisa, the most recent generation of Poncias to ranch around Tomales since Angelo Poncia first emigrated there in the late 1800s. "Angelo came through Ellis Island with Karen Bianchi's great-grandfather; they were friends," says Melissa Poncia Williams, who co-founded Poncia Spirits with her sister, Jessica Poncia Valentine. A farmhand before he became a farmer, Angelo raised chickens and dairy cows and grew potatoes and wheat. "There were many potatoes," Jessica says, adding that run-off from tilling the soil filled the creeks with silt, a problem the industry shared with another endeavor. "It is a big part of the region's history along with the dairies," Jessica says.
The two sisters, who grew up on the family ranch but no longer live there (Melissa lives in Novato, Jessica lives in Bend, Oregon), were looking to re-establish their connection to the family's West Marin land. After attending a University of California Cooperative Extension (UCCE) and MALT agricultural summit 15 years ago that focused on helping the next generation of Marin ranchers figure out how to sustain small family farms, the sisters started researching, digging into their family history to learn what Angelo and subsequent generations of Poncias produced. Cattle, dairy and potatoes kept appearing at the top of the list. With the help of the Tomales Regional History Center, they found an old Petaluma Argus Courier newspaper advertisement where their grandfather posted about the potato varietals he was working with. One of those varietals was known as the Bodega Red.
Potatoes once grew prodigiously in the hills of West Marin. Thought to have arrived in the region via seeds sewn into the hem of the skirt of a Chilean bride who came to meet her groom in Bodega Bay, the Bodega Red was once widely grown, but is now largely forgotten as a food crop. With Loren's regenerative agriculture knowledge as a guide, could the sisters bring back the more sustainable potato crop and help preserve the land and watershed? Another idea: could they make vodka from the starchy Bodega Red?
More research ensued. The Poncias turned to Slow Food Sonoma North, a group that had worked to save the Bodega Red from extinction and investigated work by agricultural scientist Luther Burbank, who also apparently had success developing the Burbank Russet on the now fallow land in the region. Other locally grown potatoes, such as the Tomales Queen (also known as the British Queen) were once successful here, too.
The sisters wanted to try planting a few of the Bodega Reds at their home ranch as a test. And with a little guidance from David Little of Little Organic Farm in Petaluma, their first crop yielded 8,000 pounds of which half went into product development. "During the distillation process, we learned that it takes 11 pounds of potatoes to create one 750 ml bottle, yielding approximately 700 bottles per acre," Valentine says.   The vodka was distinctly citrusy, with notes of lemon and grapefruit. It was the first vodka produced with the terroir of West Marin.
To plant sufficient potatoes to provide a big enough yield for a vodka production crop, the Poncias are continuing their quest for the ideal potato to plant in West Marin. Vince Trotter, Agricultural Ombudsman, UC Cooperative Extension, Marin County, found a seed bank in Wisconsin that had a tissue culture of the British Queen. And efforts continue to find a Bodega Red producer with enough seed for their first production crop. By planting once local potatoes, the Poncias hope to "add to the sustainability of our farm and to the viability of Marin as an agricultural producer."
Until the potatoes are ready for planting, Poncia Spirits is setting up shop, getting ready for the first field-to-spirit alcohol produced in West Marin. "It was really important for us to do something that represented our roots and our love of this place and our history of ag," Melissa says. "It's our next 100-year plan." Poncia Spirits vodka is expected to hit the market in 2022.
Northern California's Milkshed
Just over a year ago, Karen Bianchini Taylor began producing cheese and butter from her Holstein herd, the products branded as Bivalve Dairy, named after her family ranch in Tomales Bay. But a fortuitous seat next to Sue Conley of Point Reyes Station's Cowgirl Creamery at a Marin agricultural summit 10 years ago lead to Taylor's herd supplying milk for Cowgirl's renowned Red Hawk cheese. When Cowgirl built a new production facility after their acquisition by the Swiss cheese conglomerate Emmi, Taylor bought the space they vacated and hired cheesemaker Blair Johnson. "My comfort zone is on the farm," she says. Taylor, with her husband, John, and their growing family, took over the family farm in 2006 and converted it to an organic operation a few years later. John, an automation engineer with GE, helped update the farm's systems to modern standards. "He was instrumental in figuring out how to develop Bivalve as a brand beyond our partnership with Cowgirl," Taylor says. It wasn't long before Bivalve ramped up from two products in 2019 to nine in 2020.
In 1959, Bob and Dean Giacomini purchased what is now the family's Point Reyes farm and built a reputation for the delicious, aromatic milk produced by their dairy cows. A generation later, three of four Giacomini sisters — Jill (chief marketing officer), Diana (chief financial officer) and Lynn (chief operations officer) — moved back and set about figuring out how to build a new kind of farm business based on their parents' efforts. Product diversification and modernization of the farm's tools were central to the new generation's farm business strategy. The sisters also started making cheeses with the help of cheesemaker Kuba Hemmerling. Launched in 2000, the now iconic Original Blue is the one that got it all started, but the number of cheeses has expanded beyond that initial offering.
In 2010, Karen Bianchi-Moreda launched Valley Ford Cheese with milk from her family's dairy farm. Heralded for her work creating Highway One and Estero Gold, among other award-winning cheeses, Bianchi-Moreda (who is Julie Rossotti's cousin and whose son, Jim rents ranchland from the Poncia sisters), owns the company, but is busy shepherding a generational shift in her family. Her son, Joe Moreda, has taken over as head cheesemaker while her other son, Jim, sets up as a dairyman. Bianchi-Moreda shifted gears, too, spending much of the past four years bringing a 5,500-square-foot building in the town of Valley Ford up to code before opening a restaurant and marketplace there. "Both my boys came home," Bianchi-Moreda says. "I started this and they will finish it."
---
How to Help
There are so many local businesses that need your help right now. For more ways to support local businesses, go here.
---
For more on Marin:
---
Christina Mueller is a long-time Bay Area food writer. She hails from the East Coast and has spent way too much time in South America and Europe. She discovered her talent as a wordsmith in college and her love of all things epicurean in grad school. She has written for Condé Nast Contract Publishing, Sunset, and the Marin Independent Journal, among others. She volunteers with California State Parks and at her child's school, and supports the Marin Audubon Society, PEN America, and Planned Parenthood. When she is not drinking wine by a fire, she is known to spend time with her extended family.