Bolinas
This gem of a beach is popular for its light, rolling waves, ideal for all levels of surfing or paddleboarding, and its low-key and dog-friendly vibe. But because it's not very big, especially during high tide when half the beach disappears, it can be crowded. Additionally, locals have (notoriously) been inclined to remove the town identification signs, and it's easy to understand why. Besides being the go-to surf spot in the county, Bolinas is a perfect spot for swimming, boogie-boarding and rock collecting at the southern edge along the entrance to the lagoon. SUP and surfboard rentals are at 2 Mile Surf Shop on the road to the beach.
LENGTH ~0.3 miles
AMENITIES Restrooms, tennis court
PARKING Free street parking
KNOWN FOR Great surfing beach, especially for beginners
DOGS Allowed off leash
ACTIVITIES Surfing, bodyboarding, bird-watching, kayaking, SUP, tennis
RESTAURANTS Coast Cafe, Smiley's Schooner Saloon and Hotel
---
Dillon
Located about three miles west of Tomales, this beach was named after Dillon Beach village founder George Dillon, who settled there in 1858. A wide and lengthy white-sand expanse is great for long walks, and it's a dog-friendly place where pooches can be off leash and run loose. When the tide is low and the surf is too, there's lots to explore in the tide pools. The resort has a cafe, a general store, a surf shop and cabins to rent if you'd like to make a weekend of it.
LENGTH ~0.2 miles
AMENITIES Restrooms, picnic tables, barbecue grills, fire pits
PARKING $8
KNOWN FOR Tide pool exploring when the tide is low
DOGS Allowed off leash ACTIVITIES Surfing, bodyboarding, tide pooling, bonfires
RESTAURANTS Dillon Beach Cafe, Dillon Beach Resort Store
---

Limantour
Between Drakes Bay and an estuary sits this soft and sandy beach, more than two miles long, with rolling sand dunes. It is popular with hikers and bird-watchers for its bountiful wildlife, including seals and whales in late spring, shorebirds in fall and ducks in winter. Waves are calmer here, but remember to pack and dress appropriately for the cool, damp weather out in this more rugged part of the county.
LENGTH ~2.5 miles
AMENITIES Restrooms, hostel, wetlands, trails
PARKING Large lot, free
KNOWN FOR Prime beach for beach-combing and looking for birds and other animals.
DOGS Allowed on leash
ACTIVITIES Hiking, bird-watching, wildlife watching, swimming
---
Muir
This crescent-shaped cove tucked into the coast three miles west of Muir Woods has a lagoon and sandy beach with lots of privacy. Monarch butterflies, salmon and frogs can be seen in the marsh; other wildlife includes fox, birds, deer and coyotes. Hiking trails branch out from Muir Beach in many directions, inviting exploration of the headlands, and the waves are good for boogie boarders and kayakers. The northernmost end is a clothing-optional area.
LENGTH ~0.5 miles
AMENITIES Restrooms, picnic tables, trails, fire pits
PARKING Free
KNOWN FOR Plenty of hiking trails and the north part of the beach called Little Beach that's clothing optional
DOGS Allowed off leash if under voice control
ACTIVITIES Hiking, bird-watching, bonfires, picnicking
RESTAURANTS Pelican Inn
---

Rodeo
On the southernmost beach in the county, the sand is reddish brown mixed with pea-size multicolored pebbles. Situated in the Marin Headlands, Rodeo has western exposure, so it's experts-only for swimming and surfing, but ideal for all levels of strolling and picnicking.
LENGTH ~0.6 miles
AMENITIES Restrooms, trails, picnic tables, lagoon
PARKING Free KNOWN FOR Being dog friendly and a desirable picnic spot
DOGS Allowed off leash if under voice control
ACTIVITIES Hiking, bird-watching, surfing
---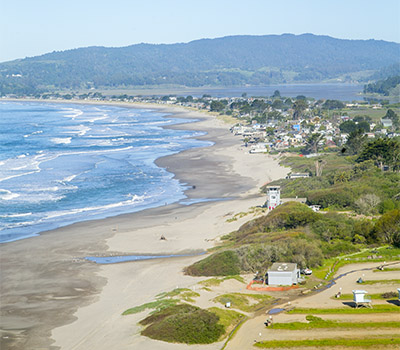 Stinson
For most, going to the beach in Marin means heading over the hill to Stinson. A large crescent swath of white sand and steady break make this spot popular with surfers and tourists year-round. An adjacent small beach town and picnic area attracts large groups looking to spend a day at the shore. On warm days, get there early — traffic builds up thick and quick. Whale watching is popular here January through March, and lifeguards are on duty May through October.
LENGTH 3.5 miles
AMENITIES Restrooms, showers, picnic areas, barbecue grills
PARKING Free
KNOWN FOR Being one of the cleanest beaches in the state, and for being sandy; alcohol is permitted
DOGS Allowed on leash on the county beach ACTIVITIES Picnicking, surfing, kayaking, swimming, SUP, volleyball
RESTAURANTS The Siren Canteen, Sand Dollar Restaurant, Parkside Cafe, Parkside Snack Bar, Breakers Cafe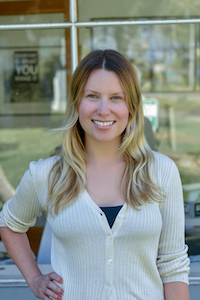 Kasia Pawlowska loves words. A native of Poland, Kasia moved to the States when she was seven. The San Francisco State University creative writing graduate went on to write for publications like the San Francisco Bay Guardian and KQED Arts among others prior to joining the Marin Magazine staff. Topics Kasia has covered include travel, trends, mushroom hunting, an award-winning series on social media addiction and loads of other random things. When she's not busy blogging or researching and writing articles, she's either at home writing postcards and reading or going to shows. Recently, Kasia has been trying to branch out and diversify, ie: use different emojis. Her quest for the perfect chip is never-ending.