With no chance of sending the kids to camp this summer, long-time contributor and supermom Donna Glass shares the best alternatives in Marin County.
Have a budding, young Vera Wang or Frank Lloyd Wright in your family? Studio4Art, with locations in Novato and San Rafael, has the ideal fix for future artists and designers who aren't able to attend art camp in person this summer: do-it-yourself art kits. With four themes — fashion design, clay sculpture, photography and architecture — the kits come fully stocked for a full week of projects, along with step-by-step instruction and digital tutorials.
For those families who may not feel comfortable dining out yet but looking for something different to try along with a learning experience, Camp EDMO has a virtual cooking class designed to get kids and their parents creating alongside in the kitchen. Led by former Top Chef contestants and winners, each class focuses on a dish that the whole family can enjoy, such as veggie flatbread, chicken parmesan and pancakes and smoothies.
Want to really impress your friends and let your kids have some sticky sweet fun? Cupcake guru Sarah Thongnopneua of Baked Blooms in San Anselmo offers a set of video tutorials designed to show you how to transform simple buttercream frosting into gorgeous roses, hydrangeas, daffodils, chrysanthemums, peonies and other garden varieties into eye-popping, edible cupcake toppers. Give your kids a pastry bag and let 'em go to town.
There's just something about kids banging away on drums that makes them happy (and drives parents crazy). The husband-wife musician team at Wow Music Studios can turn any kid into a rock star and introduce them to instruments, vocalization and even song-writing. The studio offers music lessons and band rehearsals all year long including virtual lessons on Zoom, and will soon offer an outdoor version of its popular Born to Rock camp.
The 2020 Arts & Entertainment Category was sponsored by Istanbul Rugs.
---
How to help:
Consider supporting one of these local nonprofits that urgently need support during the pandemic.
---
More from Marin:
---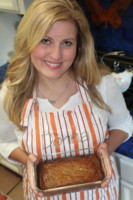 A freelance writer in Marin who writes about family, kids and parenting, Glass is the mother to one son, one dog and a hamster named Miss Geri. When she's not writing, trekking up steep hills in Marin or driving her kid to sports practice, she and her family spend time in their tiny cabin in Lake Tahoe. She avidly supports the California Academy of Sciences, a world class science museum and research institution, and the Institute on Aging which provides much needed services to Bay Area seniors and disabled adults. Glass is obsessed with baking the perfect loaf of banana bread, something she makes so often she no longer needs to look at a recipe card.