Looking to stay on trend with the latest shops, boutiques and galleries in Marin? We've got you covered.
Animal lovers and parents to a pug named Brownie, owner Simon Contreras and his wife, Maria Nieto, were stunned by the dog culture when they first arrived in Marin from Chile. Turning their passion into a business was a natural next step. With a focus on food and accessories for cats and dogs, their store, which opened in March, includes a selection of organic and/or human grade ingredients sourced from mostly small U.S. companies. Collars, leashes and apparel are handmade in the United States. "We are a family that bet on this county to establish a project because of its people, culture and beautiful landscapes," Contreras says.
276 Magnolia Ave, Larkspur; 415.758.8106.
The company behind the self-proclaimed longest range, fastest charging electric car on the market celebrated the grand opening of its 35th studio at the Village at Corte Madera on March 18. One of the company's models, Lucid Air Grand Touring, features an official EPA estimated 516 miles of range or 1,050 horsepower. The Newark-based car company, which delivered its first car in October, 2021, received the 2022 Motor Trend Car of the Year Award for the first car it ever produced, the somewhat smaller Lucid Air. With proprietary engine technology developed in-house, cars boast two carry-on suitcase-sized, synchronous motors and can charge 300 miles in 20 minutes. The smaller engine carriages mean more room for people and stuff – up to five people and luggage can comfortably fit in either car. "We have been eager to open a location in the North Bay, an area known for its expansive natural beauty and commitment to acting on climate change," said Zak Edson, Vice President of Sales and Service, Lucid Group. Other Bay Area studio locations include San Jose and Millbrae.
1802 Redwood Hwy, Suite B037, Corte Madera; 415.707.3664.
Founders Barr Haney and Whitney Potter and their team of local real estate experts landed at their new home at the Corte Madera Town Center in January. The two Marin natives developed a one-of-a-kind boutique headquarters, showcasing the properties they represent and the resources available for homeowners seeking to renovate a home while also making the "office" feel like home.
109 Corte Madera Town Center, Corte Madera; 415.737.5663.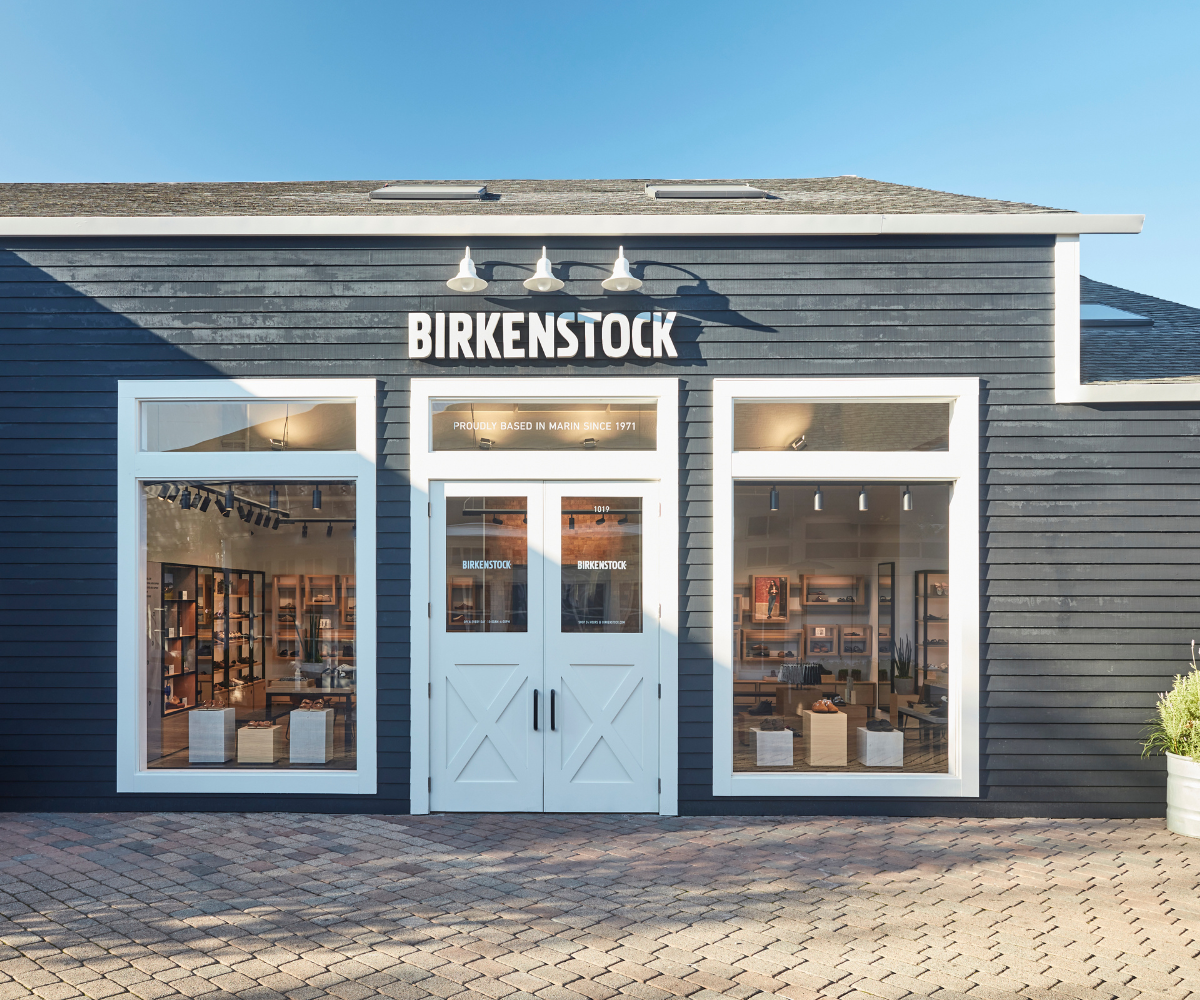 After opening its own retail stores in Brooklyn and Manhattan, New York and in Venice Beach, California, the footwear brand beloved for its cork footbed opened in the Marin Country Mart in December. The German health and wellness business, whose roots date back to 1774, launched its American story from Marin in 1966 with the help of Margot Fraser, who brought the brand to the United States and set up offices here — first in Santa Cruz, then San Rafael, before planting Birkenstock USA in Novato in 1992. Each store's design is unique, showcasing the local community. For Marin, Birkenstock partnered with Marin-based artist Leo Bersamina, whose large-scale, in-store artwork, "Driftwood Footbed," not only celebrates the natural landscape of Marin County, but is made of found driftwood from the Marin coast. Though there is no single "Birk" style that defines Marin, the brand's iconic sandals — like the Boston clog which was all the rage last summer, or the two-strap Arizona, or thong-style Gizeh — are available at the store, as are a growing range of products for women, men and kids. Look for sneakers, shoes, boots, clogs, slippers, socks and a curated selection of limited-edition designer collaboration styles. "It's all about the footbed," says Dania Shiblaq, Birkenstock USA's director of public relations. We bet "lifers," Birkenstock devotees who keep their shoes for — ahem — forever, couldn't agree more.
1019 Larkspur Landing Circle, Larkspur; 415.925.1134.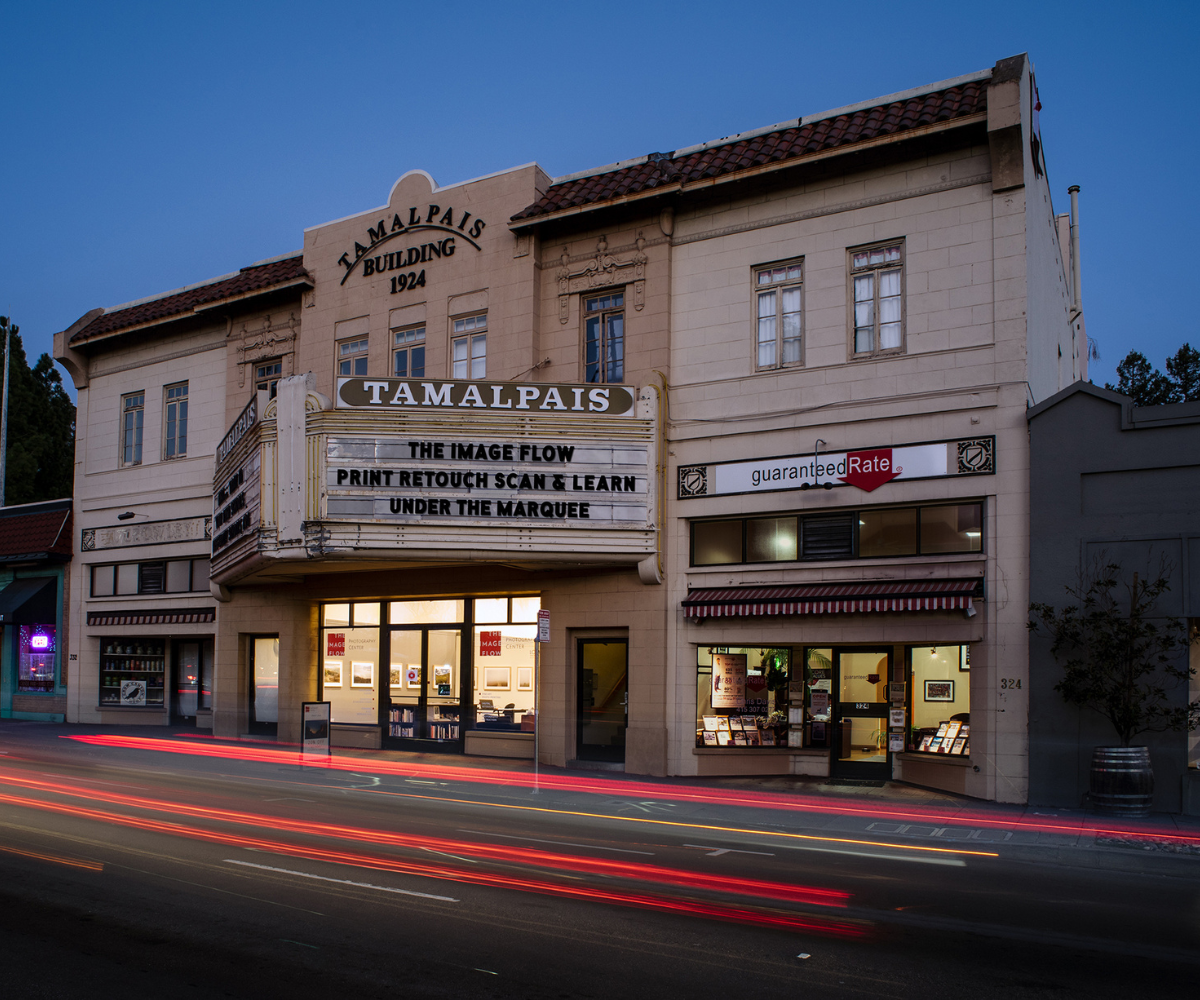 After 13 years in Mill Valley where they still reside, owners and founders Stuart and Jacqueline Schwartz moved their gallery and business, which hosts exhibitions and specializes in fine art prints, to downtown San Anselmo. "The Image Flow is all about photography," says Stuart, who worked as an advertising photographer for over 40 years. The duo also offer photography workshops in a class setting and on location, art reproduction and retouching, and the digitizing of slides, negatives, old movies and video tapes to support family legacies.
328 Sir Francis Drake Blvd, San Anselmo; 415.388.3569.
With stores in Palo Alto and San Francisco, the San Diego-based performance apparel brand landed in Marin at The Village at Corte Madera in December. Inspired by the active California lifestyle, the brand blends fitness, yoga, surf and wellness into its clothing lines. Los Angeles Chargers head coach Brandon Staley is a fan.
1640 Redwood Highway, Corte Madera.
After a long hiatus, the brand that first launched in the 1960s and helped kick-off the casual footwear trend is back, opening their third California location in Mill Valley's Tam Junction in l ate 2022. Known for their cushy kicks, retro-modern shades, and strict ethical standards, the Santa Barbara lifestyle brand also sells slip-ons, lace-ups, boots and slippers.
242 Shoreline Hwy, Mill Valley; 628.477.9280.
An e-bike business from founder Jennifer Cohen Bogan began online in 2109 and pivoted to IRL, opening its Corte Madera warehouse to the public in late 2022. In addition to power and unique style, look for personalization options like curated baskets, cell phone and coffee holders, kid's seats and even pet holders. "No other e-bike brand approaches the design process like we do," says Bogan.
500 Tamal Plaza, Suite 510, Corte Madera
Owners, floral designers and partners Renato Gouveia and Marcelo Camillo first opened a retail flower shop in Corte Madera in 2001, that closed in 2010 when they pivoted to flowers for events. Their latest full-service shop in Mill Valley opened earlier this year and plans to offer floral design classes soon. For now, it's custom flower arrangements for homes and businesses as well as weddings and corporate events.
1 East Blithedale, Mill Valley; 415.888.2624.
Wedged between Chipotle and Peet's in San Rafael's Northgate Mall, a jewelry making studio, event space and workshop from Amy Fitzgerald and Kelly Konis opened in late October. The duo, local residents and friends since high school, left the corporate world to bring the experience of making jewelry to their community. Choose from over 35 gemstones to create a ring, bracelet, pendant or pair of earrings in one of their guided workshops.
5800 Northgate Drive, Suite 150, San Rafael; 415.471.7874
Classes in crochet, weaving, spinning and knitting are just one part of a shop dedicated to the yarn arts that recently moved to a larger space in San Rafael's West End. Owner Amanda Madlener offers an extensive selection of yarns, needles, patterns, books, knitting bags and accessories, both locally-made and from around the world.
1707 4th St, San Rafael; 415.256.9618
Jewelry, clothing and accessories for men and women, furniture, lighting and bedding are just a few of the home goods at the newest store in Corte Madera Town Center from owners Janelle and Kirk Loevner, who also have storefronts in San Francisco, Menlo Park, Burlingame and Healdsburg. "Your home should be your sanctuary and it should be a direct reflection of your lifestyle," said the Loevners. "We want to help make that possible for our customers."
425 Corte Madera Town Center, Corte Madera; 415.780.9600
---
Christina Mueller is a long-time Bay Area food writer. She hails from the East Coast and has spent way too much time in South America and Europe. She discovered her talent as a wordsmith in college and her love of all things epicurean in grad school. She has written for Condé Nast Contract Publishing, Sunset, and the Marin Independent Journal, among others. She volunteers with California State Parks and at her childrens' schools, and supports the Marin Audubon Society, PEN America, and Planned Parenthood. When she is not drinking wine by a fire, she is known to spend time with her extended family.