Plus, the latest seafood restaurant from the next generation of a Mill Valley restaurant family arrives in Mill Valley, Ditas opens above The Trident and more news around Marin.
Featured Business
After a multi-year rebuild of the waterfront space long occupied by Servino (which is moving back to their original home on Ark Row), the latest SoCal-to-NorCal arrival on the Tiburon scene comes from Malibu with an anticipated opening date of March 1. Founder and chef Helene Henderson abides by a home-grown and sustainable ethos, using simple ingredients and techniques to make dishes like fennel-rubbed boneless half chicken and soy-ginger hanger steak feel fresh. The menu leans into seafood — there are ample choices for caviar, salmon, oysters and other ocean treats — as well as vegan or gluten-free reimaginings. A pork belly taco arrives with a jicama wrap, yuzu butternut squash linguini with za'atar coconut cream is free from carbs, and pizza is offered with a zucchini crust. Carb lovers, don't worry: the pizza oven will soon produce familiar crust pizzas, a lobster roll comes on a bun, and there is a lavash flat bread, too. "We aspire to be more inclusive," says Henderson. Though the menu is vegetable-forward, "we recognize that not everyone in a group or family is craving or ready for those options."
9 Main St, Tiburon.
Eat & Drink
Owners Felicia Ferguson and Luigi Petrone, whose fathers, Domenico and Paulo, opened Piazza D'Angelo in Mill Valley 41 years ago, built their seafood-forward restaurant from scratch in the town they have called home since they were kids. Where the nearby Piazza is an ode to Southern Italian trattorias, the cousins' restaurant, with the help of chef partner David Kornell (New York's Blue Ribbon Sushi Bar & Grill), celebrates the California coast with responsibly sourced seafood, meat, and produce. The opening menu leans into global flavors with pierogi and kedgeree, crab noodles and Coho salmon donburi. The wine list tilts American, and cocktails, like the Downstream — gin, amaro, crème de cacao and lemon — reflect the coastal theme. "We are hoping to give back the love and warmth that Marin has given us over many years in this new location," Ferguson says.
106 Throckmorton Ave, Mill Valley; 415.888.2265.
Tiburon resident and 20 year-old CEO Nikita Khandheria plans to open a US outpost of the India-based restaurant group in early February. Perched above The Trident on Sausalito's expansive waterfront, the restaurant's interior design from Petaluma's Maureen Kelsey includes stone table tops, velvet chairs, hand-woven wall coverings, and glass accents in an understated palette. The tasting-menu-format restaurant from chef Aiki Terashima (The French Laundry, Morimoto Napa) leans international with dishes like spicy kimchi and tofu stew and truffled mushroom paté, with an expansive wine and cocktail list from cocktail consultant Zach Taylor (3 Proof, Hawthorn). A late night bar program is also in the works.
558 Bridgeway, Sausalito.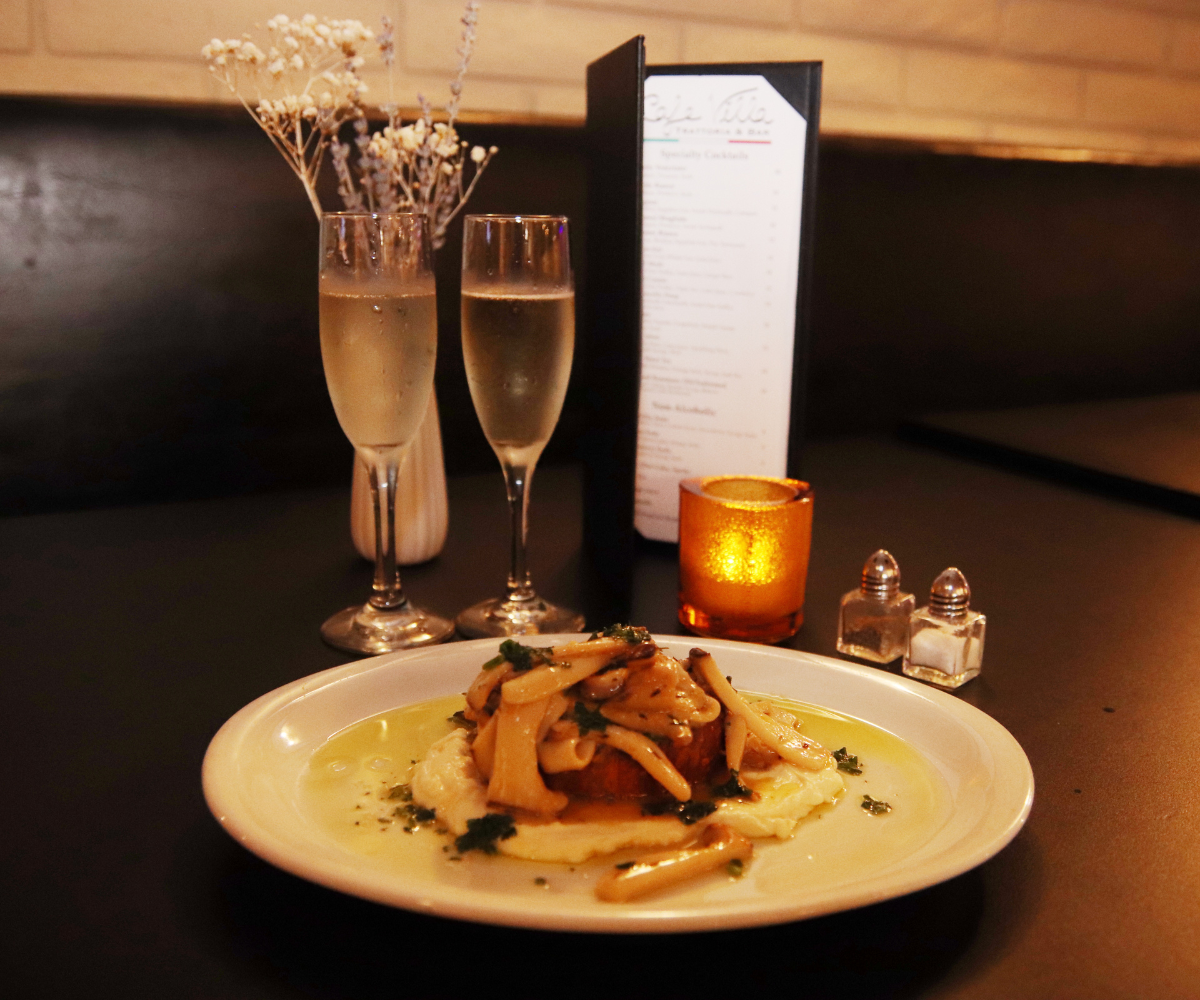 After closing the restaurant for a refresh in 2017, plus additional pandemic delays, owner-managers and husband-wife Marcello Jr. and Stephanie Fonio reopened the restaurant at San Rafael's Villa Inn as an Italian trattoria last June. Chef de cuisine David Sypnicki (Carneros Inn, Portland's Café Mingo) changes the menu to meet the season but dishes like pappardelle with braised beef and kale and the local rock cod with spicy tomato-fennel broth are signatures. Don't miss the short-rib and brisket burger burgers, which are made from ground short rib and brisket — try one with a house made limoncello or a Nonna Joe with whiskey, sweet vermouth and Campari.
1602 Lincoln Ave, San Rafael; 415.459.6161.
Shop
With stores in Palo Alto and San Francisco, the San Diego-based performance apparel brand landed in Marin at The Village at Corte Madera in December. Inspired by the active California lifestyle, the brand blends fitness, yoga, surf and wellness into its clothing lines. Los Angeles Chargers head coach Brandon Staley is a fan.
1640 Redwood Highway, Corte Madera.
After a long hiatus, the brand that first launched in the 1960s and helped kick-off the casual footwear trend is back, opening their third California location in Mill Valley's Tam Junction in l ate 2022. Known for their cushy kicks, retro-modern shades, and strict ethical standards, the Santa Barbara lifestyle brand also sells slip-ons, lace-ups, boots and slippers.
242 Shoreline Hwy, Mill Valley; 628.477.9280.
An e-bike business from founder Jennifer Cohen Bogan began online in 2109 and pivoted to IRL, opening its Corte Madera warehouse to the public in late 2022. In addition to power and unique style, look for personalization options like curated baskets, cell phone and coffee holders, kid's seats and even pet holders. "No other e-bike brand approaches the design process like we do," says Bogan.
500 Tamal Plaza, Suite 510, Corte Madera.
---
Christina Mueller is a long-time Bay Area food writer. She hails from the East Coast and has spent way too much time in South America and Europe. She discovered her talent as a wordsmith in college and her love of all things epicurean in grad school. She has written for Condé Nast Contract Publishing, Sunset, and the Marin Independent Journal, among others. She volunteers with California State Parks and at her childrens' schools, and supports the Marin Audubon Society, PEN America, and Planned Parenthood. When she is not drinking wine by a fire, she is known to spend time with her extended family.