As a child of the 60s, social empathy is part of Michelle Schmitt's DNA. The Marin musician donates the proceeds from her performances to local organizations such as ExtraFood.org and the SF-Marin Food Bank, which in turn has put food on the table for many Marin families in need.
How did you become interested in becoming a singer, and how long have you been doing it for?
I just turned 60 in September. When I think back, I've been singing my entire life. My dad bought me the record "Meet the Beatles" when I was very young — and that was it!
How long you have been using your work as a way to create positive social impact?
I've been doing this for the last 20 years, since I went back into the music world. I have been incredibly lucky and have worked very hard at everything I've ever done. It is my pleasure to make music that, in turn, has helped so many people. In the last 10 years of doing my benefit concerts, we have fed over 3.5 million people with the proceeds of ticket sales and from the sales of my music.
How did you become interested in getting involved in helping causes for social impact?
Ever since I was a young girl, I have always noticed that some people suffered while others had wonderful lives. It has always been a part of who I am to see what I can do to help others. Growing up in the 1960s and 70s made being socially conscious as normal as breathing. Any way I can alleviate suffering in the world, both in small ways and in significant ones, makes me feel very lucky and happy.
What causes are you most passionate about supporting and what are the kinds of issues they tackle?
I have always been interested in getting food to people in need, as well as clothing and shelter. I have also been very involved in helping people suffering from addiction to alcohol and drugs. Another area of importance to me is being involved with youth at risk. Being the mother of two sons, every time I see a young person living on the streets, I feel a deep desire to do what I can to help them.
Do you have any stories about how your work has had positive impact?
I think that every story I would tell would involve all the amazing people who have come to my shows and bought my music throughout the last 20 years. It is these people who have helped feed over 3.5 million people and have brought smiles to the faces of so many sick young children. One person can make a difference, but a gathering of large number of people with the same heart and intentions as me has made this happen. Love and empathy, which is positive already, is what joins us together, but when one thinks of what we have collectively done, it is astounding and beyond anything I could ever have dreamed of when I first had the idea of donating all the proceeds of my music to charitable causes.
Is there anything else you want to share?
Go to michelleschmitt.com to keep up with the plans I have in 2019.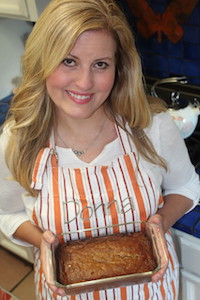 A freelance writer in Marin who writes about family, kids and parenting, Glass is the mother to one son, one dog and a hamster named Miss Geri. When she's not writing, trekking up steep hills in Marin or driving her kid to sports practice, she and her family spend time in their tiny cabin in Lake Tahoe. She avidly supports the California Academy of Sciences, a world class science museum and research institution, and the Institute on Aging which provides much needed services to Bay Area seniors and disabled adults. Glass is obsessed with baking the perfect loaf of banana bread, something she makes so often she no longer needs to look at a recipe card.