Most weekend warriors, nine-to-fivers and burned-out college applicants have had the fantasy: ditching your home, work and obligations, selling off possessions and taking life on the road and off the grid for true mobile adventure. How many actually follow through? The numbers are scant. Yet some people do take the plunge, and van life — now a hashtag — has picked up speed over the past few years. While this way of being can bring wonder and excitement, the day-to-day reality isn't like living with a permanent Instagram filter. We spoke to locals who have embarked on life on the road and can now speak from the rearview, yet wouldn't have it any other way.
Who enjoys van life?
Kristin Hanes, who runs the blog The Wayward Home, says her 1994 Chevy Astro van totally changed her life. "Back in 2016, I lost my job as a reporter at KGO radio," she says. "I refused to go into debt to pay rent, so I moved onto my boyfriend Tom's sailboat. During this time, I started the blog, which was meant to inspire others to downsize and live free of possessions." She lives part-time in the van and part-time on her boyfriend's boat. Erik McGregor and Mandy Xie took up van life just before 2020. "Having a stocked fridge and water and the ability to jump in and go anywhere at a moment's notice inspired us," Mandy says. "It also supports our surfing and kiteboarding lifestyle well."
What is van life really like?
For Hanes, the van serves as primary workstation, a place to sit and write her blog during the day, and it also allows her to go camping and exploring often. "I am not attached to a house or tons of belongings and, given that I also work remotely, I can live my life completely on my own terms," she says. "Plus, if I ever have a bad month of work in the future, I know I don't have a big rent or mortgage payment. So, I live pretty much stress-free." She also likes how living in a van brings her close to nature. Cities are less friendly to vans, however. "As you probably know, sleeping in a vehicle is prohibited in most cities.
Therefore, we have to 'stealth camp,' which can be stressful, as you're always waiting for that
dreaded knock." Luckily, in Marin there are places to sleep legally, like the campgrounds on Mount Tam, Samuel P. Taylor State Park, and the rest stop overlooking the Golden Gate Bridge. A big downside? "Pooping," says Xie.

Where can you go?
Wherever there are roads. "I love the trip we took down to Death Valley and then up Highway 395 on the eastern side of the Sierra Nevada — we found natural hot springs in the middle of snowy fields and stared at the snowcapped mountains," says Hanes. McGregor and Xie have enjoyed camping at Bodega Bay with other van-living friends — they even tried to make pancakes in the morning in the rain between the two vans in the middle of winter. "Pancakes always taste the best in the cold weather," says Xie.
Why try?
Not surprisingly, freedom, the sense of adventure and being able to sleep nearly everywhere rank high on people's list of perks. They speak of being part of a community and opportunities to attend meetups with like-minded people. "Our favorite meetup is at Sherman Island with our kiting friends," says Xie. "We have a great community and don't need any planning. Summertime, the wind brings all the friends together — we show up and it's a big family."
How to get started?
The abundant online resources include kombilife.com, vanclan.co, #vanlife and Hanes' blog, The Wayward Home.
---
How to Help
For more ways to support local businesses, go here.
---
For more on Marin: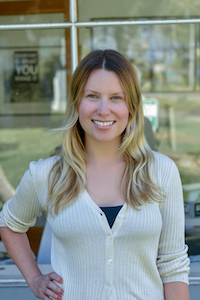 Kasia Pawlowska loves words. A native of Poland, Kasia moved to the States when she was seven. The San Francisco State University creative writing graduate went on to write for publications like the San Francisco Bay Guardian and KQED Arts among others prior to joining the Marin Magazine staff. Topics Kasia has covered include travel, trends, mushroom hunting, an award-winning series on social media addiction and loads of other random things. When she's not busy blogging or researching and writing articles, she's either at home writing postcards and reading or going to shows. Recently, Kasia has been trying to branch out and diversify, ie: use different emojis. Her quest for the perfect chip is never-ending.