IN A FAST-PACED DIGITAL WORLD, disruption is a virtue. So although this 1930s house in San Francisco's verdant Glen Park area had been extensively remodeled in 2012, its new owner, a 28-year-old tech entrepreneur, wanted to make further changes.
The four-story, 4,000-square-foot building on a steep up-sloping hillside had four bedrooms, a media room, several bathrooms, a panoramic view of the city and bay, and easy access to Silicon Valley. But its unfinished backyard, gray stucco exterior, gray-stained oak floors, walnut casework and hemmed-in hallways were all unremarkable.
To put his stamp on what is the very first home he has called his own, the young owner enlisted the help of Akemi Tamaribuchi Reed, his former hairstylist, who is now his design touchstone.
"My role is very atypical," Reed, who heads a lifestyle consultancy firm called Subject to Change, explains.
The backyard, only accessible via a footbridge off the fourth-floor living spaces, was a priority, so, in 2013, Reed got landscape designers John and Danielle Steuernagel of the San Francisco firm Sculpt to work on it. Then came architect Cass Calder Smith, whose New York/San Francisco–based firm CCS Architecture was hired to rethink the flooring and the staircase, which rises in a straight line between the foyer and the third floor before it switches back to go up to the fourth floor. Before long, the project scope grew to include the interiors and the facade.
Working alongside each other, both teams dovetailed their design expertise to craft a seamless indoor/outdoor living space.
John Steuernagel, who grew up in New Jersey with a father in the flower nursery business, started Sculpt in 2003. Many unique gardens ensued, including one for a blind man, but access-wise, none as challenging as the one in Glen Park.
The Sculpt team easily added a koi pond and a heated Helios bench by Galanter & Jones in an existing open-to-sky grotto with a waterfall fountain off a rear guest room on the third floor.
The rest of the 100-foot-deep tiered yard, previously shored up by stacked rubble, took nearly two years to redo with new concrete retaining walls and terraces. Now, the footbridge leads to a dining patio with a fire pit and an outdoor kitchen; farther uphill are a sunken stainless steel hot tub and an outdoor shower, an artificial lawn with lounge chairs and bleachers and, at the very top, a plinth for an observation shed.
CCS, led by project architect Bjorn Steudte, later transformed the shed into a sculptural 10-by-10-foot mirrored cube, with a cylindrical interior that contains an oculus inspired by artist James Turrell's Skyspaces.
Midway up the garden, an old apple tree was heavily pruned and saved, and plantings such as palms, leafy tropical philodendrons, Colocasia "elephant ears" and creeping leucadendron ground cover were added. At the very top, a green wall with Soleirolia soleirolii, or baby's tears, combined with dwarf geraniums came from Flora Grubb nursery.
"The owner loves bright colors and pop art and we wanted something cartoony, young and fun outside as well," Danielle Steuernagel, who used to be an event planner, says.
Inside the house, "My client was still trying to define his style," Reed adds. However, as an MIT dropout who came to the Bay Area to start a tech company, he is partial to modernism and rejected the house's decorative hardware and other flourishes.
With CCS, Reed eliminated those and added a wealth of new materials. "I knew that the owner wanted to live in a space that did not feel plastic," she explains.
So the building now has distinctive charred-cedar shou-suji-ban Japanese-style matte-black siding, with stainless-steel edging around the Fleetwood aluminum windows. A tall, skinny entry porch is lined with bright back-painted red Oikos glass. A new 8-foot-high steel front door with electronic hardware pivots opens to reveal a well-lit foyer that is designed as an art gallery; currently, a Matthew Palladino cast-plaster work called "Still Life With Fruit" is showcased there; on the second floor, under the staircase, a found-wood-and-metal piece by Kirk Stoller incorporates old bike handlebars.
"Cass' design team also widened and flared out the bottom of the stairs to make them feel grander," Reed says, pointing to cutaway walls made of painted medium-density-fiberboard (MDF) and above them, new three-quarter-inch-thick glass that replaced floriated metal railings. Existing flat steel handrails, stripped of paint, are left bare.
"Victorians took stairs seriously and so did we," Smith says. "We made a showy steel staircase encased in bleached Douglas fir treads and risers by First Last & Always." Wood cladding also reappears in the top section of the stairwell's north parti-wall.
Similar materials unify the foyer and rooms on three floors above it: bleached recycled Scandinavian Douglas fir plank flooring from Dinesen meets white painted walls with flush baseboards. Standard door openings were made floor-to-ceiling, and stairwell and hallway walls have openings cut into them "for a more open feeling," Smith says.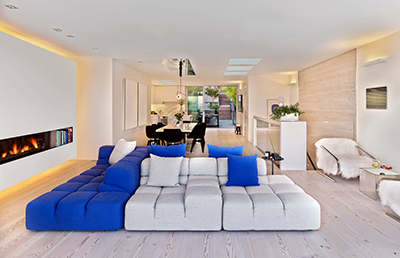 For the interior design, Reed worked on finishes and furnishings in concert with Barbara Turpin-Vickroy from Smith's office; Reed also accompanied her client to fairs such as Frieze in London and galleries in New York and San Francisco to select art and vintage collectibles.
On the second floor, the walls and ceiling of the media room are covered with blackboard paint and livened with Mah Jong sofas from Roche Bobois upholstered with brightly colored Missoni fabric. Sarah Morris wallpaper from Maharam in the powder room off a marble-backed bar niche echoes a similar pop sensibility, which recurs in several other bathrooms that are lined with mirrors or showy marble. For instance, a bathroom on the same floor in the guest suite facing the street has walls covered with custom black-and-white Bizazza mosaic tiles, installed in a pixelated pattern inspired by a chain link fence.
On the third floor, the owner's office, located in the rear guest room, has an Oslo sofa and 70/70 desk from Muuto and on the wall, Matthew Palladino's "Night Ride"; outside, in the rock-walled courtyard with artificial turf, are colorful Adagio swings by Paola Lenti from Dzine.
On the front end of the same floor, the master suite has a reconfigured walk-in closet with custom pulls by Doug Mockett & Company, and a new Calacatta marble bathroom with a rain shower and Agape tub offers unobstructed views of the city. Furniture includes a Ligne Roset bed against a Douglas fir wood-clad wall. The bed is flanked by nightstands fabricated from the same wood. A vintage Vladimir Kagan chair is paired with a Murmansk silver bowl by Memphis designer Ettore Sottsass, and a curved deco dresser has designer Oskar Zieta's elliptical balloon-like steel Tafla mirrors above it.
Down the hallway, a small nursery was converted into a music room. Its closet was eviscerated to form a cubby, upholstered with green Maharam fabric, where the owner likes to play his guitars. For better acoustics and privacy, Reed asked for built-in pelmets to install drapes.
At the top of the last flight of stairs, Smith added a boxy MDF railing cap, which also provides a display surface in the spare, open-plan living space that has no dividing walls and opens easily to the outside. "You understand the house better up here," Smith says.
At the front end, the living room, with full-width Fleetwood aluminum sliding doors, extends out onto a deck with glass railings surrounded by planters and river rocks. Its Paola Lenti furnishings and lanterns are all deliberately low so they do not block sight lines from inside the living space, where B&B Italia's flexible Tufty-Time seating is arranged facing city views. On one side, an old fireplace is reconfigured with a new metal surround, both inset into a white rectangular plane that is angled away from the wood-clad wall behind it. The fireplace appears to be floating, and backlighting reinforces the illusion.
The dining area in the center of the open-plan living space is simply defined by a rectangular mirror-finish stainless-steel panel installed in the ceiling, aligned with a row of existing skylights. "Blue/Green Vertical," a diptych by Joey Piziali, is paired with a Mobile 8 pendant light by Michael Anastassiasides.
Next to it, the taut modern, all-white kitchen has an island of Carrara marble and oxidized cherry bar stools by Sawkille Co. Artwork in this space includes a framed lithograph by Christoph Rossner from the San Francisco–based Romer Young Gallery on the kitchen counter.
Steps away, Fleetwood doors open to the footbridge leading to the cascading back garden, its many outdoor living areas and the mirrored cube at the far end.
The dramatic cube was intended as a viewing outpost at first but is now used as a retreat for inward reflection. Its entrance is cleverly concealed in back and the cylindrical interior has another voluptuous heated bench to sink into and watch passing clouds through an oculus overhead. Acoustical felt on the ceiling absorbs any ambient sounds, and in that silence any passing thought can be scribbled on the fiberglass walls that are covered with whiteboard paint.
"The owner wanted to create a playful space where ideas could be shared," Smith says. "We gave him exactly that."
Zahid Sardar brings an extensive range of design interests and keen knowledge of Bay Area design culture to SPACES magazine. He is a San Francisco editor, curator and author specializing in global architecture, interiors, landscape and industrial design. His work has appeared in numerous design publications as well as the San Francisco Chronicle for which he served as an influential design editor for 22 years. Sardar serves on the San Francisco Decorator Showcase design advisory board.