She's the boss! Throughout the county, women are helming restaurants in the most volatile environment — and thriving. Go online to learn how they handled the pandemic.
Donna Seymore, Cucina sa, San Anselmo
Years In Business: 23
Why should people come to your restaurant?
Cucina has been a go-to for our community for over 23 years. We support local schools and nonprofits, raise money for worthy causes, and give back to our community however we can. We donate to ExtraFood.org, and were very involved with Dine11Marin which provided meals to health care workers. We have built a beautiful outdoor space that has been embraced by our customers as a place that feels safe and protected, so that they can enjoy a bit of "normal" in a world that has been so confusing and unsure over the pandemic. We strive to bring beautiful surroundings, delicious food, and thoughtful wine and cocktails to make everyone feel taken care of.
Why do you love your job?
I love my job because I get to meet my neighbors and community, and be a small part of their lives. My goal has always been to bring a smile to someone's face, show them something new, or perhaps something well known and loved, and give them a sense of place and belonging. In a year full of chaos and uncertainty, it has been my greatest reward to see the joy on the faces of those who come and spend some time with us.

Years in business: 25
Why should people come to your restaurant?
Please come to Kitti's Place to taste some good, home cooked food by my mom. We are a simple family restaurant with no frills.
Why do you love your job?
I love my job because I get to work with my family. I love taking care of people, talking and catching up with everyday life ongoings with all my customers.

Years in business: 17
Why should people come to your restaurant?
Because we miss everyone! We gain so much from our guests we want them back. As far as the food goes, we make tons of items in-house from scratch and use a large amount of local, organic ingredients. Our specials are the bomb — crazy good and inventive. Everything from the dirty Anne — a blackened chicken salad on a bed of spiced French fries topped with ripe avocado — to peanut butter jelly deep-fried French toast. There is comfort in everything we serve.
Why do you love your job?
Because 98% of the time it's just good fun. Fun inventing specials, fun sourcing ingredients, fun chatting with guests, fun being with my staff. It's even fun fixing that overflowing toilet myself on a busy Sunday morning. I know crazy, but you have to be a bit crazy and a jack of all trades to run a successful restaurant.
Years in business: 10
Why should people come to your restaurant?
Definitely for the food, the understated yet urban vibe, and the people that you get to be with — six feet apart — plus, the authenticity of what Marin and Tamalpie exudes. Unpretentious beauty on so many levels. We definitely follow protocol and while it's a little cold at times, we have a lot of airflow and are safe. We had breezy air units installed, a very spacious dining room, a lot of outdoor dining with two fireplaces. The food is of uncompromising quality. Our new and fantastic ex-chef Gessor Deleone was trained by the best of them. Bruce Hill from Picco was his latest mentor.
Why do you love your job?
Mostly because it does not feel like a job that I have to go to. I have the dream team that makes me laugh and cares as much as I do about the little things and details — devil is in the details. We share the same values for things like wanting a stem glass for wine and how the food tastes and looks on the plate. We laugh a lot and we are proud of what we do. My family literally eats here daily and it feels like our dining room so I love it and love the people in my life that says a lot.
Years in business: 32 years/San Rafael, 25 years/Novato
Why should people come to your restaurant?
I would like to think that people should come visit us to experience a tasty sandwich made with fresh, locally-sourced ingredients and our famous sourdough bread, that is baked fresh throughout the day. Also, my staff and I take great pride in serving a community that has contributed to our success over the years. I think our customers also enjoy stopping by to see familiar faces. Half of my staff has been with me for over 20 years.
Why do you love your job?
Simple. The people. I get to go to work every day with people that I consider an extension of my family. We work cohesively as a team. We have our system down, almost like a dance. Then of course there's the customers. I've watched the evolution of customers from the very beginning. Parents would bring their children, and now those same children are adults and starting their own families. I've seen people move away from the area and stop by as they pass through town and say, "Hello." I've seen high schoolers bring in their parents, and in turn their parents will bring in a business associate or a friend, to share the experience. I think that is what truly brings me the most joy and satisfaction.
---
How to Help:
For more ways to support local businesses, go here.
---
For more on Marin: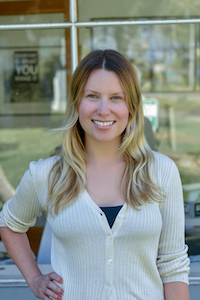 Kasia Pawlowska loves words. A native of Poland, Kasia moved to the States when she was seven. The San Francisco State University creative writing graduate went on to write for publications like the San Francisco Bay Guardian and KQED Arts among others prior to joining the Marin Magazine staff. Topics Kasia has covered include travel, trends, mushroom hunting, an award-winning series on social media addiction and loads of other random things. When she's not busy blogging or researching and writing articles, she's either at home writing postcards and reading or going to shows. Recently, Kasia has been trying to branch out and diversify, ie: use different emojis. Her quest for the perfect chip is never-ending.