When Christine Milne landed in Marin County in 1989 after a difficult divorce, she didn't have a plan. A friend from church offered her temporary housing in a houseboat docked at Point San Pablo Yacht Club. One day, jogging along a nearby road, she discovered a bounty of blackberries. They triggered comforting memories of pie-baking during her childhood on Mercer Island near Seattle. She picked enough juicy ripe berries to make a pie. Shortly thereafter, she began selling her handmade creations at the end of the dock, near her floating home.
Today Milne lives in San Anselmo and owns and operates Upper Crust Bakery. As we head into berry-picking and fruit-pie-making season, we asked her to share a little more of her story—and a recipe.
Who inspired you to be a baker?
I remember sitting on a turquoise-and-chrome stool as a little girl watching my mother bake pies, so it might have been her, but I have just always loved baking. Starting at 10 years old, I used to work as a mother's helper watching children. If the family had fruit or fruit trees, I'd pick the fruit and bake them a pie.
Secret to success?
Three things: product, perseverance and people. Our pies have always been made with real ingredients, no additives, and are still handmade in our 5,000-square-foot facility in San Rafael. I've got tenacity, and regardless of the challenges, I didn't give up. Finally, my employees are part of the success. If I left for a year, they could run the company just fine.
Best sellers?
Apple and berry supreme. Our wheat-free and gluten-free are becoming really popular too.
Ten-inch Blueberry-Peach Pie Recipe
Filling:
2 1/2 cups sliced peaches
1/2 cup blueberries
1/2 cup sugar
2 tsp. cornstarch
2 tsp. tapioca
1/2 tsp. cinnamon
Combine dry ingredients and add fruit. Put filling into unbaked crust (recipe below), dot fruit with butter, and put on the top pastry round. Be sure to cut slits in the top to allow steam to escape.
Crust:
The following is not the exact recipe used at Upper Crust, but Milne says it's a good basic version.
1/3 cup shortening
1/3 cup butter
2 cups all-purpose flour
3/4 tsp. salt
4 to 5 tbsp. cold water
Add shortening and butter into flour-and-salt mixture until particles are the size of small peas. Sprinkle in water 1 tablespoon at a time, tossing with fork until all flour is moistened and pastry almost cleans the side of the bowl. Gather pastry into a ball; shape into a flattened round on a lightly floured board.
Divide pastry in half and form two rounds. With a flour-covered rolling pin, roll pastry flat until each round is two inches larger than an inverted pie plate.
For a baked pie shell: Place one round in pie pan and prick bottom and sides thoroughly with fork. Bake at 475° F until light brown, 8 to 10 minutes. Let cool before serving.
Christine's tips
Using half shortening and half butter makes a delicious, flaky pastry.
Chill the shortening or butter and the flour in the freezer for a couple of hours prior to preparing dough.
Use a food processor, pastry cutter or two knives to cut the shortening or butter into the flour — do not mix like cookie dough.
Handle the dough as little as possible with warm hands.
Cover dough with plastic wrap and let chill in refrigerator for one hour before rolling, to prevent shrinkage.
Roll the dough between two sheets of waxed paper. If it's an irregular circle, lift the top sheet and pull the edge of dough over itself; re-roll to form a circle.
---
How to Help
For more ways to support local businesses, go here.
---
For more on Marin: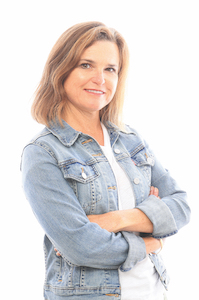 Mimi Towle has been the editor of Marin Magazine for over a decade. She lived with her family in Sycamore Park and Strawberry and thoroughly enjoyed raising two daughters in the mayhem of Marin's youth sports; soccer, swim, volleyball, ballet, hip hop, gymnastics and many many hours spent at Miwok Stables. Her community involvements include volunteering at her daughter's schools, coaching soccer and volleyball (glorified snack mom), being on the board of both Richardson Bay Audubon Center. Currently residing on a floating home in Sausalito, she enjoys all water activity, including learning how to steer a 6-person canoe for the Tamalpais Outrigger Canoe Club. Born and raised in Hawaii, her fondness for the islands has on occasion made its way into the pages of the magazine.