In our February issue, we brought you restaurant recommendations from the chefs themselves – the people who really know good food in Marin. They told you their favorite signature cocktails, bar food, salads and more.
But let's pare that list down to what really matters – dessert.
Here are some of the dessert recommendations from Marin's tastemakers.
Braziliana
Chocolate sponge cake and espresso liqueur? Chantilly cream filling and chunks of milk chocolate? What doesn't sound good in that description? This dessert, also available as a wedding cake, comes recommended by Aaron Wright, executive chef of The Tavern at Lark Creek.
Crème Brulee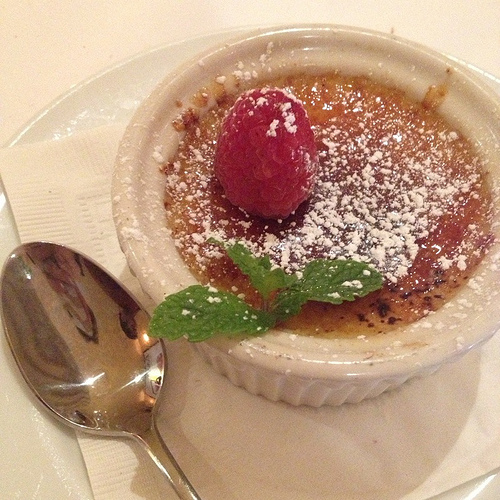 Acclaimed by Osteria Stellina's executive chef Christian Caiazzo, the Left Bank Crème Brulee is a French dessert consisting of rich custard and caramel.
Chocolate Tasting
Murray Circle's chef Justin Everett's answer may be a little biased, but his restaurant was Michelin star-awarded in 2011. He suggests the chocolate tasting – not one piece of chocolate, but a few to satisfy your chocolate fix.
Tarte Tatin
This decadent treat is made with warm apple, crème fraiche and caramel. If Scott Howard from Brick & Bottle wants something sweet, this is where you'll find him.
Apple Pie with Bourbon Ice Cream
Buckeye Roadhouse (Mill Valley)
Jared Rogers, Picco's chef, recommends this dish that puts a twist on the traditional homemade apple pie. The mini pie with crispy, golden crust is complemented with a scoop of bourbon ice cream.
Soft-Serve Ice Cream with Extra-Virgin Olive Oil and Sea Salt
With ice cream toppings like dark caramel sauce, red wine poached pears, chocolate hot fudge and chipotle caramel, it's hard to imagine having a favorite. But Todd Shoberg, executive chef at Piatti, believes the extra-virgin olive oil and sea salt is the way to go.
Jamoca Almond Fudge
Baskin-Robbins 31 Flavors (Novato)
Okay, so it may not be authentically Marin, but Baskin-Robbins knows ice cream. At least, Peter Schumacher of Buckeye Roadhouse and Bungalow 44 thinks so. The Jamoca Almond Fudge is a simple but sweet swirl of sliced almonds and chocolate.
Key Lime Pie
Buckeye Roadhouse (Mill Valley)
Le Garage's executive chef Olivier Souvestre also thinks Buckeye Roadhouse's desserts are a must-taste. The key lime pie is drizzled with pineapple sauce and lemon zest.
Mocha Almond Fudge Ice Cream
Fairfax Scoop (Fairfax)
I've heard about Fairfax Scoop since middle school, yet I've never been. Scott Whitman, executive chef of Sausalito's Sushi Ran, definitely has and perhaps I should follow suit. He recommends the Mocha Almond Fudge, a coffee-chocolate-nut treat.