Dim sum. These two diminutive words can be literally translated to mean "touch of the heart," but the culinary tradition is intricately connected to China's teahouses, and "dim sum" is often expressed as "to drink tea." Dim sum is said to have arrived in southern China, notably the province of Canton (now referred to as Guangdong), via northern China and the Silk Route, the ancient trade network that connected Asia and the Middle East with Europe. As early as 130 B.C., the Silk Route was dotted with rest stops where travelers paused to drink a cup of the locally grown and produced tea. Soon enough, food was served alongside and developed a distinct character, becoming a sought-after delicacy in its own right.
Dim sum's resurgence makes sense for our time; the shareable petite portions are ideal for enjoying with family and friends. Though every cuisine seems to have a cute little dumpling in its canon — think empanadas, kofta, momo or ravioli — dumplings, closely associated with Guangdong and popular in Northern California, are just one form of dim sum. Here's a look at a few iconic dishes and how local chefs are updating the dim sum tradition for today's small plate dining scene.
Cheong Fun
A type of rice noodle roll made with a wide, flat noodle, cheong fun is often stuffed with shrimp and served with a light soy and oyster sauce sweetened with sesame and sugar.
Sheng Jian Bao
Bao (or baozi) are a type of filled bun, and sheng jian bao (also known as SJB) are said to have originated in Shanghai around 1900. The bun is filled with minced Kurobuta pork, ginger and scallions, then folded with pliable soup broth. After a spin in a hot paella pan, the SJB's crisp edge belies the hot soup inside, making this dish both crispy and impossibly juicy.
Xiao Long Bao
Also known as Shanghai soup dumpling or by the acronym XLB, xiao long bao is especially associated with Shanghai. Gelatinized soup, thick with agar-agar to hold its shape, is loaded with pork and scallions into fresh dough before being steamed.
Dumpling Time
There are a number of XLB varieties, including an extra-large version called king-dum, that's so big you'll need a straw to slurp up the steaming hot soup.
Taro Puff
Though "tyfun" is a misspelling of "typhoon," it is also the name of a famous dim sum house in Hong Kong. At Palette Tea House in San Francisco's Ghirardelli Square, the menu includes dishes served "typhoon style," the sweeping tropical storm reference aptly reflecting this expansive restaurant's modern approach to the dim sum menu. Open less than a year, Palette has already built a reputation for its eye-popping black swan taro puff, a graceful bird shape made of the starchy tuber, with fluffy edible "feathers" and infused with activated charcoal.
Peking Duck
View this post on Instagram
With dim sum's origins in southern China, a regional style soon developed in the north to fend off the cold winters. Wheat flour and beef are prominent, but the area's cuisine is perhaps best known for Peking duck, a glorious, crisp-skinned dish served on court menus as early as the 13th century. Chef Lijun Han at the Richmond District's Chili House traces his roots to Beijing (formerly the imperial capital Peking) and serves the dish in courtly style, carving the bird tableside, to be lay- ered on thin pastry with slivered leek, cucumber and the chef's secret sauce. Be sure to order at least one day ahead.
Fun Gor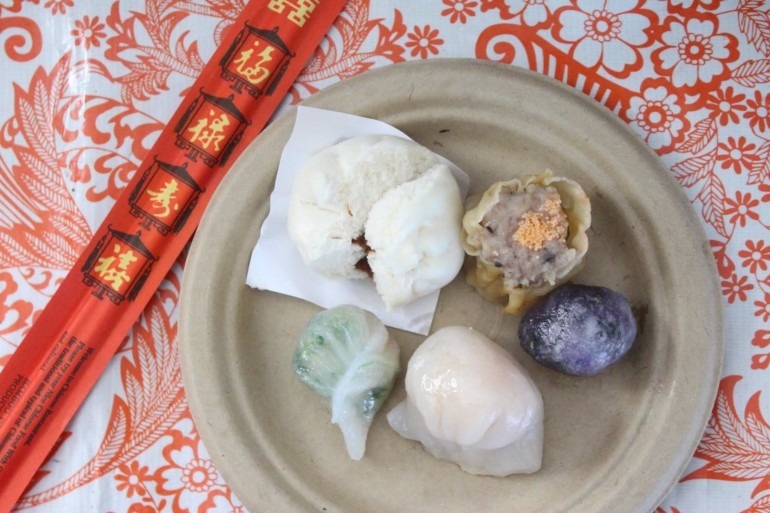 Mother-daughter team Cathy Tsui and Olivia Liu of San Francisco's Tru Gourmet did not set out to make dim sum from a particular region; they focus on where the ingredients come from. Available at farmers markets year-round, including Sundays at the Civic Center Farmers Market in San Rafael, Tru Gourmet's dim sum includes har gow and sui mai, as well as many gluten-free and vegan selections, but fans flock to their stand for the Dungeness crab and shrimp dumpling and the fun gor dumpling. Also known as fun guo, the dumpling hails from Guangzhou.
Chia Siu Bao (a.k.a. barbecue pork buns)
Thought to have arrived in Hawaii via Chinese immigrants during the plantation era, chia siu bao (or char siew bao) are usually called barbecue pork buns. They're stuffed with minced pork and sweetened with sugar and oyster sauce; the tops are cut before steaming. The bun's fluffy exterior puffs up, cracking to reveal the juicy meat within. It is a top seller at Mill Valley's Harmony, which has an extensive selection of gluten-free and vegan dim sum.
Jian Dui (a.k.a. Sesame Balls)
Hailing from China's heartland region of Xi'an (formerly known as Chang'an), jian dui are made with sticky glutinous rice flour, fried until golden, and rolled in sesame seeds. Stuffed with red bean paste, the treat is a familiar dessert on dim sum carts and on the small menu of takeout favorites at San Rafael's Asian Market.