A fixture of fairy tales and flocked black-light posters alike, mushrooms inhabit disparate worlds, simultaneously harkening back to guileless pastoral settings and symbolizing a psychedelic counterculture. In the 1980s, however, fungi acquired a new identity as unlikely darlings of the Bay Area culinary scene. It wasn't cultivated buttons and portobellos gracing menus (both are actually the same, just different ages): the mushrooms Michael Mina and other fine-dining chefs began to feature were of a different ilk — the wild kind. The people responsible for bringing about this edible evolution were local foragers and mycologists, who have since continued and expanded their efforts, bringing the wonder of mushrooms mainstream.
Who enjoys foraging? Longtime mushroom hunter Kevin Sadlier took note of a growing community and founded the Mycological Society of Marin County in 2015. San Francisco, the East Bay and Sonoma County have groups as well. Patrick Hamilton, a foray coordinator and board member of the Sonoma County Mushroom Association, led a recent excursion. Nicknamed "Mycochef," Cotati-based Hamilton has been hunting and gathering mushrooms for 40 years, though he's lived many lives before and during this time, including a stint in the army, a chef consulting career and hush-hush overseas ventures. "I was a wild man," he says. He takes groups out privately and also leads coastal and Sierra forays for San Francisco–based ForageSF. Of the 16 people who came along on our jaunt, genders were represented equally, and ages of participants ranged from 22 to 70. Aside from Hamilton and Pascal Pelous, a guest from the Mycological Society of San Francisco, all attendees were pairs, including a mother and son.
What is it all about? "Picking a mushroom is like picking an apple off a tree; it doesn't harm the tree," Hamilton says. In fact, it helps the organism, as the mushroom's purpose is to spread spores and reproduce. In the soil underneath the mushrooms is mycelium, a spiderweb-like part of a fungus. A mycelial mat of a specific honey fungus found in the Blue Mountains of Oregon is thought to be the largest living organism on earth, measuring 2.4 miles across. What makes this discovery all the more striking is that fungi are more closely related to animals than they are to plants. Their cell walls are not cellulose but are composed of chitin, the same material that makes up an insect's exoskeleton. Marvelous as they are, not all mushrooms are our friends. "Death caps are all over Marin right now; they have a slight green tint," says Hamilton. "Hospital green," he musingly adds. A single death cap mushroom can kill three people. Mushroom hunters know their habitat and understand nuances that differentiate species. Please consult experts before ingesting foraged fungi.
Where does this activity take place? Be aware that foraging in the wrong places (private property) can result in a fine or worse. Your best legal bet for hunting and gathering mushrooms for personal use is at Point Reyes National Seashore — guests can collect up to two gallons plus one mushroom per adult per day. Foraging is also permitted at Salt Point State Park on the Sonoma Coast.
When is a good time to go foraging? "As soon as the ground is wet, it's on," says Hamilton. For the Bay Area, that generally means from around November until the end of March.
Why give it a try? A sentiment echoed throughout the community is that foraging satisfies a hunter-gatherer instinct. Your hike has a mission, and there's a reward at the end. Not every foray is fruitful. But "even if I come out empty-handed, I still got to spend a day in the forest," Hamilton says.
How to get started? Attend Mycological Society of Marin County meetings every third Wednesday of the month at the Mill Valley public library to learn about culinary mushrooms, how to properly identify fungi and more details about foraging. Fungus fairs are another good opportunity to interact with like-minded individuals and expand knowledge; an annual one takes place at Point Reyes National Seashore. Consult a guidebook; Hamilton recommends Mushrooms of the Redwood Coast: A Comprehensive Guide to the Fungi of Coastal Northern California by Noah Siegel. Or sign up for an outing led by Hamilton or ForageSF.
---
How to help:
Consider supporting one of these local nonprofits that urgently need support during the pandemic.
---
More from Marin: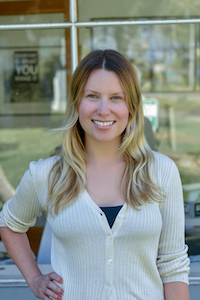 Kasia Pawlowska loves words. A native of Poland, Kasia moved to the States when she was seven. The San Francisco State University creative writing graduate went on to write for publications like the San Francisco Bay Guardian and KQED Arts among others prior to joining the Marin Magazine staff. Topics Kasia has covered include travel, trends, mushroom hunting, an award-winning series on social media addiction and loads of other random things. When she's not busy blogging or researching and writing articles, she's either at home writing postcards and reading or going to shows. Recently, Kasia has been trying to branch out and diversify, ie: use different emojis. Her quest for the perfect chip is never-ending.