Executive director Judi Shils of Marin-based Teens Turning Green, which helps young people make and promote environmentally responsible choices, was inspired by Harmony Restaurant's dedication to sustainability. So the organization tapped owner Norman Louie to compete in the Eco Top Chef of Marin challenge. The goal: to create kid-approved school lunches, including an entrée, side and dessert, for $1.35 per meal. Eight schools gathered for the competition, and Louie, who was impressed with the kids' knowledge about healthy foods, won third place with his Organic Lacinato Kale Vegan Stir- Fry. How did he come up with the recipe? His children Brandon and Brenna are great taste testers.
---
Organic Lacinato Kale Vegan Stir-Fry
4-5 Portions
Ingredients
1 bunch Lacinato kale
1 box organic tofu
2 tablespoons organic tea oil
1 bunch organic green garlic
¼ cup snap peas
1 bunch spring onions
¼ cup vegetable stock
salt to taste
tablespoons potato starch (optional)
¼ cup precooked corn kernels (optional)
Directions
1. Wash and cut kale leaves into bite-size portions. Drain and cut tofu into small cubed blocks.
2. Heat 1 tablespoon tea oil on medium heat and place tofu in hot pan. Keep tofu still, then stir until golden brown on all sides.
3. Remove, drain and set aside.
4. Bring 2 quarts water to a rolling boil, add kale leaves and stir occasionally until almost tender (3 to 4 minutes).
5. Add tofu and blanch another 45 seconds, drain and remove.
6. In a heated large pan or wok, add remaining tea oil and toss in chopped green garlic, snap peas and spring onions. Stir for about 15 seconds and add kale and tofu mixture.
7. Toss for additional 1 minute and add vegetable stock and salt to taste. If you prefer a thicker consistency, add potato starch mixed with water; also add freshly cut corn kernels if desired.
Louie's Sources:
Kale from Ken at Orchard Organic Farms in Sebastopol; tofu, 365 brand at Whole Foods (organic); green garlic and spring onions (both organic) at Fiddlers Green Farms in Brooks, Calif.; tea oil from Republic of Tea.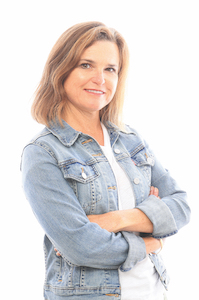 Mimi Towle has been the editor of Marin Magazine for over a decade. She lived with her family in Sycamore Park and Strawberry and thoroughly enjoyed raising two daughters in the mayhem of Marin's youth sports; soccer, swim, volleyball, ballet, hip hop, gymnastics and many many hours spent at Miwok Stables. Her community involvements include volunteering at her daughter's schools, coaching soccer and volleyball (glorified snack mom), being on the board of both Richardson Bay Audubon Center. Currently residing on a floating home in Sausalito, she enjoys all water activity, including learning how to steer a 6-person canoe for the Tamalpais Outrigger Canoe Club. Born and raised in Hawaii, her fondness for the islands has on occasion made its way into the pages of the magazine.