Look no further — here's where to find your new favorite coffee shop and learn about all the best grinds the Bay has to offer.
Equator (All over — Sausalito, Tam Junction, downtown Mill Valley, Larkspur, Oakland, Marina)
View this post on Instagram
Female-owned and LGBTQ proud coffee shop with over five locations in Marin. This certified B Corporation's mission and tasty coffee has been sustainably harvesting and consciously producing coffee since 1995. And they've earned the attention, love and popularity from the community. Order a house-made pastry, breakfast or lunch item (varies by location), sit outside and enjoy the well-crafted atmosphere they provide.
View this post on Instagram
Located next to the Sausalito firehouse, this aptly-named cafe is frequented by Marin firefighters and police officers just before the start of their shifts. Whether it's a cup of coffee, one of their 11 local blends of tea or a specialty latte — Honey Lavender, anyone? — this is a cozy community spot to try.
View this post on Instagram
Known for its cult-like following, this coffee shop located in San Rafael is geared toward to-go orders, but also has a retail nook (for swag and make-at-home coffee goodies) and a lounge in the back equipped with vintage arcade games. Started back in 2013 by 5th generation Californian Sean Boyd, Red Whale guarantees high quality coffee and flavor profiles that will keep you coming back — the Chocolate Cold Brew is a must. They are also a staple at the Sunday San Rafael Farmers Markets and have converted an antique car into a "Red Whale Coffee to the Rescue" mobile coffee shop.
View this post on Instagram
From blended coffees to fitness shakes to scuffins (what happens when "the best part of a scone and the best part of a muffin" are combined), find almost anything you could want for breakfast, lunch or snack time pick me up at this downtown Novato cafe. Their patio seating overlooks Grant Avenue is shaded and great for people watching.
View this post on Instagram
Coffee in a zen-like setting — or, at least, that's what they provided before Covid struck. Now, they have doubled down on safety precautions and offer easy, contactless service for take-away orders. Choose from hand-selected teas and coffees, light meals, baked goods (including mochi doughnuts from local @thirdculturebakery). Feeling experimental? Try one of their specialty lattes or a coffee flight. A portion of their annual revenue goes to breast cancer research and supporting women, so you know your money is not only going to a worthy local business but also a good cause.
View this post on Instagram
A short stroll from the Tiburon and Angel Island ferries, this cafe serves coffee and espresso beverages as well as breakfast, lunch and pastries that are made fresh in house daily. Pastries are individually wrapped, perfect to take on a walk by the waterfront. Affogato-mention: try their espresso over house-made gelato for a little treat.
View this post on Instagram
Interested in classic Italian espresso, pastries or cakes? All of them? Rulli, located in historic downtown Larkspur, has been providing this and more to the Marin community since 1988. Coffee is roasted bi-weekly by Chef Rulli himself and all pastries are made in house.
View this post on Instagram
Connected to Garageland, a vintage and local craftsmen shop, this West Marin cafe serves @paliocoffee and @strausmilk — both of which are organic and produced locally. Housemade vegan vanilla and chocolate syrups go into their popular vanilla lattes and mochas, respectively. They also make their own marshmallows, just sayin.
View this post on Instagram
This flagship store offers locally crafted coffee, clothing and lifestyle items. Their coffee and espresso drinks use female-owned and Ocean Beach-born @ladyfalconcoffeeclub beans and are available for curbside pickup. They also have a coffee delivery subscription for all those who like the certainty of having coffee — but don't want to make it or have time to go out and get it. Each week, you'll receive 32 oz. mason jar filled with the coffee, tea or milk beverage (i.e. kid's chocolate milk) of your choice, with accoutrements like whipped cream on the side, delivered to your home.
Just Coffee (No Shop/Prepared Drinks):
View this post on Instagram
Bianka Alloyn and Sabreen Naimah re-launched their sustainable, woman-powered coffee company in West Oakland in 2019. Built on the belief that fun, lighthearted design and working directly with small-scale, women-run, sustainably produced coffee farms can be a winning combination. In addition to beans, they also offer a Cute Coffee BBQ sauce and spice rub! Purchase on their website or at Poet and/the Bench in Mill Valley.
View this post on Instagram
Situated in an eclectic neighborhood of historic warehouses, this welcoming coffee company roasts their coffee in house. They currently offer coffee beans and teas by the pound as well as the necessary accessories for making at home. Shipping is available nationwide.
---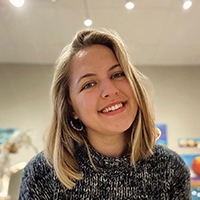 Sabrina Tuton-Filson is the Assistant Editor at Marin Magazine and a graduate of Elon University where she studied Professional Writing and Fine Art. Born and raised in San Francisco/Marin, she loves traveling just as much as coming home to the Bay Area. She has curated a sophisticated palate for food, travel and culture and uses her travels as an outlet to develop her photography portfolio and hone her writing craft.