Breakfast still means eggs and plenty of protein at restaurants around Marin, but the county's passion for pastry means expansive offerings of laminated dough in every nook and cranny.
Sausalito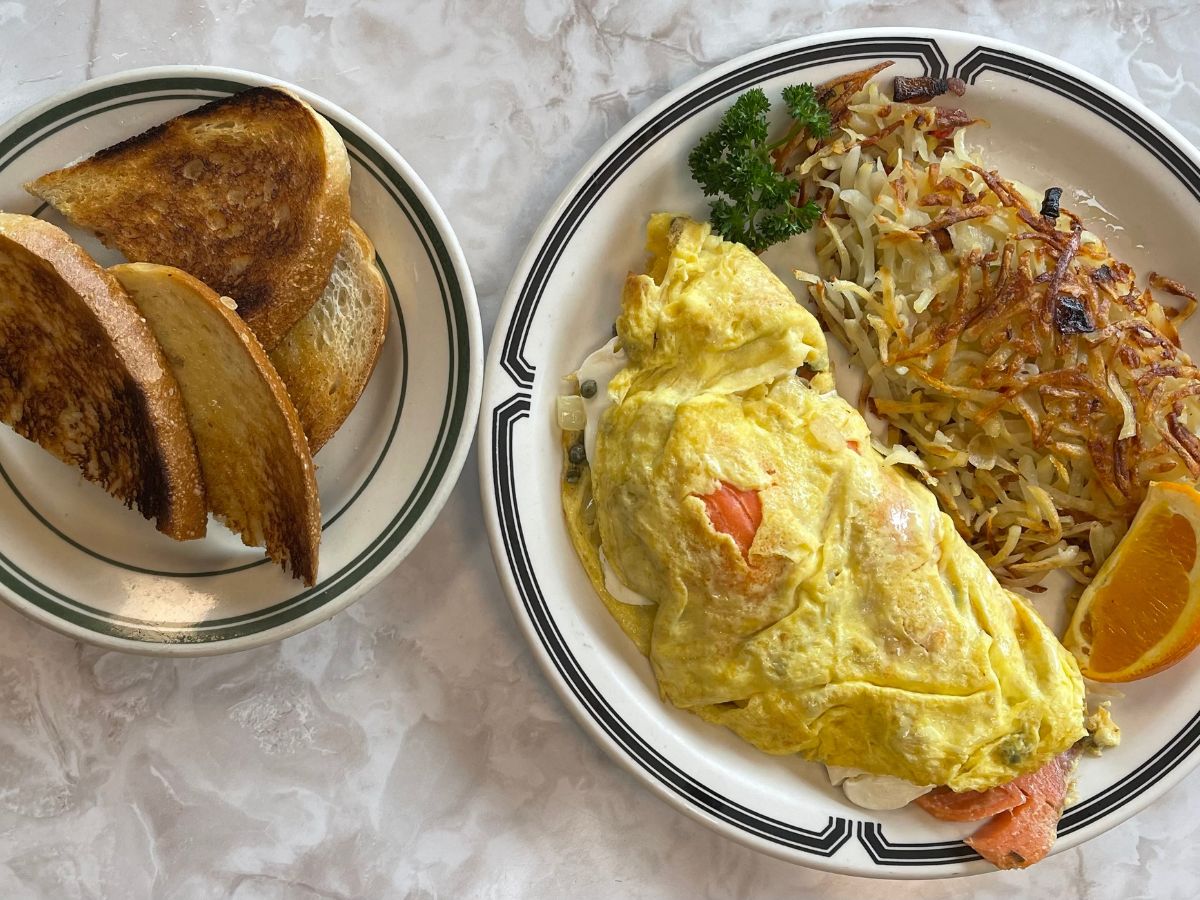 Calling this homey café "Southern-inspired" captures the chicken-fried steak and eggs vibe as well as the from scratch biscuits. But that would leave out the Smokin' Philly Omelette and breakfast nachos with bacon or chorizo so let's just agree on "all-American."
1 Gate 6 Rd, Sausalito; 415.331.2313.
In addition to the deep-fried French toast, there's one thing regulars will never let a newcomer walk away without trying at this no-frills café: Millionaire's Bacon. Thick-cut bacon finds a new level when it's baked for four hours with brown sugar, cayenne, chili flakes and black pepper. We'd call the sidewalk seating "à la Parisienne," but that seems too fancy for a café that offers bottomless mimosas.
1917 Bridgeway, Sausalito; 415.332.4575
Nothing says brunch like an omelette jambon fromage (that's ham and cheese) or quiche Lorraine, but there's griddled toast, a.k.a. Pain Perdu, which gracefully bridges the French American culinary divide. It tastes even better out on the patio on a sunny day.
85 Liberty Ship Way, Sausalito; 415.332.5625
Tiburon
Sip a Pimm's Cup overlooking Richardson Bay before diving into a selection from the prix fixe menu, including the truffle yellowtail sashimi and crème brûlée French toast. Traditional caviar service is billed separately.
5 Main St, Tiburon; 415.366.4088
We know its dessert, but an affogato espresso could stand-in for brunch with its topper of ice cream and whipped cream on the side. For something a little easier on the waistline, you can't go wrong with a tofu scramble or spinach frittata.
38 Main St, Tiburon; 415.435.3594
Mill Valley
Oozing egg yolk and melted cheddar, an egg-a-muffin is a breakfast sandwich tilts Mexican with cochinita pork instead of sausage while a Shoreline sandwich leans into the traditional flavors of pork belly bacon.
221 Shoreline Hwy, Mill Valley; 415.388.9085
French fare and pastries, including an inimitable quiche and a proper Croque Madame are just part of the appeal. The umbrella-shaded patio is a morning hot spot when the weather cooperates.
250 E. Blithedale, Mill Valley; 415.888.3695
A cart in front of Taco Joe's is open as early as 6 a.m. weekdays for fresh baked goods (croissant, coffee cake) from Berkeley's Starter Bakery and piping hot lattes or Oaxacan hot chocolate. A small menu of morning fare — breakfast tacos, burritos and sandwiches — can be enjoyed inside or on the newly built patio.
382 Miller Ave, Mill Valley; 415.383.8164.
Greenbrae/Kentfield/ Ross/San Anselmo
Breakfast at lunch is definitely a thing and you can have all the eggy goodness — coffee-Kahlua battered French toast or green eggs and ham — weekdays, just like you can on the weekends.
848 College Ave, Kentfield; 415.755.4575.
You came by for the fancy toast with smoked salmon and basil-almond pesto but the savory brioche buns and cacao nib and walnut coffee cake reeled you in with their tantalizing aromas and gorgeous crumb.
101 San Anselmo Ave, San Anselmo; 415.453.3100.
Though they are known for afternoon tea when a Trolley Dolly delivers scones with clotted cream and jam along with a hot beverage, morning brings buttered crumpets, avocado toast and, for the tea-averse, coffee.
22 Ross Common, Ross; 415.771.4252.
Fairfax
Beignets and fluffy waffles topped with fried chicken (try it with the spicy syrup) are just the tip of the New Orleans-themed iceberg at a long-running café where a seat at the counter is the go-to move for regulars. A new fried avocado appetizer melds over the top NOLA with sensible California produce, and there's a weekly special of two for one chicken & waffles on Wednesdays. They even adjusted their cash only policy and now accept Venmo, too.
57 Broadway, Fairfax; 415.457.9866
Plate-sized buttermilk pancakes generously topped with blueberries are enough to satisfy a teenage boy's appetite (for real). And though we don't know who the Eggs Brady are named for, they are topped with lox, or salt-cured salmon.
1900 Sir Francis Drake Blvd, Fairfax; 415.460.2160
Slathered with chipotle mayo and topped with melted cheddar, the chorizo croissant hits the spot on those days when more is better. On other days, the veggie scramble keeps the universe in balance.
33 Broadway, Fairfax; 415.459.6404
Larkspur
Though inside is cozy on chilly days, the covered, enclosed back patio is a major draw for regulars who come for the Bicycle Coffee and homemade biscuits with sausage gravy. The menu changes with the seasons but house made gravlax draped over a celery root pancake is eternal.
25 Ward St, Larkspur; 415.891.8577
If you have never tried the scrambled eggs, French ham, and cave-aged gruyere and provolone nestled between two slices of gridded focaccia bread, it is not too late to jump right in and rediscover the joy of a breakfast sandwich.
1139 Magnolia Ave, Larkspur; 415.925.1556
With red salsa on one egg and green salsa on the other, huevos divorciados are said to be divided on which salsa is more flavorful. Or, just go with the New Mexican flow and call the eggs "Christmas style." Either way, it's a hearty breakfast to kick-start your day in style.
1803 Larkspur Landing Circle, Larkspur; 415.925.1403
San Rafael
Stop in for a café rico sweetened with condensed milk. It pairs beautifully with a simple plate of pan tostada. Or try the pan Francés. Made with coconut milk and topped with butter and maple syrup, its sweetness defies categorization.
901 Lincoln Ave, San Rafael; 415.451.4765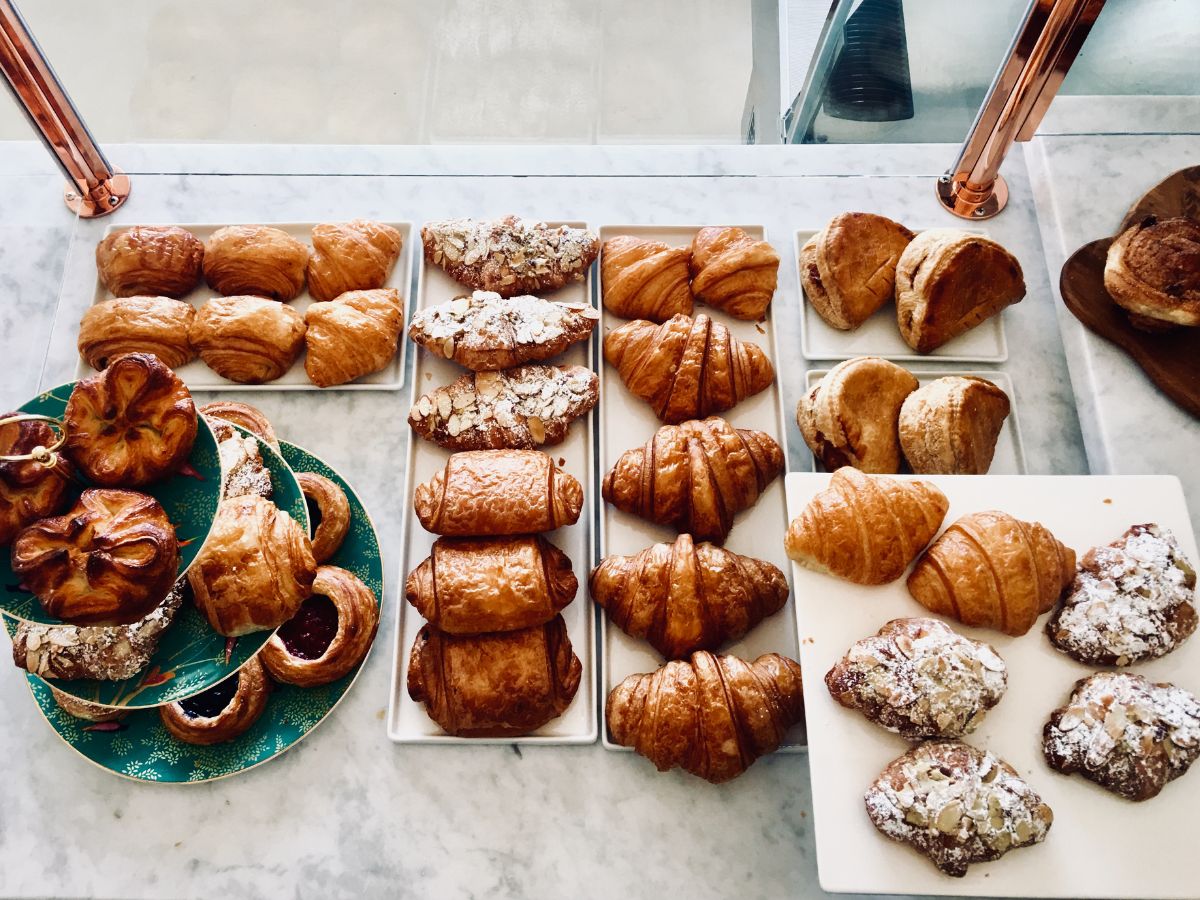 The play space may be geared towards the littlest ones, but the coffee, from Sacramento's Temple Coffee, and chic space is aimed squarely at the adults. Pair an Einspänner (that's a Viennese style coffee drink topped with whipped cream) with a pastry from Berkeley's Starter Bakery or a house made burrito or slice of quiche. A grilled cheese menu is in the works.
1031 C St, San Rafael; 415.991.5061
Avocado with a drizzle of balsamic; herbed mozzarella with sausage, egg and cherry tomato; "il Buongiorno" with egg, cheddar and bacon – no matter which filling you choose for your breakfast sandwich, it arrives layered onto fresh focaccia that is as easy to eat at one of the shop's tables as in the car on the way to the gym.
1034 Second St, San Rafael; 415.785.7487
Novato
A cult classic for about half a century, the restaurant is currently owned by Chuck and Nichole Drefs, whom you can find pictured in the menu as characters from Conan the Barbarian. The restaurant is known for their corned beef — try it on the Julia Benedict or alongside eggs your way and shredded hash browns.
1112 Grant Ave, Novato; 415.892.4482
Grazie is open for business all day, every day, for every meal. "Even on all the holidays," owner Abe Hamami says. That means omelets, Belgian waffles and bacon bagel sandwiches at breakfast time. There's also a weekend brunch menu that changes frequently — don't miss the cinnamon roll French toast.
823 Grant Ave, Novato; 415.897.5181
You'll find bacon throughout the menu in Benedicts and frittatas, on salads and burgers, and so on. Be sure to check out the special Honey Bee Bacon: slabs are coated with brown sugar, chile flakes and cayenne plus a little bit of honey added during baking. Yum.
1500 Grant Ave, Suite 1400, Novato; 415.892.9900
West Marin
If you have never tried the gruyere gougères (sorry, couldn't help but write that), they are a decadent must, stuffed with lox and tomato-onion relish. Keto adherents will go for the Dungeness crab and shrimp Benedict, dressed with little more than espelette oil (skip the Hollandaise) while the rest of us will chow down on brioche French toast or hash and eggs.
43 Arenal Ave, Stinson Beach; 415.868.1272
Although the hotel's restaurant does not open for breakfast, the market boasts a café with a tight menu of eggy favorites, like a daily quiche special and an egg sandwich with Canadian bacon and gruyere. The sausage burrito is vegan and the coffee bar serves up pulls of espresso and cold brew strong enough to knock the fog out of your eyes.
10005 Coastal Hwy One, Olema; 415.663.1264
Whether you choose chef Brady's house made cinnamon rolls and cookies or scones and muffins from Route One Bakery, they taste great with an Equator Coffee on the broad patio. On the weekends, chef's biscuit sandwiches are stuffed with applewood smoked bacon, scrambled eggs, cheese, and chives. Vegetarian and bacon breakfast burritos are also available.
1 Beach Ave, Dillon Beach; 707.878.3030.
Corte Madera
A pollo adobado bowl energizes any morning with two proteins — three if you count beans and rice. But the more unique choice is the Pancake de Elote. A marriage between an American pancake and a sweet corn tamale, it is made with sweet corn, condensed milk and eggs, which gives it a texture more like a soufflé. Accompanied by whipped sour cream spiked with maple syrup, it's the epitome of two culinary traditions coming together to create something even better.
301 Corte Madera Town Center, Corte Madera; 415.500.5145
Breakfast is served all day and while most of the Danish dishes the restaurant is known for are only on the lunch menu, you can still get the Danish meatballs as a side order at breakfast. Omelettes are a signature, and the Mickey Mouse-shaped pancakes are a hit with kids of all ages.
12 Tamalpais Dr, Corte Madera; 415.945.8902
Perhaps it is the softly scrambled eggs with fresh truffles shaved on top or the avocado toast made with lightly charred sourdough. But we're betting the 2022 Best of the County winner for best brunch is such a hit because you get to dine under the many chandeliers and gaze at Mount Tam while eating.
1750 Redwood Highway at The Village, 628.266.2040
---
Christina Mueller is a long-time Bay Area food writer. She hails from the East Coast and has spent way too much time in South America and Europe. She discovered her talent as a wordsmith in college and her love of all things epicurean in grad school. She has written for Condé Nast Contract Publishing, Sunset, and the Marin Independent Journal, among others. She volunteers with California State Parks and at her childrens' schools, and supports the Marin Audubon Society, PEN America, and Planned Parenthood. When she is not drinking wine by a fire, she is known to spend time with her extended family.