Marin County is a good place for a plant-based diet. Here are few of our top plant-based meals.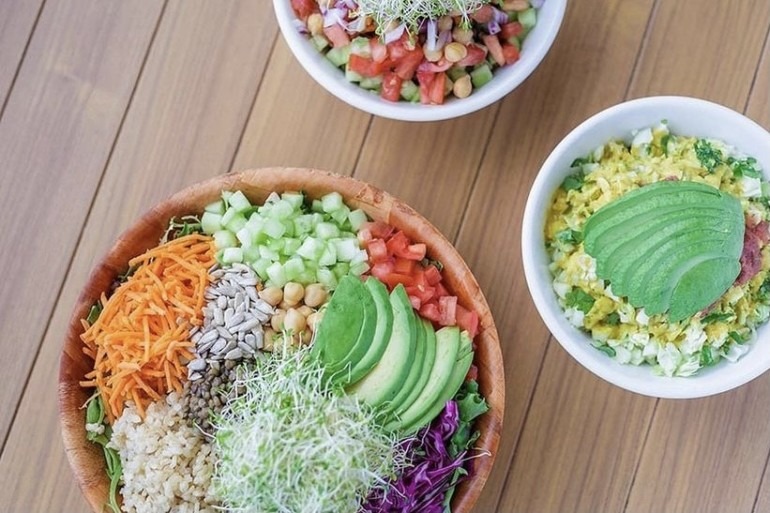 Novato's hottest new eatery might be tucked into Pacheco Plaza, but it has already developed a following for its fresh açaí bowls and egg bagel sandwiches. The menu calls out raw and vegan items, like a kombucha-mojito shake. Breakfast tacos are topped with slaw and falafel sauce, a reimaging of the basic egg and potato taco that hits all the right notes.
464 Ignacio Blvd, Novato. 415.475.1128
Veggie Grill is part of a chain of all-vegan food restaurants based out of Los Angeles and Orange counties. The Town Center Corte Madera branch has a casual feel to it, and plenty of seating. Everything served is 100% plant-based food. There is no meat, dairy, eggs, cholesterol, animal fat or trans fat. Even though items say "crab" or "chickin'" it means it is a high protein substitute. The menu is heavy on beans, kale and quinoa. The must-have item is the Crispy Cauliflower, with a sweet and spice orange glaze over panko-coated cauliflower. Save room for dessert; the carrot cake with Tofutti frosting is delicious.
100 Corte Madera Town Center #147, Corte Madera, CA, 94925
Though they no longer boast a Marin location, the local chain deserves credit for updating plant-based eating for a new generation, the hippies' children of Marinites. A large menu of salads and bowls to which organic chicken can be added attracted a certain crowd, but the 100% plant-based BLTA and The Plant Burger made of beets, lentils and lots of spices changed many minds about eating well and meat-free. (Cofounder and CEO Matthew Guelke leans away from meat alternatives but found a plant-based bacon that met his organic and minimally processed standards.) "We are not out to convert vegans," says Guelke who has sold nearly a million burgers already. "If you want to eat meat, choose sustainable kinds with a low- carbon footprint."
2335 Third St, San Francisco; 415.801.5089
"I want you to say 'holy sh**, this is vegan?'" says chef and co-owner Charles White III of Santa Rosa's unapologetically vegan restaurant. In an effort to get the macho out of meat eating, White crafted a bacon cheddar burger that satisfied his taste buds and seemingly everyone else's. But why stop with a burger? White designed a Far East Philly with sauteed gluten-based strips with a texture so close to meat, he calls it spooky. An herby bechamel sauce is blended with mozzarella for a bold cheese sauce that slides over the meat before being captured by a sub roll. It's a dish even a Philly cheesehead would love.
1899 Mendocino Ave, Santa Rosa; 707.526.3333
Top places for vegan and vegetarian dishes:
Looking for a nice light lunch in Corte Madera that won't send you to snooze mode? Try the Tahini Tofu Wrap with a Mango Juice boba drink. Worldwrapps.com
A nice hearty vegetable broth and noodles is all you need to feel happy and full. Their Tofu Rice Noodle Soup is a must when visiting this award-winning Pho restaurant in San Rafael.
This Larkspur creekside restaurant serves some of the most authentic Thai food around with a patio for easy outdoor dining. Opt for the Tofu & Vegetable Red Curry, the spice is just right.