Wanting a pizza that's cut above the rest? Marin County has plenty of options from restaurants both renowned and unexpected. Whether you are craving an artisanal, experimental or classic pie, we guarantee that you'll find (at least) one that strikes your fancy. 
Many of the following have gluten-free, dairy-free and vegan options, too — check their menus if that's something that intrigues you.
Note: Restaurants are organized alphabetically.
---
Pizza al fresco on a private beach in Sausalito? Who wouldn't want that. Dining is first come first served and you'll want to be among the first. However, If you must wait for a table, don't panic — working up an appetite means you'll have room for their crispy artichokes with fried rosemary, celery leaves and lemon aioli appetizer. Get the kale pizza with basil pesto, roasted garlic and ricotta; it's rich, but a winner.
1250 Bridgeway, Sausalito
Bunch pizza? Why not. Their Morning Thunder, Red Hill Sunrise and Ross Valley Fog Lifter pies, which all highlight variations on breakfast favorites (home fried potatoes, bacon, eggs, hollandaise — the works), are available daily from 11 a.m. to 3 p.m. Of course, the pizza goodness continues late into the night and can be accompanied by a beverage from their Taproom. Tuck into your meal at their outdoor patio under the redwoods.
638 San Anselmo Avenue, San Anselmo
Along with an exceptionally crispy yet chewy thin crust, Farmshop serves innovative flavor combinations and ingredients that you won't find on many pizza menus in the Bay Area. While the classic tomato and mozzarella combo is tried-and-true, you won't regret trying one of their more unique dishes. Crowd favorites include their lamb merguez, yogurt and zaatar pizza as well as their candy stripe fig, smoked mozzarella, sweet pepper and golden balsamic pizza.
2233 Larkspur Landing Circle, Larkspur
This local favorite was founded in the 1970s by Sicilian Lo Coco brothers, who took pride in the authentic Italian flavors in their recipes. With an unbelievably fluffy, thick crust, their Neapolitan-style pies are simple but hearty. Popular menu items include their mushroom pizza, roasted eggplant pizza and, of course, their notorious artichoke heart pizza. Meatier options available too, for all of you carnivores out there.
631 Del Ganado Road, San Rafael
Is a great crust your thing? PizzaHacker bakes their wheat levain sourdough crust with smoked sea salt for the mouth-watering effect down to the last bite. If you have tried this San Francisco cult-favorite before, it's worth visiting their second location, nestled within The Junction beer garden. They have nailed contactless service — with their Square-based ordering system — and their incredibly friendly staff add a brightness to their already beautiful, spacious outdoor dining area. Local craft beers and hard kombucha (you can't go wrong with either) are available on tap as well as in four packs, if you're purchasing to-go.
226 Shoreline Highway, Mill Valley
It is no secret that this cozy pizza nook is a Marin County favorite with its homey wood-fired pizza ovens and thoughtfully sourced, local ingredients. The menu boasts both classic and unexpected flavor combinations — all on a crispy crust. Sit outside (under the heat lamps!), people watch and be sure to bring your cycling friends so they can geek out about the pizzas, which are named after top bike brands. Oh, and save room for some Straus soft-serve topped with Fiordolio extra virgin olive oil and Maldon sea salt.
316 Magnolia Avenue, Larkspur
In a charming section of Caledonia (between Pine and Johnson streets) sectioned off for pedestrians only, Sandrino is a great spot for socially-distanced people watching and a fun community atmosphere. With an extensive pizza menu (over a dozen pies!) that includes unique combinations with Emmental cheese, potatoes and cayenne powder — not on the same pie — they are elevating the authentic Italian thin-crust pizza game. 
45 Caledonia Street, Sausalito
A neighborhood favorite with a well-deserved reputation for high quality pizza and a high quality owner — affectionately nicknamed "Tony." His classic pizza menu, with crowd favorites like the Magic Mushroom and the Bitches Brew, accompanies his vegan-friendly menu, which comprises the equally popular cheese-less yet flavorful options. (Always check their website or call in to learn about their specials.) If you manage to snag a spot at their limited outdoor dining area, you'll also have the pleasure of listening to Tony's eclectic, and likely new to you, musical picks of the day.
16 Ross Common, Ross
Located in the historic Mill Valley Lumber Yard, this pizza-inclusive restaurant has plenty of outdoor seating and a great view of Mt Tam. Their pizzas are crafted with the same mindset as the rest of their California cuisine — celebrating what's available from local farmers, ranches and fisheries. So, while stone fruit is still in season, try the yellow peach and pancetta pizza with goat cheese, honey and arugula, and get a side of the grilled broccolini with preserved lemon — you know, for balance.
129 Miller Avenue, Mill Valley 
If you absolutely love one of these places (or a specific pie), leave a comment below for the rest of the pizza-lover community. Likewise, if you don't see your favorite place on the list, let us know by emailing dine@marinmagazine.com!
---
How to help:
Consider supporting one of these local nonprofits that urgently need support during the pandemic.
---
More from Marin:
---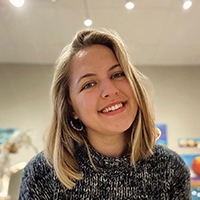 Sabrina Tuton-Filson is the Assistant Editor at Marin Magazine and a graduate of Elon University where she studied Professional Writing and Fine Art. Born and raised in San Francisco/Marin, she loves traveling just as much as coming home to the Bay Area. She has curated a sophisticated palate for food, travel and culture and uses her travels as an outlet to develop her photography portfolio and hone her writing craft.