The deceptively simple character of ramen — broth and noodles — hides complexity in technique and chef secrets in equal measure: Good ramen is easy; great ramen is hard. We talked with a few chefs to find out what makes their ramen special.
North Bay
Marin's OG ramen house has been slinging tonkatsu and shoyu, tantan and shio for seven years. Owner Kevin Fong says the tonkatsu, a cloudy, slow-simmered pork bone broth, remains his most popular menu item, but the vegetarian broth, the base for the hearty miso, is nearly as popular. Though he won't divulge the secret behind the animal-free broth's umami thunder, he will admit to using as many vegetables as he grew up eating both in the base and as toppers for the vegan and vegetarian bowls. He recently added pan-fried ramen with just as many vegetables to the menu, and gluten-free noodles are available.
821 B St, San Rafael; 415.524.2727
 

 

View this post on Instagram

 
Yuthana (Oy San) Sitiprawet runs Chonmage with his wife, Manee Jenkins, turning out Japanese-style ramen with local flair. Housemade, walnut-based miso amplifies the spicy miso ramen and a recently added garlic ramen turned heads, but the curry ramen continues to inspire a vocal following. The blended tonkatsu and chicken broths are infused with curry and topped with karaage (fried chicken) and french fries, making it the ultimate multi-culti mashup.
1020 Court St, San Rafael; 415.419.5919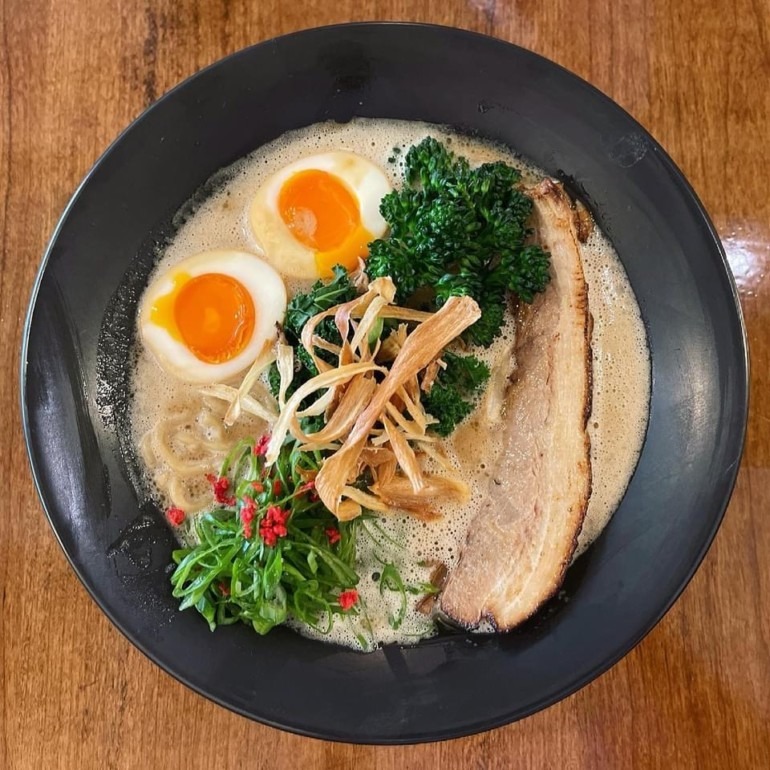 Noodles from ramen master Tomoharu Shono, who has multiple restaurants in Tokyo and San Francisco, are made in-house, the custom flour blend ground on an imported Japanese stone mill for a slightly chewy texture designed to the master's specifications for flavor and impeccable freshness. Crafted exclusively for the San Rafael location, toripaitan is the new trend. The broth is chicken instead of the traditional pork and its lighter style is meant for every day eating, but traditionalists can still get Shono's Marin-influenced version of shoyu and matcha ramen, too.
908 Fourth St, San Rafael, 415.295.7112
 

 

View this post on Instagram

 
Widely recognized for their work in sushi, the chefs turned their attention to another popular culinary export from Japan, dropping ramen onto the menu earlier this year. The singular ramen on offer is named for a coastal town on the northern island of Hokkaido. Tonkatsu broth is thickened with miso and topped with braised pork belly, corn and a golden-yolked egg. It's a carnivorous bowl a fisherman would be proud to eat.
813 Grant Ave, Novato; 415.892.0081
 

 

 

View this post on Instagram

 

 
U.S.-made, skinny Sapporo ramen noodles might shock purists for their out-of-the-package ease of use. But the toppings — pork belly chashu and spicy ground pork, charred cabbage, seaweed, spicy greens and wood ear mushrooms — turn the bowl into a destination-worthy slurping experience. The vegetarian broth packs a flavorful punch, its saltiness tempered by the fresh veg atop. There's a gluten-free noodle option, too.
6948 Sebastopol Ave, Sebastopol; 707.827.3609
Looking for the best ramen in the Bay Area? Find our recommendations on better.net.
---
More from Marin:
---
Christina Mueller is a long-time Bay Area food writer. She hails from the East Coast and has spent way too much time in South America and Europe. She discovered her talent as a wordsmith in college and her love of all things epicurean in grad school. She has written for Condé Nast Contract Publishing, Sunset, and the Marin Independent Journal, among others. She volunteers with California State Parks and at her child's school, and supports the Marin Audubon Society, PEN America, and Planned Parenthood. When she is not drinking wine by a fire, she is known to spend time with her extended family.